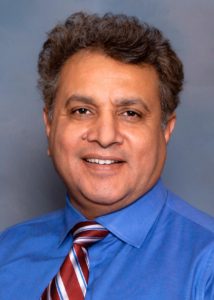 A board-certified internal medicine physician, Dr. Aftab Khan has served on the Morris Hospital Medical Staff since 1999. As an internist, Dr. Khan provides primary care for adult patients. He focuses on the prevention, diagnosis and treatment of disease and chronic conditions.
Dr. Khan received his medical degree from the King Edward Medical University in Pakistan. He completed an internal medicine residency at Columbus Hospital.
To schedule an appointment, call 815.942.8080.
DR. KHAN'S HOURS:
Monday: 10 a.m. – 5 p.m.; Tuesday: 10 a.m. – 5 p.m.; Wednesday: 10 a.m. – 1:15 p.m.; Thursday: 10 a.m. – 5 p.m.; Friday: 10 a.m. – 12:45 p.m.
PREPARING FOR YOUR APPOINTMENT
For your convenience, we suggest that you download and complete our Healthcare Centers – General Patient Registration Form before coming in for your office visit.
FOR MEDICARE BENEFICIARIES
Your provider is committed to delivering the best possible coordination of your care by participating in an Accountable Care Organization (ACO). A care coordinator may get involved in your care to help improve communication between your healthcare providers. Please visit our Accountable Care Organization (ACO) webpage to learn more.
† – Dr. Aftab Khan is an independent contracted physician.