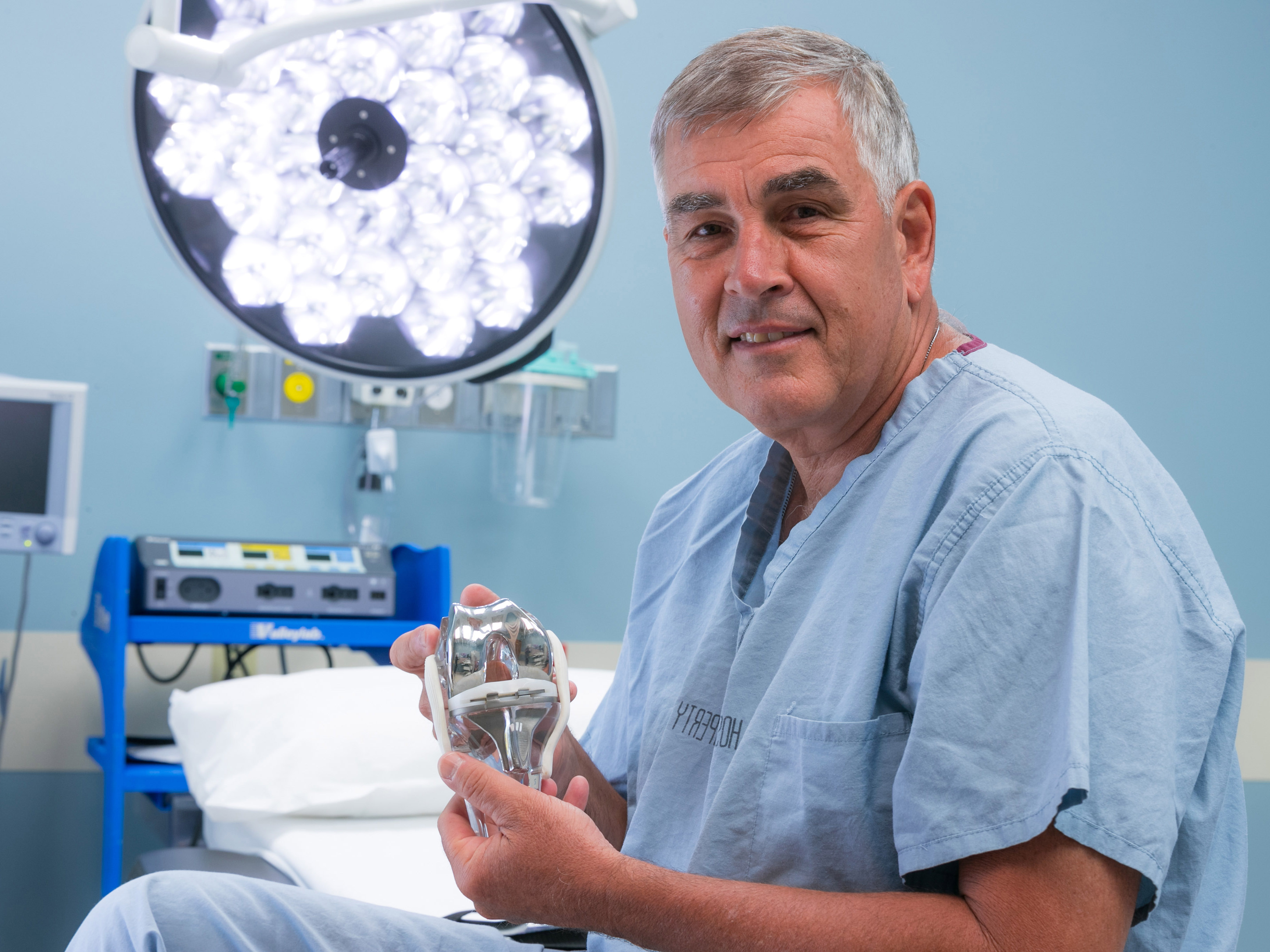 Morris Hospital Orthopedics & Sports Medicine (formerly Rezin Orthopedics and Sports Medicine) is a leading provider of orthopedic care for patients in Grundy, Will and La Salle counties. Our orthopedic doctors, Mir Ali, M.D., Ahmed Eldib, M.D., Raymond Meyer, M.D., Kyle Pearson, D.P.M., Paul Perona, M.D., Keith Rezin, M.D., Stephen Treacy, M.D., and Robert Williams, M.D.,  provide comprehensive, high quality orthopedic care close to home, with convenient office locations in Morris, Diamond, Joliet and Ottawa.
The physicians with Morris Hospital Orthopedics & Sports Medicine are excellent resources for orthopedic, foot and ankle, and spine care, including problems associated with the:
Elbow – elbow pain, cubital tunnel syndrome, bursitis, fracture, hyperextension injury, tennis elbow, golfer's elbow, throwing injuries, triceps tendonitis, bicep tendon tear, dislocation, trauma
Foot and Ankle – foot and ankle fractures, ankle instability, Achilles tendon rupture, diabetic foot conditions, plantar fasciitis, heel pain, hammertoe, bunion, foot and ankle trauma, arthritic conditions, total ankle replacement
Hand & Wrist – fracture, arthritis, carpal tunnel syndrome, Gamekeeper's thumb, Ganglion cyst, mallet finger
Hip – pain, osteoarthritis, inflammatory arthritis, fracture, injury, bursitis, avascular necrosis
Knee – fracture, pain, osteoarthritis, ligament injuries, patellar instability, ACL tears, meniscal tears, shin splints
Shoulder – pain, arthritis, fractures, dislocation, rotator cuff tear, shoulder labral tear, bicep tendon rupture, impingement, trauma, SLAP tears
Spine (neck and back) – pain, degenerative disk disease, disk herniation, lumbar stenosis, sciatica, scoliosis, spine deformities, compression fractures, kyphosis, hydrocephalus, trauma
They can also help with:
Sports Medicine
Worker's Compensation
Orthobiologics
Osteoporosis
ADVANCED PRACTICE PROFESSIONALS:
WHAT SERVICES ARE AVAILABLE ON-SITE?
FREQUENTLY ASKED QUESTIONS