Do you want to say "Thank You" to a special someone or department at Morris Hospital & Healthcare Centers who made a meaningful difference in your experience?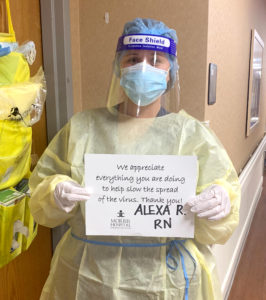 Our patients, their families, and community members often ask about ways they can honor our staff and volunteers. During the COVID pandemic, we have been especially humbled by the generosity of the members of our community who have asked how they can help during this unprecedented time. From hand written notes to donated meals, financial donations to our COVID-19 fund and more, every one of these gestures have lifted our spirits. Here are a few ways you can help honor our Morris Hospital & Healthcare family:
DONATE FOOD
Individuals and groups who would like to donate food or beverages to our staff should fill out our donor form below. A member of the Morris Hospital Auxiliary & Foundation Team will contact you to coordinate your donation.
MAKE A FINANCIAL DONATION
Your gift to Morris Hospital Foundation's  COVID-19 Response Fund in honor of  a staff member or department will support essential healthcare workers, patients, and families experiencing hardships as a result of this public health crisis, while also helping to provide much-needed equipment, supplies and facilities. Click here to donate now or contact the Auxiliary & Foundation office. The message you write on your donation form will be shared with the employee or department you mention. 
SEND A PERSONAL MESSAGE TO A HEALTHCARE HERO
Thank you are two words that go a long way. Submit an online form below to send a message to thank our hospital staff or contact the Auxiliary & Foundation office to coordinate sending or delivering multiple thank you notes to staff.

DONATE SUPPLIES AND OTHER ITEMS
Like all hospitals nationwide, we are working to ensure an adequate supply of personal protective equipment (PPE) and other critical medical supplies in response to the COVID-19 pandemic. Right now our PPE and supplies are stable, but should you want to donate items in the future, please fill out the form below and a member of the Morris Hospital Auxiliary & Foundation Team will contact you.