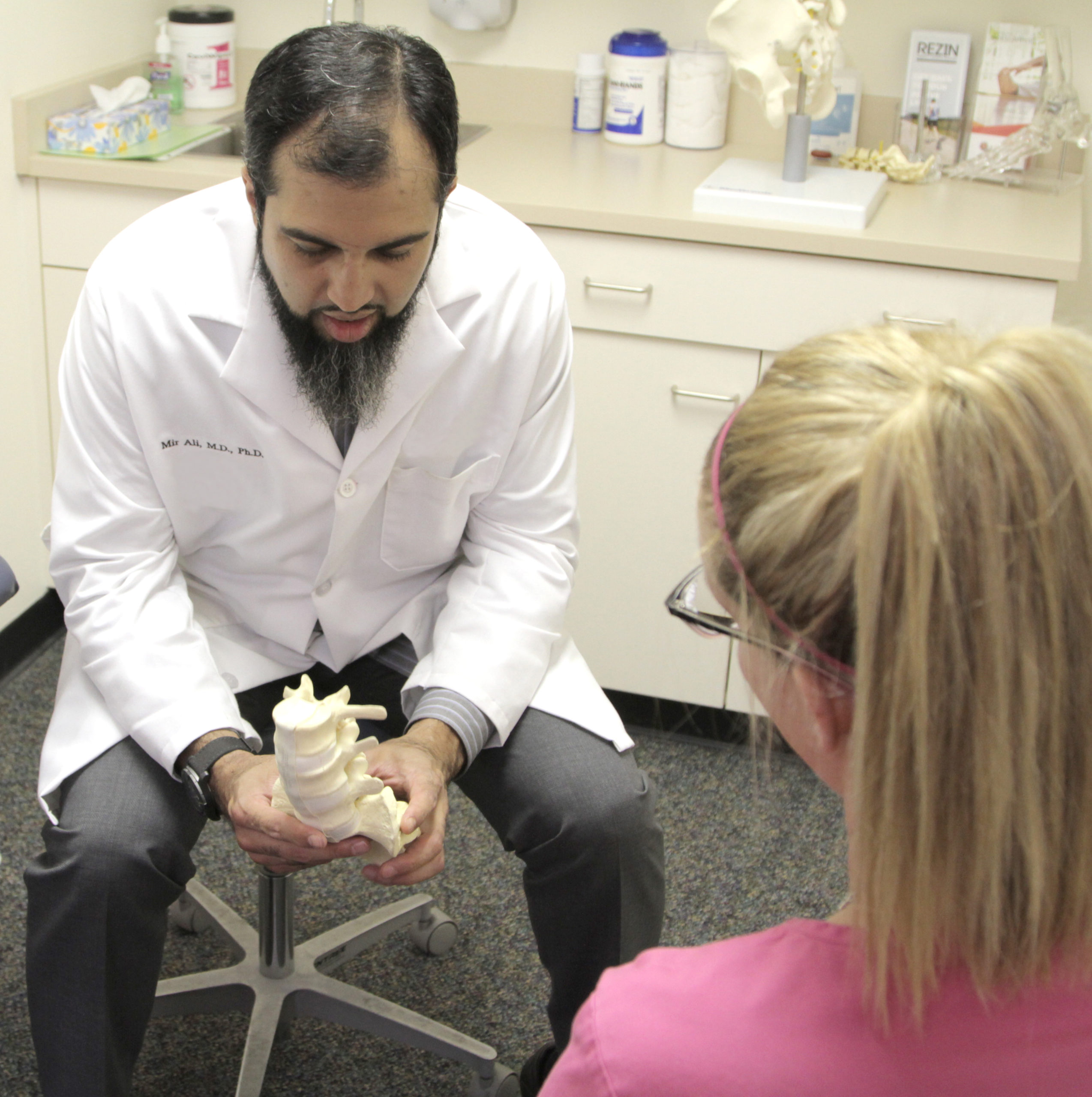 Morris Hospital offers comprehensive, individualized and patient-focused neck and back care, including the option of spine surgery, through the Morris Hospital Orthopedics & Sports Medicine practice.
As a fellowship-trained, board-certified orthopedic spine surgeon, Dr. Mir Ali specializes in conservative, non-surgical and surgical treatment of neck and back disorders. He treats spine disorders ranging from the neck to middle and lower back.
In 2013, Dr. Ali developed The Spine Institute to provide patients with a local center of excellence for spine care to relieve patients of neck and back pain as safely and as soon as possible. Spine problems can be very difficult to understand and hard to treat. There can be many different symptoms present and many possible treatments may be available.
One of the goals of the Spine Institute is to help patients understand their spine condition and exhaust all reasonable non-operative treatment problems prior to considering surgery. Occasionally, surgery may be suggested to help treat a spine problem.
Patients and their families are encouraged to get all their questions answered to their satisfaction so they can make an informed decision based on their understanding of the problem and risks, benefits, and alternatives to surgical intervention.
We provide patients can received treatment for common to complex spine conditions such as:
Neck & Back Pain
Neck & Back Trauma
Degenerative Disk Disease
Disk Herniation
Lumbar Stenosis
Sciatica
Scoliosis
Spine Deformities
Compression Fractures
Kyphosis
Hydrocephalus
Dr. Mir Ali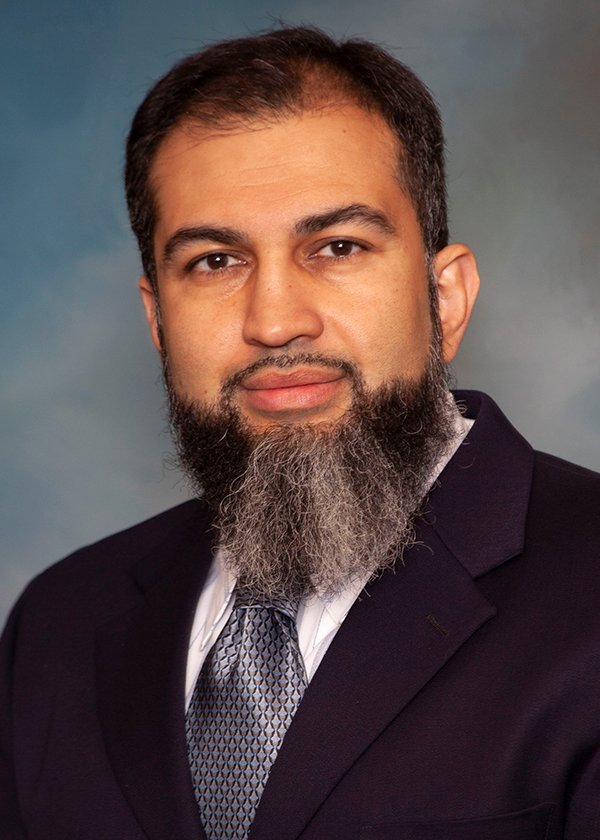 is a board-certified orthopedic spine surgeon who specializes in conservative, non-surgical and surgical treatment of neck and back disorders. His primary focus and expertise is on the treatment of spine disorders, including neck, mid and low back problems.
Dr. Ali completed his Ph.D. in Cellular and Molecular Pathology in 2002, and then graduated from medical school with highest honors in 2004. He completed his residency training in orthopedic surgery at the world renowned Mayo Clinic in Rochester, MN in 2009 and fellowship training in spine surgery at Rush University Medical Center in 2010. Dr. Ali joined the Morris Hospital Medical Staff in 2013.
Dr. Ali is known in the medical community for his precise examination skills, attentive ears, and his vigorous belief in patient education. He is also known as a conservative surgeon who believes in surgery as the very last option and only believes in as little surgery as necessary to address the patient's condition.
Dr. Ali's philosophy is spending adequate time with each patient, explaining his/her condition in terms he/she can understand, discussing treatment options together in a team-oriented manner and recommending surgery only when all other options have failed.
In his free time, Dr Ali enjoys spending time with his wife and six children, reading and bicycling.
Dr. Ali sees patients at the Morris Hospital Orthopedics & Sports Medicine offices in Morris, Ottawa and Joliet.
Specialty: Fellowship Trained in Spine Surgery & General Orthopedic Surgery

Special Interests: Minimally invasive spine surgery, microscopic surgery, lumbar fusion, cervical fusion, epidural injections and kyphoplasties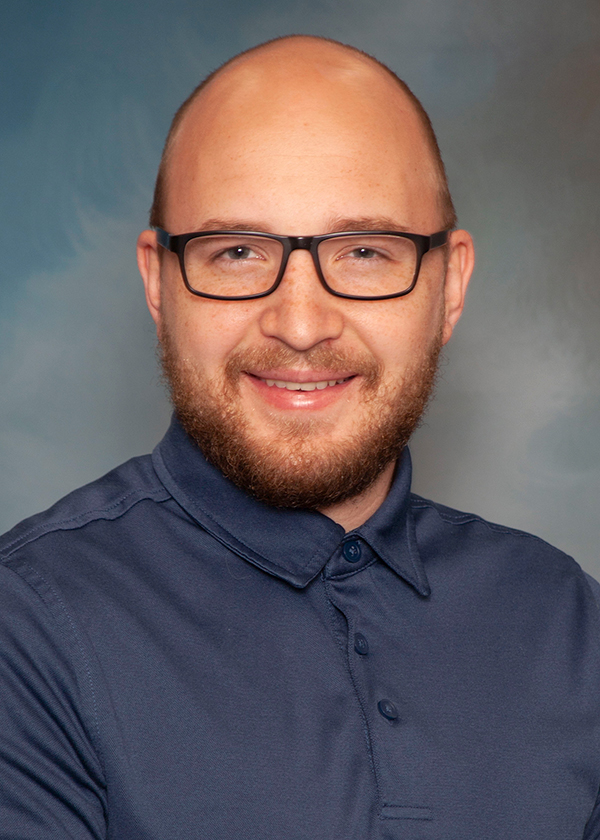 Lukas Jakubonis is a certified physician assistant who teams with Dr. Ali in the care of his patients.
Providing a broad range of medical services, Lukas helps to diagnosis and treat patients in clinic and assists Dr. Ali in surgery. Patients may see Lukas in clinic for routine appointments, follow ups, after surgery while they are in the hospital, and post-operative visits.
Lukas completed his master's degree in Physician Assistant Studies at Ohio Dominican University in 2018 and began working with Dr. Ali shortly after.
In his free time, he enjoys basketball, snowboarding and horticulture.
Teaming with Dr. Ali, Lukas sees patients in the Morris, Ottawa and Joliet offices.