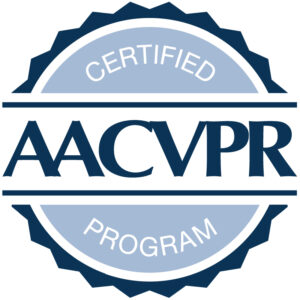 Our Pulmonary Rehabilitation program helps improve the well-being and overall quality of life for people with chronic breathing problems. The program is certified by the American Association of Cardiovascular and Pulmonary Rehabilitation.
Those who benefit most from pulmonary rehabilitation are adults who are increasingly limited in everyday activities due to chronic obstructive pulmonary disease (COPD), chronic bronchitis, emphysema, asthma, pulmonary fibrosis, bronchiectasis, environmental and occupational lung disease, and post operative lung surgery.
While Pulmonary Rehabilitation can't cure lung disease, it does help individuals make the most of the lung function they have. You will need to get a referral from your doctor and you may be required to complete a lung function test before enrolling in Pulmonary Rehabilitation.
Morris Hospital's Phase 2 Pulmonary Rehabilitation is a 12-week program that meets on Tuesdays and Thursdays at the Diagnostic & Rehabilitative Center of Morris Hospital, 100 W. Gore Road in Morris. The program incorporates physical reconditioning (exercise), self care education including how to reduce risk of lung infection, breathing strategies, and techniques to help participants improve their ability to carry out activities of daily living, all in a supportive setting that promotes social interaction and emotional well-being.
The exercise component of the program is tailored to each participant's individual needs. Most often, the exercises involve both the arms and legs through use of a treadmill, walking track, recumbent stepper, recumbent elliptical, arm ergometer, stationary bike, weights, bands and balance exercises. The exercises are designed to improve endurance and muscle strength to help participants better carry out daily activities.
During class, participants are closely monitored by a multi-disciplinary team that helps each individual reach his or her goals.
After graduating from Phase 2, participants may choose to continue exercising with Morris Hospital's Phase 3 pulmonary rehabilitation program. Phase 3 is referred to as the maintenance phase because it is an excellent way to maintain the health benefits and improved quality of life achieved through Phase 2. Phase 3 participants exercise on Tuesdays and Thursdays with open gym from 7 a.m.-3:00 p.m.
Along with physical reconditioning, a number of educational topics are covered in Pulmonary Rehabilitation. Participation in educational programs and events is encouraged for both Phase 2 and Phase 3 participants:
Nutrition
Lung Anatomy and Disease/ Medical Tests
Breathing Retraining
Safety and Travel with Oxygen
Benefits of Exercise
Airway Clearance / Infection Control
Energy Conservation
Emotional / Social Well Being
Respiratory Medications
Advanced Health Care Directives
Smoking Cessation
Sleep Disorders
Lung Action Plan
Disaster Preparedness
Those interested in participating in Phase 2 Pulmonary Rehabilitation should check with their insurance provider to verify coverage. A physician's referral and yearly health assessment are required for participation in Phase 3.
For more information
For more information, please call Morris Hospital's Pulmonary Rehabilitation program at 815.705.7837. Referrals can be faxed to: 815.705.7838.