Where to Go When You Need Medical Care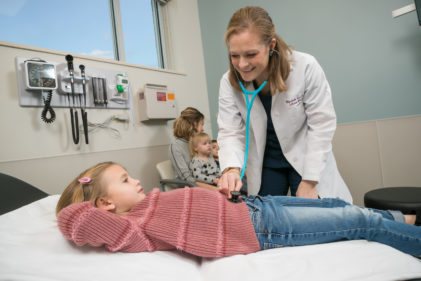 When you have an illness or injury that requires medical attention, it may not always be clear where to go for care. Should you call your provider? Do you need to go to a hospital emergency room? What about an urgent care clinic? The answer is really dependent on a variety of factors, including the severity of your symptoms, the day of the week and time of day, and in some cases, your insurance coverage. The good news is, there are many choices!
PRIMARY CARE
When possible, it's always best to see your primary care provider for routine healthcare needs, such as physicals, annual wellness exams, and medication management. There are also benefits to seeing your primary care provider for minor illness such as runny/stuffy nose, earache, sore throat, headache, fever, flu-like symptoms, or persisting aches or pains. After all, your primary care provider knows you and your medical history.
For adults, a primary care provider is a family medicine or internal medicine physician, nurse practitioner, or physician assistant. A primary care provider for children is typically a pediatrician or family medicine physician, nurse practitioner, or physician assistant.
URGENT CARE
When you need to be seen today and your primary care provider isn't available, urgent clinics can provide the next best option. Morris Hospital offers two levels of urgent care.
Convenient Care is for mild illness and injuries for individuals age 1 and older. You would choose Convenient Care for the same type of things you would call your provider for a same-day appointment, such as: cuts, minor first aid care, cough, chest congestion, upper respiratory infection, flu-like or allergy symptoms, insect bites, minor rashes, injuries, minor sprains, pink eye and sties, sore throat, earache, mild fever, sinus infection, urinary tract and bladder infections.
Convenient Care services are provided by a nurse practitioner and are billed similarly as a physician office visit, with any x-rays or rapid lab tests additional. Morris Hospital's Convenient Care locations are in Diamond-Coal City and Yorkville.
Immediate Care is provided at the Morris Hospital Ridge Road Campus in Channahon and the Diagnostic & Rehabilitative Center on Gore Road in Morris.
So what's the difference between Convenient Care and Immediate Care?
Whereas Convenient Care is for mild illness and injuries, Immediate Care is appropriate for mild to moderate illness and injuries. Like Convenient Care, care may be provided by a nurse practitioner, or patients might be seen by a physician or physician assistant in the Immediate Care setting. Another difference is, patients of all ages can be seen in Immediate Care. And, Immediate Care is billed as a hospital outpatient service rather than a physician office visit, meaning your deductible may apply depending on your insurance.
All the conditions seen at Convenient Care would be appropriate in the Immediate Care setting, as well as non-life-threatening allergic reactions, asthma, back problems, minor broken bones and fractures, cuts requiring stitches, minor burns, skin rash and infections, vomiting and diarrhea, dehydration caused by illness, and sexually transmitted infections.
EMERGENCY DEPARTMENT
A hospital Emergency Department is always the right choice for life-threatening medical emergencies (see pages 6-7). Depending on your health insurance, a co-pay or co-insurance may apply to your emergency room visit.
In the Morris Hospital Emergency Department, care is provided by board-certified emergency medicine physicians, along with physician assistants and nurse practitioners.