Morris Hospital Honors Two Extraordinary Employees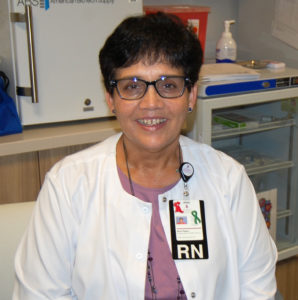 December 3, 2020 – Morris Hospital's employee health nurse and infectious disease physician were honored as the hospital's Fire Starters of the Month during September and October.
Employee Health Nurse Barb Ragan, of Morris, was honored as Fire Starter of the Month during September in appreciation of her extraordinary passion for keeping Morris Hospital's 1,400 employees safe and healthy. She has a commitment to preventive health, an appreciation for the human body, sound judgement and critical thinking skills, an empathetic ear, and a desire to share what she knows with others.
"Barb is truly an advocate for our employees and does her best to provide the support and health information to help all of us make good choices," says Leigh Anne Hall, Wellness Manager at Morris Hospital & Healthcare Centers. "She provides excellent care to everyone, strives to meet the needs of all employees, and works hard to improve processes along the way."
Ragan joined the team at Morris Hospital eight years ago after a long career with the Grundy Health Department where she served in roles that paved the way for the position she holds today.
"Promoting employee health in the hospital is very similar to public health in the community in that it's about prevention," said Ragan.
As Morris Hospital's Employee Health Nurse, Ragan makes sure employee immunization requirements are up-to-date. She's the point of contact when employees have an injury that impacts their ability to do their job, coordinates annual fit testing to make sure physicians and staff are wearing the right size N-95 mask, tracks employee absences, arranges employee flu shot clinics, and serves on the hospital's Wellness, Safety, and Patient Handling committees. And over the past nine months, she has served as the key resource for employees who have concerns about COVID symptoms.
Helping others is really what inspires Ragan to give her best every day.
"I really appreciate the one-on-one discussions that I get to have with employees," said Ragan. "I can't always give them the answer they're hoping for, but when we get done talking and they understand things better and they're grateful, that's pretty rewarding."
Ragan works closely with Morris Hospital's infectious disease physician, Dr. John Bolden, who was honored as October Fire Starter of the Month.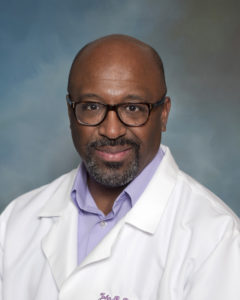 Described as being resourceful, kind, caring, passionate and empathetic, Dr. Bolden's leadership and expertise has been greatly appreciated during the first global pandemic to strike in 100 years.
"Dr. Bolden has worked tirelessly over the past several months," said Kerry Gerding, Infection Preventionist at Morris Hospital. "Along with being an active member of Incident Command, he works on the front line with COVID patients and behind-the-scenes to manage employee exposure and testing. He sets a great example of what it means to be a caring and dedicated healthcare professional. His kind and gentle demeanor make him approachable and accessible to those who seek him out."
When asked about the long hours he has worked over the past several months, Dr. Bolden said he used a similar approach that he did in residency in terms of time management and making sure he gets rest.
"What keeps me going is that I am learning something new every day," said Dr. Bolden. "Things haven't been static, and I really enjoy that. Things are always changing rapidly in my field. I'm used to that."
The pandemic has also given Dr. Bolden more opportunity to do what he loves: educate the public and patients while providing medical and emotional support for patients in the hospital and office setting.
"At this period of time that we're living in, there's a lot of uncertainty, changes, economic instability, and social unrest," said Dr. Bolden. "People – more than I can recall – either need someone to talk to, someone to listen to, or someone to say, 'Hey, you'll get through this. Be strong, have faith, and keep going.'  Those are the important things patients need now compared to 10 years ago when it was just about diagnosis and treatment. Today there's a psycho-social component to patient care."
In early civilizations, fire starters were individuals who had the important job of keeping the flame alive. With over 1,400 employees, Morris Hospital & Healthcare Centers is the largest employer in Grundy County.
# # #