State Board Approves Morris Hospital's Main Campus Renovations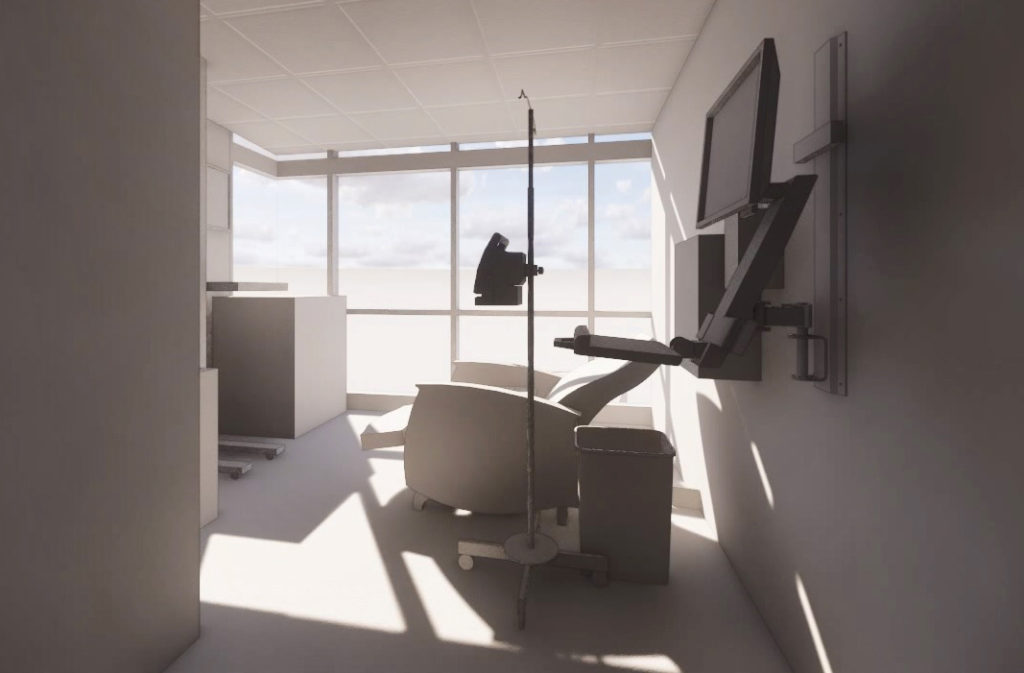 December 10, 2018, MORRIS, IL – Morris Hospital & Healthcare Centers has received approval from the Illinois Health Facilities and Services Review Board to proceed with $33.5 million in renovations that will modernize the main hospital campus at 150 W. High Street in Morris.
The two year project will involve renovation and re-design of over 56,000 square feet of existing space and construction of 4,300 square feet of new space that together will increase clinical space for patient services on the first floor by 12,000 square feet. The target completion date is March 2021.
According to Mark Steadham, President & CEO of Morris Hospital & Healthcare Centers, modernization of Morris Hospital's main campus will help address increased volumes in the emergency department and aging facilities while enhancing patient privacy and the overall patient experience.
"The areas of the hospital slated for modernization were constructed decades ago. Technology and patient expectations have changed significantly since then," says Steadham, adding that the last major renovation on the hospital campus occurred in 2006 with a $5 million renovation of the intensive care unit.
"One of our goals is simplifying access so all patients and visitors enter on the east side of the campus whether they're here for surgery, diagnostic testing, emergency care, or visiting. We are also making modifications that will enhance patient privacy during registration and improve routes for transporting patients to tests and procedures. The enhancements will enable us to deliver high quality healthcare and exceptional customer service for decades to come."
Construction will begin in early spring 2019, with phase 1 focusing on a new emergency department that will increase the number of emergency exam/trauma rooms from 11 to 17 and create a separate fast track area within the emergency department for low acuity visits, all designed to minimize wait times and increase patient privacy. The new emergency department will be located on the northeast side of the hospital campus, with a dedicated emergency entrance immediately north of the hospital main entrance.
Phase 1 also includes construction of a new infusion therapy center on the southeast side of the hospital campus. The new infusion therapy center will feature all private rooms with outside windows to enhance the patient and family experience, as patients having infusion therapy can spend as much as 8 hours at the hospital for each treatment.
Both the new emergency department and infusion therapy center are targeted for completion by the end of 2019.
Subsequent phases of the modernization project will begin in 2020 with a spring 2021 target completion date and include enhancements to the following patient services:
Cardiac diagnostic services will move to renovated space adjacent to the catheterization lab, bringing all cardiac services together in one location, along with added capacity for cardiac stress testing. The cath lab patient preparation and recovery area will also be expanded for enhanced privacy.
The patient registration area will move to the east side of the hospital campus and will feature self check-in kiosks, along with private registration stations. A new, expanded lab draw area will also open off the main lobby on the east side of the campus, along with a new surgical reception area for families waiting for a loved one in surgery.
A women's imaging center will be added to the Imaging department.
In October, hospital officials announced that they were seeking approval for the renovations as part of a $60 million master facility plan that also includes construction of a Diamond-Coal City Campus scheduled for completion in fall 2019 and a new medical facility in Ottawa with a tentative 2020 completion, along with $3 million in renovations at Deerpath Surgery Center, a joint venture between Morris Hospital and independent physicians that was converted from an orthopedic surgery center to a multi-specialty ambulatory surgery center earlier this year.
"This is a very exciting time for Morris Hospital & Healthcare Centers," adds Steadham, encouraging community members to check the hospital website frequently for construction progress. "Between all of the projects associated with the master facility plan, we are taking an important step forward as we position Morris Hospital for the long term future."
Serving patients at 26 locations, Morris Hospital & Healthcare Centers includes the 89-bed Morris Hospital, as well as physician offices in Braidwood, Channahon, Coal City, Dwight, Gardner, Marseilles, Mazon, Minooka, Morris, Newark, Ottawa and Yorkville. Through the services of over 1,700 healthcare professionals, physicians and volunteers, Morris Hospital provides lifesaving cardiac intervention with angioplasty and stents, a radiation therapy center for cancer patients, state-of-the-art intensive care unit, sleep center, and immediate care services at three locations. Morris Hospital is a Level II trauma center and a Level II perinatal care provider with an intermediate care nursery. For more information, visit www.morrishospital.org.