Morris Hospital Fire Starter Hailed as True Healthcare Hero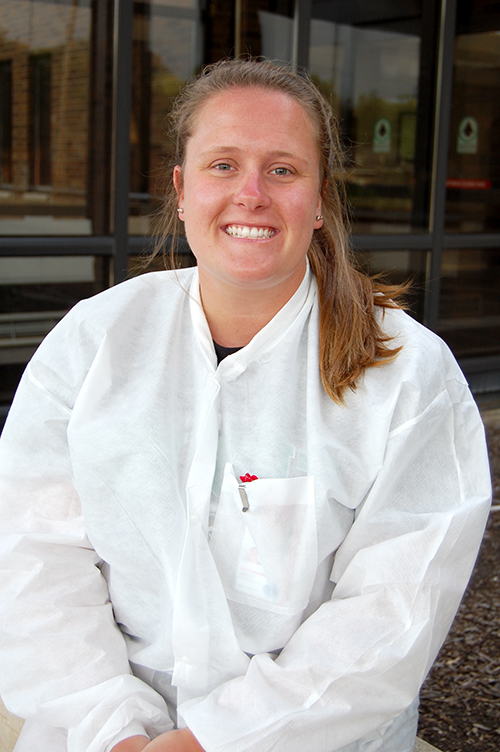 August 26, 2020 – When it comes to healthcare heroes and the COVID pandemic, there's no doubt Jamie Stanton, of Dwight, is one of them. A phlebotomist in the Laboratory at Morris Hospital, Stanton volunteered to cover the COVID drive-thru testing service when it opened in June. She was selected as Morris Hospital's July Fire Starter of the Month for being the "rock and cornerstone" of this important and necessary patient and community service.
When asked why she volunteered for the drive-thru COVID testing, Stanton said she was interested in knowing more about the virus in general, and she said she "enjoys helping people."
While her confident attitude might mirror that of a healthcare veteran, she is relatively new to the industry, having completed her phlebotomy certification in the spring of 2019.
While Stanton previously spent her days collecting laboratory specimens on inpatients and emergency patients, Kimberly Wolfer, Director of the Morris Hospital Laboratory, says Stanton never hesitated to become the primary phlebotomist at the COVID drive-thru testing. It's an important service that enables physicians to diagnosis their symptomatic patients and patients to proceed with elective surgeries and procedures. Expanded testing also helps reduce the spread of the virus in the community.
"Jamie never hesitated," says Wolfer. "There is a significant amount of responsibility that comes with this role, yet she accepts it with grace and pleasantry. Jamie is well organized and participates with an excellent attitude. Her dedication to her work is living proof of the hospital's mission."
Whether she's collecting COVID specimens outdoors in the unbearable heat or drawing blood on a patient in the hospital, the goal doesn't change for Stanton. She wants to make sure the patients she encounters have an excellent experience.
"I know that getting their blood drawn or having a nasal swab is the last thing anybody wants to be doing," says Stanton. "I enjoy being the person who gets to take care of them."
In early civilizations, fire starters were individuals who had the important job of keeping the flame alive. With over 1,400 employees, Morris Hospital & Healthcare Centers is the largest employer in Grundy County.
# # #