HIM Tech Contributes to Positive Work Environment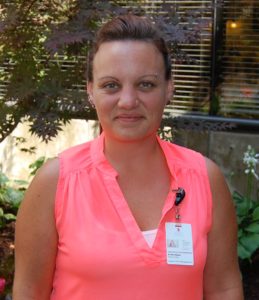 September 12, 2017 –  Since joining the team at Morris Hospital one year ago, Coal City resident Alisha Read has already made an incredible difference by establishing herself as a true asset for the Health Information Management (Medical Records) department. She's thoughtful, caring, eager, motivated, and dependable — always willing to do whatever she can to lighten the load for her co-workers. For all of these reasons, Read was selected as Morris Hospital's Fire Starter of the Month for August.
In her role as a Health Information Management Technician, Read prepares and scans patient charts, which includes assembling the discharge instructions, procedure consents, medication lists, physician consent, and records from other hospitals. She is also responsible for labeling and indexing charts for the patient's electronic record.
"The sooner I get the record assembled, the better for everyone," says Read, who clearly understands that the work she does is meaningful and makes a difference. "Then the coders can code the record, other hospitals can request the record, and everything is ready for the patient's next visit."
Because Read is such a conscientious employee who likes to learn new things and assist others, she is always jumping in and helping without even being asked.
"Alisha has a wonderful work ethic and is well liked by our team," says Morris Hospital Health Information Director Kahla Boe. "She has a positive disposition and sets a great example for others. In doing so, she helps our team morale by demonstrating care and compassion to her fellow team members."
Co-worker Shellie Moreno says Read is dependable, always up for a challenge, and clearly goes above and beyond to help her peers.
"The excellent work Alisha does has made our department a nicer place to work," says Moreno. "She inspires us all by being an excellent example of an exceptional worker."
In early civilizations, fire starters were the individuals who had the important job of keeping the flame alive. As Fire Starter of the Month, Read received a Grundy County Chamber of Commerce gift certificate, a Morris Hospital logoed clothing item of her choice, a special "Fire Starter" lapel pin, and a designated parking spot for the month. With over 1,200 employees, Morris Hospital & Healthcare Centers is the largest employers in Grundy County and winner of the Advisory Board Company's 2017 Workplace of the Year award.