Patient Feedback Lands Multiple Awards for Morris Hospital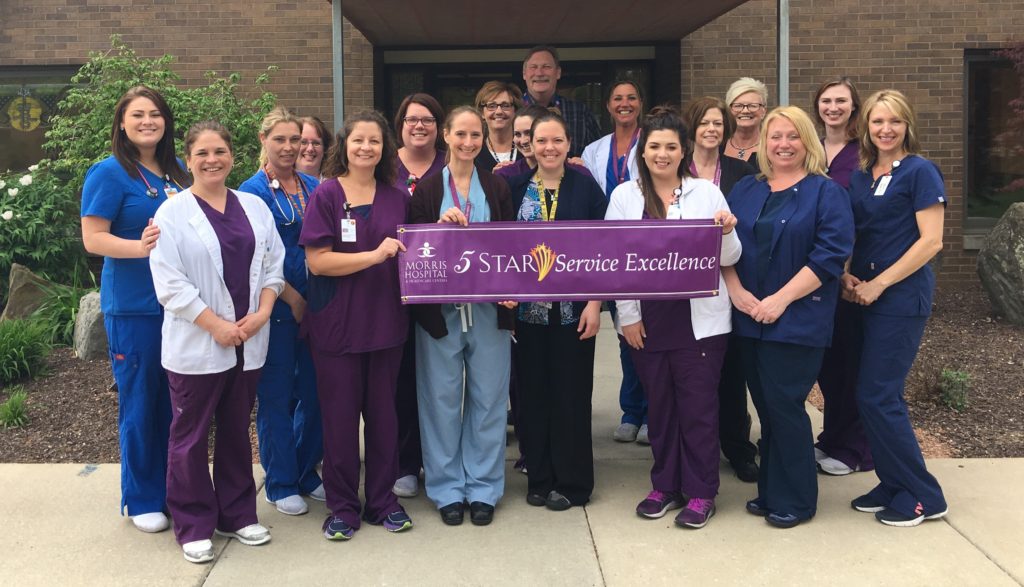 June 8, 2018 – Morris Hospital & Healthcare Centers has been recognized by Professional Research Consultants (PRC) with 13, 5-Star Excellence in Healthcare Awards for outstanding patient experience.
The 2018 awards are based on the percentage of patients who gave an "excellent" rating for overall quality of care on the patient surveys. PRC presents the awards to clients that score in the 90th percentile when compared to other hospitals and clinics across the country that use the same patient survey tool.
Morris Hospital & Healthcare Centers received 5-Star patient experience awards for: Inpatient Services, Discharge Information, Family Birthing Suites, Morris Hospital Allergy Specialists, Newark Healthcare Center, Minooka Healthcare Center at the Ridge Road Campus, Rheumatology – Morris, Pediatricians – Morris, Obstetrics & Gynecology Specialists, Ottawa Campus, and Immediate Care at the Diagnostic & Rehabilitative Center in Morris, the Ridge Road Campus in Channahon, and the Yorkville Campus.
In addition, Dr. Hetal Amin, Allergist with Morris Hospital Allergy Specialists, received a Top Performer Award for scoring at the 100th percentile for overall doctor quality of care on the patient experience surveys.
"Every day, we are focused on providing extraordinary care for our patients, both in the hospital setting and at our healthcare centers," says Mark Steadham, President & CEO of Morris Hospital & Healthcare Centers. "The feedback from the patient surveys is critically important because it tells us how we're doing and where we need to make improvements when it comes to patient perception.
"This is the most 5-Star awards we've received for patient experience," Steadham adds. "We're very proud of our providers and staff for their commitment to providing excellent care and service to our patients, one of the long-standing hallmarks of Morris Hospital & Healthcare Centers."
Morris Hospital & Healthcare Centers was recognized at PRC's annual Excellence in Healthcare Conference held May 20-22 in South Carolina.
Serving patients at 25 locations in 11 communities, Morris Hospital & Healthcare Centers includes the 89-bed Morris Hospital, as well as physician offices in Braidwood, Channahon, Dwight, Gardner, Marseilles, Mazon, Minooka, Morris, Newark, Ottawa and Yorkville. Through the services of over 1,700 healthcare professionals, physicians and volunteers, Morris Hospital provides lifesaving cardiac intervention with angioplasty and stents, a radiation therapy center for cancer patients, a state-of-the-art intensive care unit, and immediate care services at three locations. Morris Hospital is a Level II trauma center, a Level II perinatal care provider with an intermediate care nursery, pediatric department approved for pediatrics, and a Primary Stroke Center.
# # #