Morris Hospital Emergency Department Registrar Honored for Overall Excellence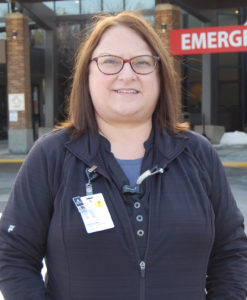 April 19, 2021 – Tammy Kelly, of Mazon, is a perfect example of what it takes to be a role model employee. She is dedicated, loyal, kind, professional, talented and knowledgeable. Above all, she is proud to be a Morris Hospital employee and gives all she has to exemplify excellence. An Emergency Department Registrar for the past 23 years, Kelly was selected as Morris Hospital's Fire Starter of the Month for March.
According to Michaela Gretencord who works with Kelly registering patients in the Emergency Department, Kelly has upheld the highest level of attention-to-detail and professionalism every single day over the past 23 years.
"Each and every one of Tammy's co-workers knows that she is an authority on all things patient access," wrote Gretencord in nominating Kelly as Fire Starter of the Month. "We know that we can go to her for any and every kind of question or any sort of complicated task and she will give her all to see that the job is done and done well, and that we have good notes to help us next time. She'll do anything to help the department function properly no matter what's on her plate. She sets the standard in our department for kindness and professionalism at all times."
Having worked all three shifts over the past 23 years, Kelly has assisted thousands of patients who have come to the Morris Hospital Emergency Department seeking care. She clearly understands the very important role of the ED Registrar.
"We are the first person emergency patients see when they enter the door," says Kelly. "Many times, they're scared, nervous, and don't know what to expect. If we're calm, we can help set the tone for their entire visit. It's very rewarding to be able to reassure patients they're in the right place and that we're going to help."
Yet the role of the ED Registrar is about much more than registering emergency patients, and Kelly embraces all of it. Whether she's registering a direct admission or outpatient, collecting co-payments, connecting a patient with financial assistance, or assisting a caller on the phone, she understands how her department contributes to the mission of the hospital.
In early civilizations, fire starters were individuals who had the important job of keeping the flame alive. With over 1,400 employees, Morris Hospital & Healthcare Centers is the largest employer in Grundy County.
# # #