Morris Hospital Honors Therapist for Inspiring Pulmonary Patients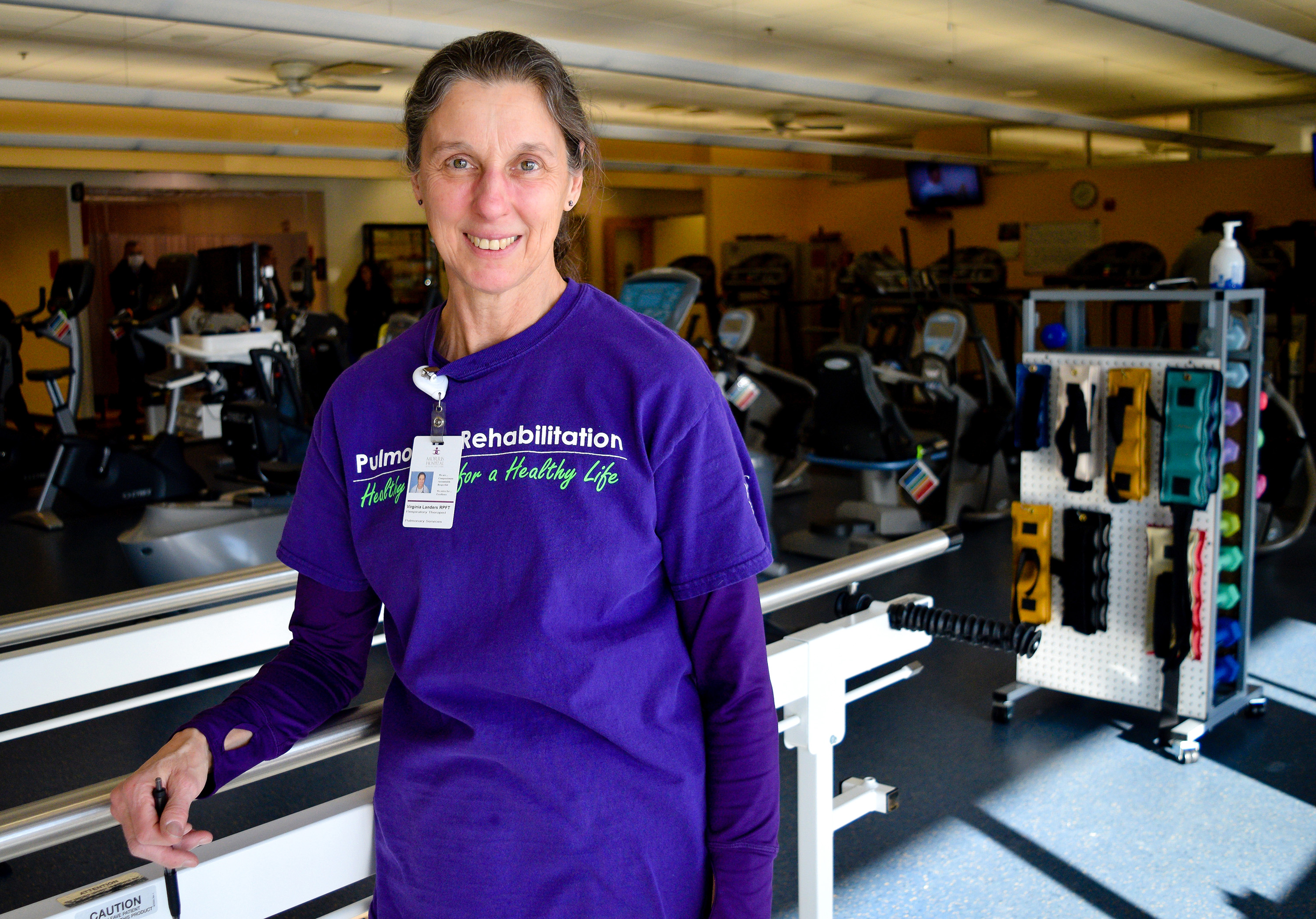 January 30, 2018 – Morris Hospital & Healthcare Centers honored Respiratory Therapist Virginia Landers, Yorkville, as its first Fire Starter of the Month in the new year.
"Virginia always puts the patients first and is constantly engaging them, helping them strive for healthier lives," said co-worker Patricia Holmberg who nominated Landers as Fire Starter of the Month. "She truly strives to fulfill the mission of the hospital by treating each patient as the unique individual they are – always showing compassion and concern."
Landers worked in a variety of settings including hospitals, home care, and sleep centers before she became part of the Morris Hospital team in 1999. She spent the next 12 years working with inpatients, and each year during her annual appraisal when asked about her goals, she would tell her manager she wanted to start a Pulmonary Rehabilitation program at Morris Hospital. In 2011 she did just that.
Located at the Diagnostic & Rehabilitative Center of Morris Hospital on Gore Road in Morris, the Pulmonary Rehab program serves adults who are limited in everyday activities due to chronic obstructive pulmonary disease (COPD), chronic bronchitis, emphysema, asthma, pulmonary fibrosis, bronchiectasis, environmental and occupational lung disease, and post-operative lung surgery.
Since 2011, Landers has added a monthly Breathers Support Group and Harmonica Group to the list of pulmonary offerings for the community. This past year, she led the program's efforts in achieving its first certification from the American Association of Cardiovascular and Pulmonary Rehabilitation.
Morris Hospital Cardiovascular Services Director Jori Christensen agrees that Landers truly goes above and beyond for each of her patients.
"Not only does Virginia work with each patient individually to set up their exercise plan and goals and then support them in any way she can, she is constantly dreaming up ideas to keep the Pulmonary Rehab patients engaged," says Christensen.  "Even outside of work, she gives of herself by participating in activities like the 3-day, 75 mile CowaLUNGa bike ride, all in honor of the Pulmonary Rehab patients."
Landers says the patients are the inspiration that keep her striving for more. "It's all about engaging the patient," she says. "We want to keep them from sitting in a chair at home and watching TV. When we have them coming to rehab or a program because we're offering something they like to do, we know we've nailed it. It's so rewarding to see the look on their faces."
"Living is about quality of life," she adds. "For some of our patients, rehab is the last straw. When they tell me after one to two months of participating that they feel better and can do more…and when I see it in their eyes…that, to me, is satisfying."
In early civilizations, fire starters were the individuals who had the important job of keeping the flame alive. As Fire Starter of the Month, Landers received a Grundy County Chamber of Commerce gift certificate, a Morris Hospital logoed clothing item of her choice, a special "Fire Starter" lapel pin, and a designated parking spot for the month. With over 1,300 employees, Morris Hospital & Healthcare Centers is the largest employers in Grundy County and winner of the Advisory Board Company's 2017 Workplace of the Year award.