New Physician Brings Advanced Ear Surgeries to Morris Hospital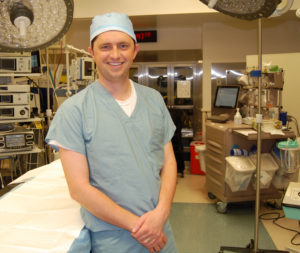 March 26, 2021 –Advanced, complex ear surgeries that are typically performed in university medical center settings are now being done at Morris Hospital.
Fellowship trained otolaryngologist Matthew Bartindale, M.D., performs the majority of ear surgeries completely through the ear canal with the goal of avoiding an external incision when possible. He joined the Morris Hospital Medical Staff last September.
"The ear is amazingly complex and contains some of the smallest structures in the human body," explains Dr. Bartindale. "I do the grand majority of my operations through a 7mm (1/4 inch) speculum, without making any external incisions."
There are a few reasons Dr. Bartindale is able to perform complex ear surgeries this way. One is because of his advanced training. A graduate of Loyola University Stritch School of Medicine, he completed an otolaryngology residency at Loyola and then went on for additional fellowship training in advanced otology and lateral skull base surgery at Puget Sound ENT in Seattle, Washington.
The other reason is the availability of specialized instrumentation and equipment, including an ear endoscope and a specialized otology microscope. The endoscope is essentially a narrow rod with a lens at the tip that allows Dr. Bartindale to see around corners in the ear, while the microscope provides a 3 dimensional, magnified view inside the ear.
One type of ear surgery Dr. Bartindale performs at Morris Hospital using these instruments is removal of a cholesteatoma, or skin cyst inside the ear. Cholesteatomas sometimes result when patients have chronic ear infections or poor eustachian tube function. The surgery to remove cholesteatomas is called tympanomastoidectomy.
"While tympanomastoidectomies for cholesteatomas have been performed for years, being able to resect many of them without having to remove the back of the ear canal or make an external incision is really what's most significant for patients at Morris Hospital," explains Dr. Bartindale. "The advantage is that it makes recovery from surgery much easier, with most patients only needing acetaminophen for pain control following surgery."
"By using these new techniques and Morris Hospital's advanced equipment, I'm able to visualize the ear in ways that were not previously possible. This avoids the need to remove structures in order to reach less accessible parts of the ear. I can also apply these minimally invasive techniques to repair holes in the ear drum or fractured hearing bones, restore hearing, and help alleviate symptoms of eustachian tube dysfunction."
Dr. Bartindale is also able to perform cochlear implant surgery at Morris Hospital on appropriate patients. A cochlear implant is a small device that is surgically implanted in the inner ear to help improve hearing for patients whose hearing loss is severe enough that traditional hearing aids no longer help. It is a one-hour outpatient surgery requiring a one inch incision behind the ear.
"With a cochlear implant, we can actually restore hearing for someone who is deaf," says Dr. Bartindale.
Dr. Bartindale also performs surgeries at Morris Hospital that correct Eustachian tube dysfunction, canalplasties to widen the ear canal, and ossiculoplasties to reconstruct damaged hearing bones.
Generally, symptoms of ear problems include chronic ear drainage, ear fullness, pressure, pain, ringing in the ear, and hearing loss. When left untreated, ear problems can lead to more serious problems, including deafness and increased risk of dementia.
"We always try conservative methods of treatment first, but sometimes surgery is needed to correct ear problems," says Dr. Bartindale.
Along with his special interest in ear disease, Dr. Bartindale has clinical expertise in pediatric ENT, thyroid disease, nose and sinus disease, snoring and sleep disorders. An independent physician on the Morris Hospital Medical Staff, Dr. Bartindale is with ENT Surgical Consultants and sees patients at offices in Morris and Joliet. He can be found on the Morris Hospital website by going to morrishospital.org/doctors.