Morris Hospital Unit Secretary Sets Positive Example for Others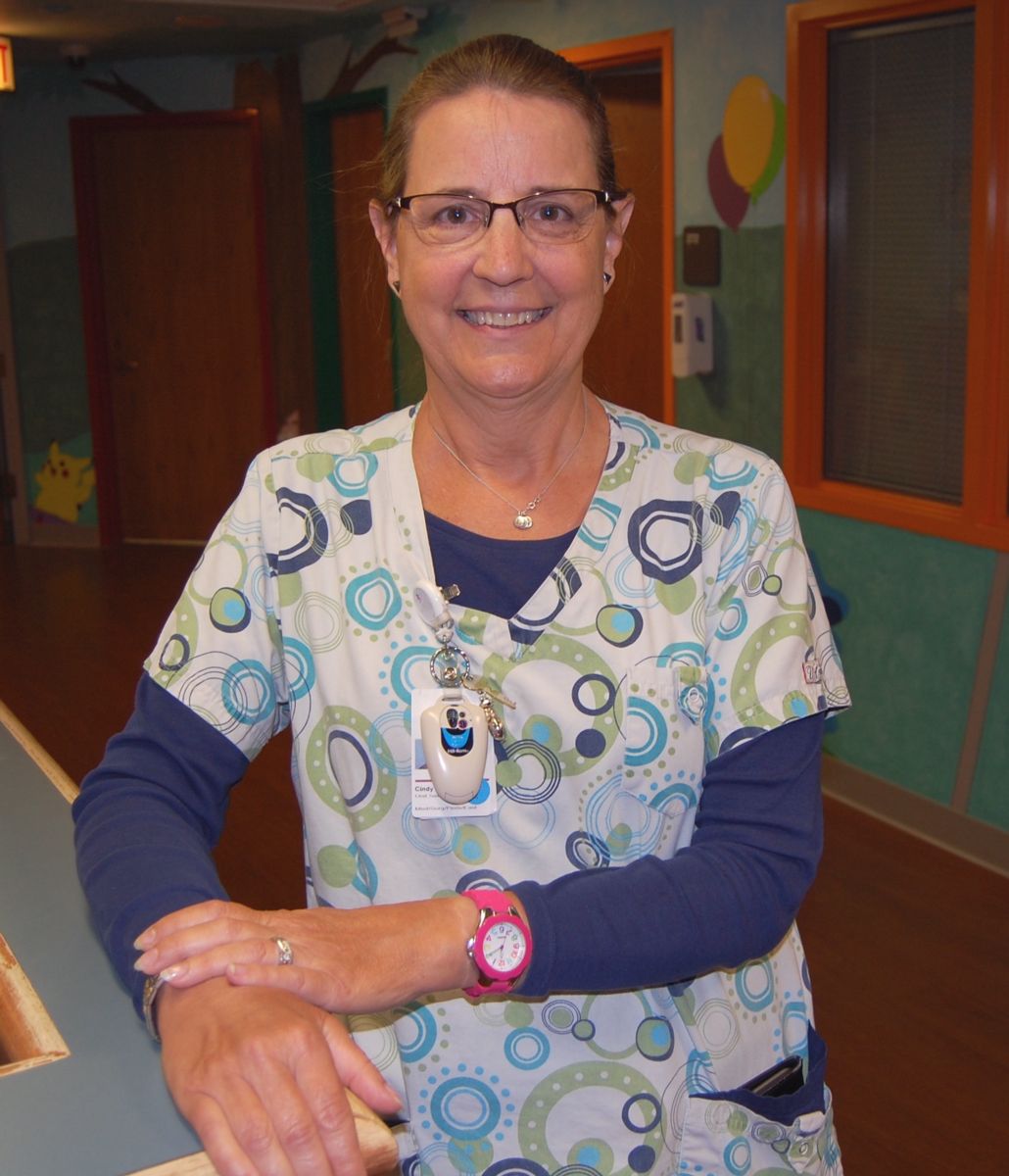 May 24, 2017 –Cindy Higgins, of Morris, loves her job as unit secretary on Morris Hospital's 2 East/Pediatrics unit, she loves the people she works with, and she loves being part of Morris Hospital. This positive, joyful attitude radiates in everything Higgins does, making her a role model employee who makes a difference for so many. For all of these reasons, Higgins was selected as Morris Hospital's Fire Starter of the Month for May.
Higgins worked in the medical environment for about 20 years before joining Morris Hospital in 2004 in Environmental Services where she was recognized as employee of the month twice during her first year of employment. She transferred to ICU as a patient care technician from 2005-2008 and then left Morris Hospital for a short time before returning in 2011 as 2 East unit secretary.
2 East Charge Nurse Dawn Samaniego appreciates the many contributions Higgins makes and says her positive attitude is infectious.
"Cindy will always do everything she can to help or make things better for the hospital and people," wrote Samaniego in nominating Higgins for Fire Starter of the Month. "She goes out of her way to make people feel special and make them smile. She truly cares about everyone and keeping the unit and hospital successful."
"Cindy is also an excellent worker with an amazing and over-the-top work ethic. If she hears that an employee, patient or visitor needs something, she will immediately pick up the phone or run to get it. As a charge nurse, I wouldn't be as successful without her by my side."
Morris Hospital's new 2 East Manager Meagan Rothrock-Magana says from the moment she met Higgins, she could immediately tell she is a self-directed, hard-working employee who maintains a positive outlook every day and is open to change.
"Cindy is a breath of fresh air," says Rothrock-Magana. "As a unit secretary, she is the face of the unit — the first one you see and the first voice you hear as a patient or family. She is calming and reassuring and extends these behaviors to staff and doctors as well."
For Higgins, being 2 East unit secretary is an honor because she gets to work with an "amazing group of staff" and interact with physicians, patients and their families.
"It's an honor to work alongside the charge nurses, who are so unbelievably amazing and knowledgeable. Anything that I am able to help my charge nurses with is very rewarding," says Higgins, adding that she strives to make sure everyone around her has what they need, whether it's other staff on the unit, a physician, a patient's family, or another department.
In early civilizations, fire starters were the individuals who had the important job of keeping the flame alive. As Fire Starter of the Month, Higgins received a Grundy County Chamber of Commerce gift certificate, a Morris Hospital logoed clothing item of her choice, a special "Fire Starter" lapel pin, and a designated parking spot for the month. With over 1,200 employees, Morris Hospital & Healthcare Centers is the largest employers in Grundy County and winner of the Advisory Board Company's 2017 Workplace of the Year award.