Morris Hospital Board Installs New Officers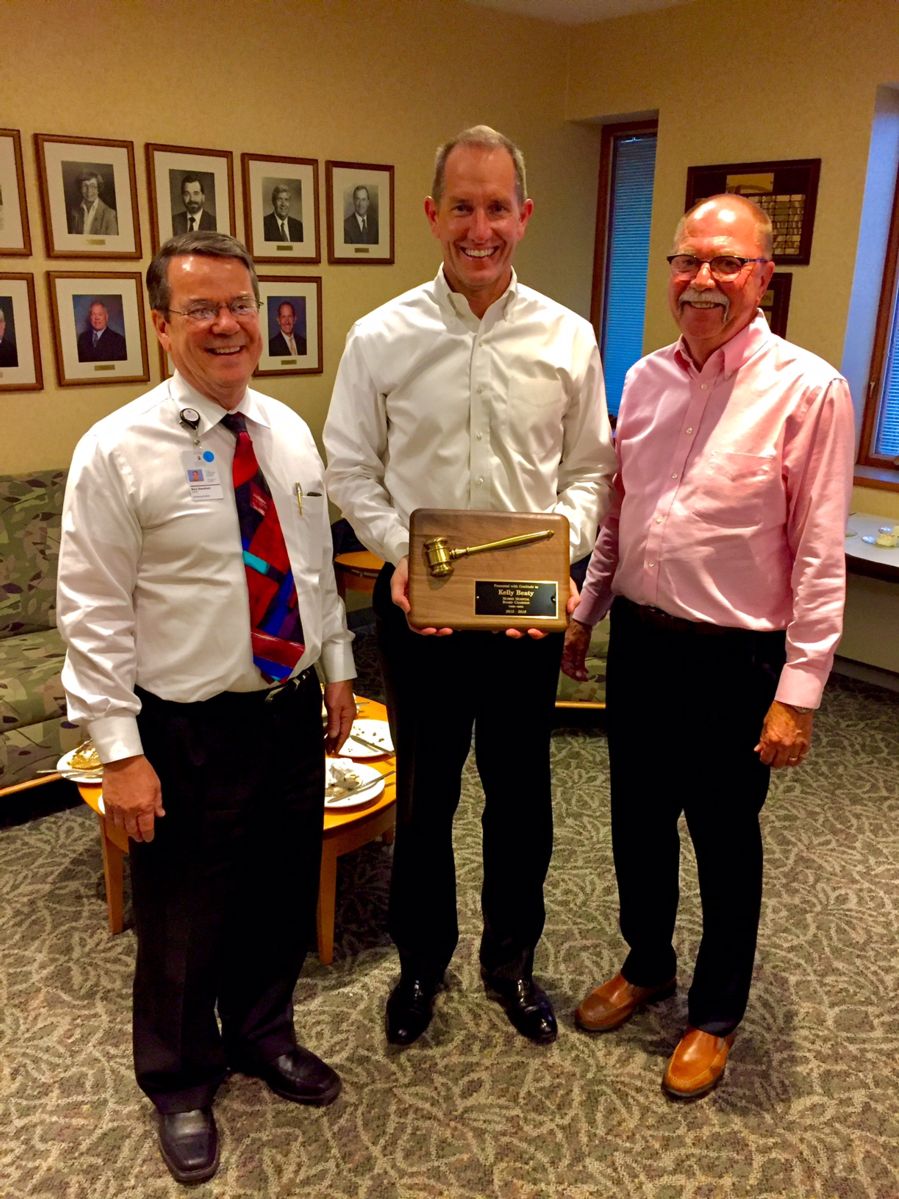 May 8, 2017, Morris, Illinois – The Board of Directors at Morris Hospital & Healthcare Centers has installed new officers for the 2017-18 term. Rodney Engstrom, of Yorkville, is the new board chairman, succeeding Kelly Beaty, who has served on the board for 12 years. Beaty remains on the board as immediate past president.
Additional officers for the 2017-18 term are Barry Narvick, vice chairman; Brian Angwin, secretary; and David Bzdill, treasurer, all from Morris.
Engstrom is a retired superintendent from Seneca High School, where he was also a teacher, coach and business manager. He was elected to the Morris Hospital Board of Directors in 2007 and currently serves on the executive and governance committees and is chair of the long range planning and recruitment committees. He also serves on the Morris Hospital Foundation Board of Directors and is a member of the Illinois Association of School Administrators and Illinois Association of School Business Officials. Engstrom is past president of Our Savior Lutheran Church Council and Illinois Valley School Business Officials.
"Soon after joining the Morris Hospital Board in 2007, I discovered that education and hospitals have a lot in common," says Engstrom. "When I was an administrator at Seneca High School, I felt it was my job to provide resources to staff so that they could provide the best education possible for our students.  Now serving on the Morris Hospital Board, I feel the same way. It is the Board's responsibility to provide the resources to our administration and staff so that they can provide the best possible medical care to the community."
"It is my goal as Chairman to continue to provide the same type of leadership and resources that Kelly Beaty and other past chairmen have provided," adds Engstrom. "Together, we will continue to make Morris Hospital the strong, independent hospital our community deserves."
Vice Chair Barry Narvick is a lifelong resident of Morris and owner of Narvick Brothers Lumber Company, Inc. He has served on the Morris Hospital Board since 2008 and is currently on the finance, long range planning, nominating and executive committee. Narvick also serves on the board of the Morris City Planning and Zoning Committee, Will Grundy Industry Advancement, and Will Grundy County Contractors Association where he previously served as chair. He is also chair of Grundy County Association for the Handicapped.
Secretary Brian Angwin is plant manager at LyondellBasell's Morris manufacturing site. A native of Michigan, Angwin moved to Morris in 2012 from Clinton, Iowa, where he was plant manager of a similarly sized LyondellBasell site. He has served on the Morris Hospital & Healthcare Centers' Board of Directors since 2014 and is a member of the board's executive, long range planning and compensation committees. Angwin currently serves on the Board of Directors for the Chemical Industry Counsel of Illinois and the Three Rivers Manufacturing Association. His previous community involvement has included service on school boards, a community college board, and the board of directors at Mercy Medical Center in Clinton.
Treasurer Dave Bzdill has been an attorney with Hynds, Yohnka, Bzdill and McInerney, LLC and its predecessor firms for 20 years. He previously practiced law in eastern Iowa before moving to Morris more than 20 years ago. Bzdill joined the Morris Hospital Board in 2014 and has served on the finance and compliance, recruitment, and governance committees. His previous community involvement has included serving on the boards for We Care of Grundy County, the Grundy County Health Department, and Grundy Economic Development Council. Additionally, he is a past president of the Grundy County Bar Association.
The Board of Directors at Morris Hospital & Healthcare Centers is made up of 12 volunteer members who live in the communities served by the hospital.  The board is responsible for providing oversight and governance to ensure quality care and adherence to the hospital's mission, setting strategic direction for the hospital, and overseeing hospital policies and financial matters.  Also serving on the Board with the four officers and Immediate Past President Kelly Beaty are: Noreen Dollinger, Channahon; Jackie Goggins, Channahon; Tami Hansen, Gardner; Dr. Daniel Jurak, Morris; Kevin Olson, Morris; Dr. John Roth, Morris; Dr. Peter Roumeliotis, Shorewood; Dr. Kevin Webster, Morris; and Dr. Kristopher Oswalt, Medical Staff President.
Serving patients at 25 locations in 11 communities, Morris Hospital & Healthcare Centers includes the 89-bed Morris Hospital, as well as physician offices in Braidwood, Channahon, Dwight, Gardner, Marseilles, Mazon, Minooka, Morris, Newark, Ottawa and Yorkville. Through the services of over 1,700 healthcare professionals, physicians and volunteers, Morris Hospital provides lifesaving cardiac intervention with angioplasty and stents, a radiation therapy center for cancer patients, a state-of-the-art intensive care unit, and immediate care services at three locations. Morris Hospital is a Level II trauma center, a Level II perinatal care provider with an intermediate care nursery, and a Primary Stroke Center. Morris Hospital & Healthcare Centers is a recipient of The Advisory Board Company's 2017 Workplace of the Year Award for having outstanding employee engagement.