Morris Hospital Radiation Therapy Center Unveils New Cancer Treatment Technology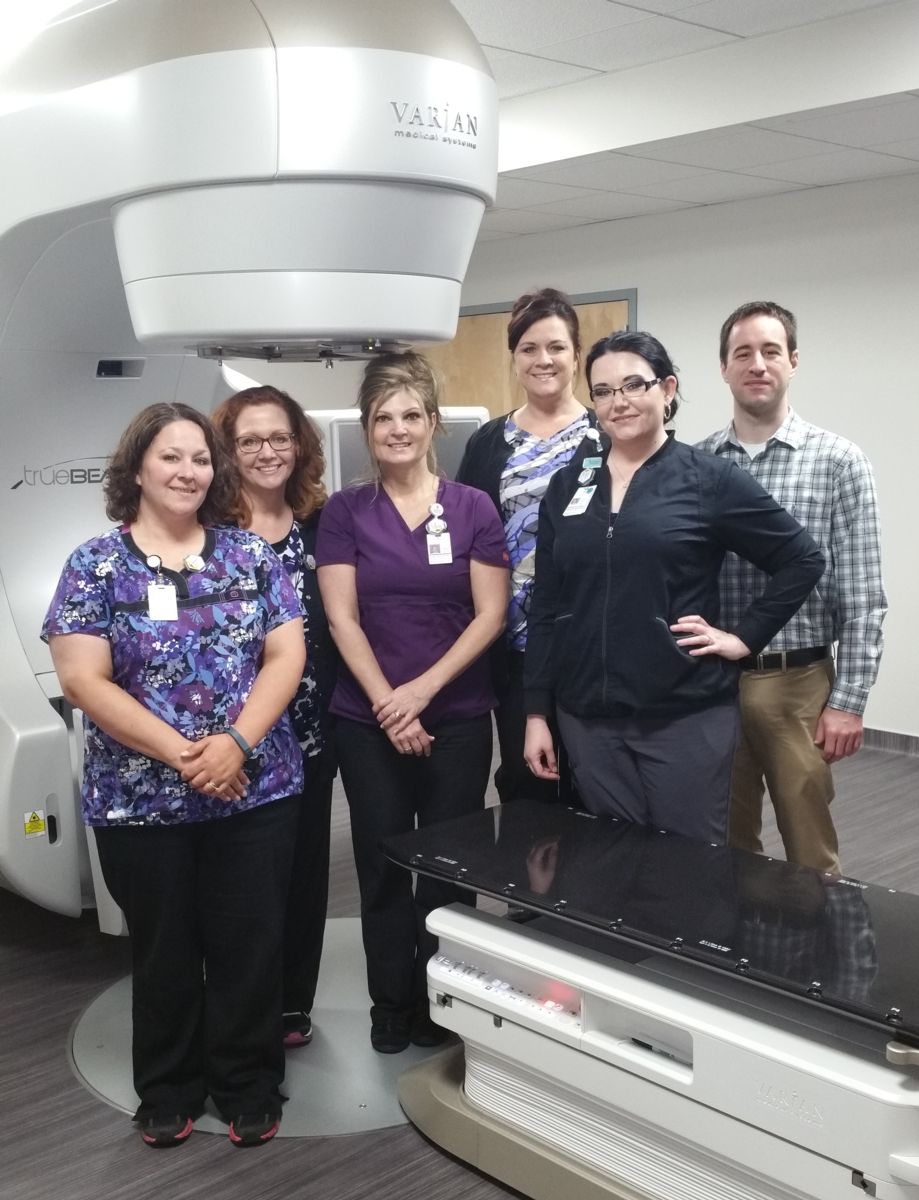 May 24, 2017, Morris, Illinois – The Radiation Therapy Center of Morris Hospital has a new $2.6 million radiotherapy cancer treatment system that was funded in part by the community through gifts to the Morris Hospital Auxiliary and Foundation.
The advanced TrueBeam™ linear accelerator integrates imaging technology and radiation delivery to treat cancer with speed and accuracy measured in millimeters. While the system was designed for complex cancers of the head and neck, lung, breast, stomach and brain, it also can be used for cancers of the liver and prostate, along with other cancers treated with radiation therapy.
"Our new TruBeam system from Varian Medical helps assure state-of-the art cancer treatment for our community by expanding treatment options we can offer patients, even for the most challenging cases," says Liz Bates, Director of Imaging Services at Morris Hospital & Healthcare Centers. "The equipment was designed with many features that improve the overall patient experience."
In addition to purchasing a new linear accelerator, Morris Hospital has a new GE 4-D CT scanner used strictly for cancer treatment planning purposes, a new Eclipse cancer treatment planning software system, and a new oncology-specific electronic medical record system called Aria.
According to Bates, radiation therapy involves the use of x-rays or energy particles to destroy cancer cells or damage their ability to reproduce. It can be used along with chemotherapy as part of a patient's integrated cancer treatment, or as the primary source of treatment.
During treatments, the linear accelerator rotates around the patient's body to deliver radiation therapy from nearly any angle. The TrueBeam system provides real-time imaging, allowing the radiation oncologists to direct higher doses of radiation with greater accuracy.
The TrueBeam linear accelerator also has a sophisticated motion management feature that gives the ability to synchronize radiation beams with the patient's breathing. A feature called respiratory gating protects nearby organs and healthy tissues from unnecessary radiation.
Another advantage of the system is faster treatment times. For example, for a standard intensity-modulated radiation therapy treatment that typically takes 20 minutes, the treatment time with the TrueBeam linear accelerator is reduced to four or five minutes, a real benefit for patients.
There are other features of the new system that better guide the radiation therapists when positioning patients on the treatment table, resulting in even greater precision. The system also has an advanced communication system that allows the therapist running the system to remain in constant contact with the patient.
Located at 1600 W. US Route 6 in Morris, the Radiation Therapy Center of Morris Hospital has been providing advanced cancer treatment for the community since 2004 and is accredited by the Commission on Cancer of the American College of Surgeons. The treatment team includes radiation therapists, an oncology nurse, a patient service representative, and Radiation Oncologists Ommar Hla, M.D., and Gregory Treharne, M.D., who work with a dosimetrist to develop a customized treatment plan for each individual patient. Free transportation is offered to and from treatments through the Morris Hospital Patient Transportation Service.
Serving patients at 25 locations in 12 communities, Morris Hospital & Healthcare Centers includes the 89-bed Morris Hospital, as well as physician offices in Braidwood, Channahon, Dwight, Gardner, Marseilles, Mazon, Minooka, Morris, Newark, Ottawa and Yorkville. Through the services of over 1,700 healthcare professionals, physicians and volunteers, Morris Hospital provides lifesaving cardiac intervention with angioplasty and stents, a radiation therapy center for cancer patients, a state-of-the-art intensive care unit, and immediate care services at three locations. Morris Hospital is a Level II trauma center, a Level II perinatal care provider with an intermediate care nursery, and a Primary Stroke Center. Morris Hospital is named on Becker's Hospital Review's 100 Great Community Hospitals list.