Healthcare Center Nurse Recognized for Extraordinary Compassion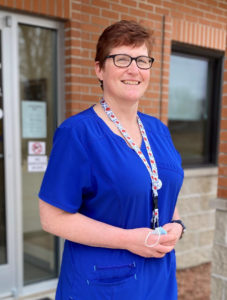 May 17, 2021 –  Jen Blazevicz couldn't be more dedicated to her calling. A Licensed Practical Nurse at Morris Hospital's Healthcare Centers located in Braidwood, Dwight and Gardner, she goes out of her way to impact the lives of patients. Described as an extraordinarily accountable and professional nurse who loves her job, Blazevicz, of Dwight, was honored as Morris Hospital's April Fire Starter of the Month.
"Jen has consistently been a compassionate presence for years," says Kylie Gabehart, Practice Supervisor at Morris Hospital & Healthcare Centers. "Her gentle demeanor and kindness when taking care of patient needs is truly remarkable. She goes above and beyond for her patients and is the first to volunteer to help our community. As a hard-working and determined member of our organization, there is no doubt that Jen fulfills all expectations of the perfect Firestarter. We are truly lucky to have her on our team."
A native of Chicago who moved to the area in 2006, Blazevicz is recognized by co-workers for being passionate about her job and empathetic with each patient and their situation. They also say patients absolutely love her.
"Jen will be the first person to engage a patient in a supportive chat or offer a warm smile," says Dr. Jennifer Thomas, a family medicine physician at Morris Hospital's Braidwood and Gardner Healthcare Centers. "She helps others feel that someone out there truly cares about them."
Blazevicz is someone who can truly say she loves her job. She loves that she's always doing something different and that she gets to work with patients at all stages of life. And she loves learning new things, as evident when she offered to take on an additional role as part of the research study Morris Hospital is participating in with the University of Washington AIMS Center to determine the effectiveness of treating co-existing mental health disorders and opioid use disorder in the primary care setting. Blazevicz completed special training that makes her certified to consent patients for the study, all out of commitment to helping patients receive the care they need. This is all part of her ongoing willingness to go the extra mile for her patients and co-workers.
"Somebody has to be there for them," says Blazevicz, who often makes follow up calls to struggling patients to see how they're feeling or to make sure they did what they were advised to do when they left the office. "You want to make sure they follow up on what the provider told them. Some of them need that extra nudge."
Along with the patients, Blazevicz also has a positive impact on the lives of her co-workers. They say she is the ultimate example of a team player and is the first person to organize a group dinner or movie night for the team after work.
"Jen truly cares about her co-workers and makes this a better place to work for all of us," adds Dr. Thomas.
In early civilizations, fire starters were individuals who had the important job of keeping the flame alive. With over 1,400 employees, Morris Hospital & Healthcare Centers is the largest employer in Grundy County.
# # #