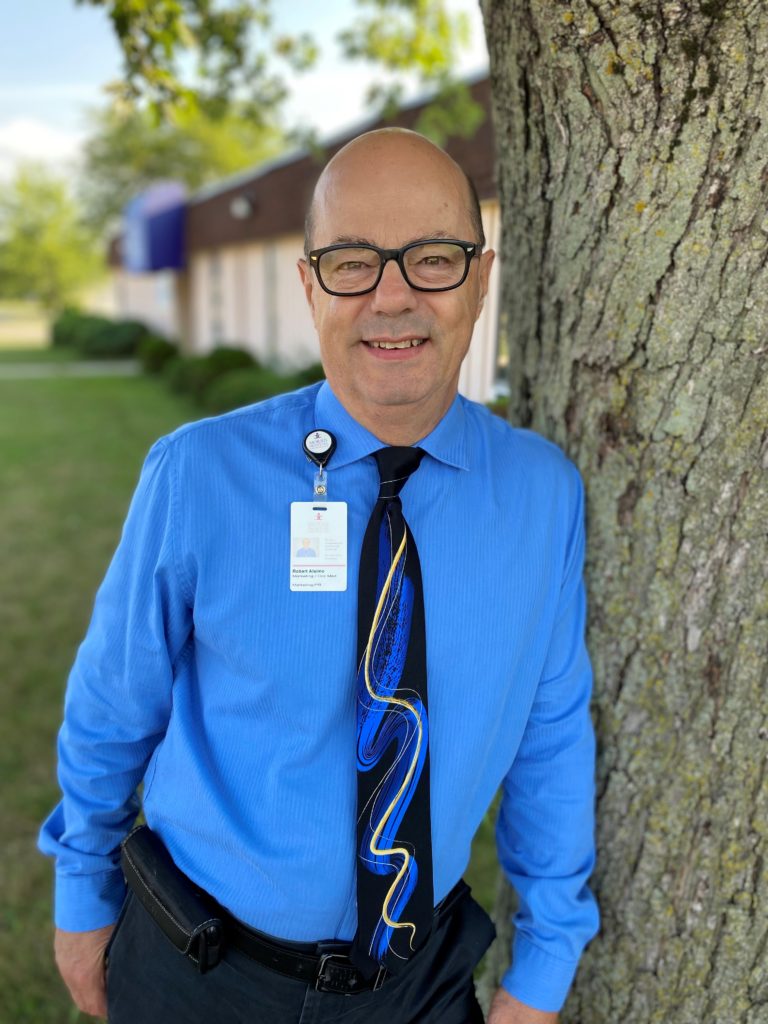 September 27, 2021 – The Reward & Recognition team at Morris Hospital & Healthcare Centers selected Robert Alaimo, of Seneca, as Fire Starter of the Month for September for making an extraordinary impact on the community, Morris Hospital employees, and area businesses, all stemming from the pride he exuberates as an employee of Morris Hospital & Healthcare Centers.
When he joined Morris Hospital in 2014, Alaimo already had 35 years' experience in various roles in healthcare settings, including occupational medicine, industrial rehabilitation, and marketing. He made the move to Morris Hospital to serve in dual roles as Outreach Marketing Liaison and Occupational Medicine Account Representative where he is responsible for promoting, selling, and maintaining customer relations for Occupational Medicine in addition to raising awareness for all Morris Hospital services.
"Robert is a tireless employee who gives of himself for the benefit of our organization and anyone who needs assistance," says Janet Long, Manager of Public Relations/Marketing at Morris Hospital & Healthcare Centers. "Whether he's representing the hospital at a community event, helping someone navigate our services, assisting an employee who turns to him as a valued resource, or responding to the needs and requests of an occupational medicine client, he is over the top when it comes to customer service. And he does it all out of a genuine commitment to helping others and making Morris Hospital shine."
When asked about Alaimo's contributions, Dr. Charlotte Albinson, Medical Director of Immediate Care & Occupational Medicine, said: "Robert is truly a gift to our Occupational Medicine team; he cares deeply about and works tirelessly to provide the absolute best service to our community's work force."
And that is exactly the impact Alaimo makes on everything he touches. In his own words, he is committed to making Morris Hospital & Healthcare Centers a better place "every single solitary day with every fiber of my soul."
"When I'm representing Morris Hospital, I take a great deal of pride in assuring the image of the hospital is as positive as it can be," says Alaimo. "We all do what we do because we believe in what we're doing."
For Alaimo, the most rewarding part of his job is helping people connect with Morris Hospital.
"A lot of times, I'm the first person an occupational medicine client or community member talks to, and that's an important role. If I can connect patients or employers with our services, and I know that the service is going to be delivered in the excellent manner that we provide, that makes me feel good because I know people are going to get good care.  I always enjoy interacting with people, telling them, teaching them, and promoting Morris Hospital because I'm proud to work here. We're a great hospital, and being able to spread that word to the community in any way I can is important to me."
In nominating Alaimo as Fire Starter of the Month, Morris Hospital Wellness Manager Leigh Anne Hall noted that he is an outstanding representative of the organization who always shows respect to others and works very hard to make the organization a better place, always going out of his way for coworkers, companies, and the communities he serves. Hall was especially touched when she learned that Alaimo took it upon himself to make daily well-check phone calls to a hospital volunteer when the pandemic started, and how that genuine act of compassion continued for 16 months until the volunteer's recent passing.
"Robert has a heart of gold and inspires me to want to help others more," adds Hall.
In early civilizations, fire starters were individuals who had the important job of keeping the flame alive. With over 1,400 employees, Morris Hospital & Healthcare Centers is the largest employer in Grundy County.
# # #