Morris Hospital Recognizes DME Technician for Vast Contributions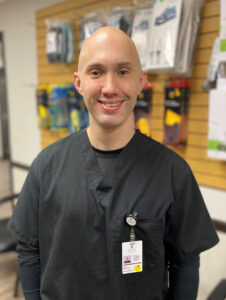 March 8, 2023, Morris, IL – When Zac Clem joined the Morris Hospital Orthopedics & Sports Medicine practice (formerly Rezin Orthopedics) as a Durable Medical Equipment Technician in 2020, the team didn't realize they were getting more than a certified orthotic and prosthetic technician and orthotic fitter. Along with having vast expertise and exemplary customer service skills, it turns out Clem is the best teammate anyone could hope to work with, always lending a hand wherever and however he can. For all he does to make a difference in the lives of patients, physicians and co-workers, Clem was selected as Morris Hospital & Healthcare Centers' February Fire Starter of the Month.
"Zac is kind, compassionate, and truly cares," said Toni Childers, Practice Manager at Morris Hospital Orthopedics & Sports Medicine. "His love for his job shows with every patient he sees and every co-worker he interacts with. He sets a great example for all of our employees and physicians."
As Morris Hospital & Healthcare Centers' one and only certified orthotic fitter and certified orthotic and prosthetic technician, Clem, of Ottawa, is instrumental in providing patients seen through the Morris Hospital Orthopedics & Sports Medicine practice with custom fit orthotics and braces that are vital to the successful treatment and rehabilitation for their muscle, bone, and joint injuries.
"I really enjoy the patient care aspect of my job," said Clem. "It feels good when I can fit or adjust a brace and make someone feel better. It's also pretty cool getting called over to the clinic by one of the doctors and being asked about the type of brace that would be best for the patient. That helps me better help the patient. It's nice to be given that responsibility."
Clem didn't always know that he wanted to be an orthotic and prosthetic technician/fitter. His background includes working on helicopters as a radio and navigation specialist while serving in the Air Force, and he has a bachelor's degree in Architectural Studies. It was volatility in the housing market and inspiration from his brother that got Clem thinking about a medical technician career. That's when Clem decided to enroll in the orthotic & prosthetic technician program at Joliet Junior College.
"As I looked at medical technician careers, orthotics and prosthetics seemed like a good fit because it allows me to build things and apply my skill set in many different ways," said Clem. "There are so many different kinds of braces and different ways of fabricating to get the fit right for the patient, which is important to keeping the patient compliant."
It's that unique skill set along with his genuine willingness to help in any way he can that makes Clem the go-to-guy on the team for just about anything in the office.
"Zac is always willing to go above and beyond his job by assisting patients to their cars or taking the time with them to make sure they have a full understanding of their medical device," said Childers. "He shows compassion with every single person he comes in contact and is very reliable, always willing to help his coworkers. He strives to provide excellent care and strives to be a great person. With Zac, our team is better as a whole and it shows. Our office would not be the same without him."
In early civilizations, fire starters were individuals who had the important job of keeping the flame alive. With over 1,400 employees, Morris Hospital & Healthcare Centers is the largest employer in Grundy County.
# # #