IT Systems Specialist Makes Big Impact at Morris Hospital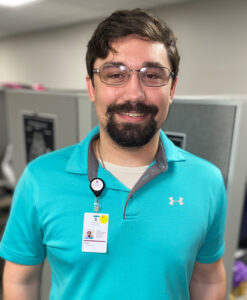 February 20, 2023, Morris, IL – Adam Sauers, Information Technology Systems Specialist at Morris Hospital & Healthcare Centers, is the type of employee who just gets it. He understands that every time he resolves a computer issue for an employee, he's contributing to the delivery of healthcare. Along with his impeccable customer service, he goes about his work with joy, touching everyone he encounters with his friendly demeanor and positive attitude. For all that he does to make a difference every day, Sauers was honored as Morris Hospital & Healthcare Centers' January Fire Starter of the Month.
When Sauers, a native of Streator, joined Morris Hospital in August 2020, he was already an experienced information systems professional, having worked in similar roles at two previous employers following his graduation from Illinois State University where he received a bachelor's degree in Telecommunications and Network Management.
"Adam came to us with a good, vast knowledge of IT and how to serve the internal customer," said Mike Bartkus, Service Desk Supervisor at Morris Hospital & Healthcare Centers. "He rounds on our employees on a daily basis and gets the work completed quickly and professionally, always making employees feel comfortable, which helps the organization as a whole."
Adds John Roundtree, Director of Information Technology, "When I ask other leaders if there's anyone in our department they'd like to recognize, Adam's name is frequently mentioned for always being pleasant, always being willing to do what's necessary, and always making the customer feel comfortable. He's a valued member of the IT team and an all-around role model employee."
As much as Morris Hospital employees appreciate Sauers, he too finds satisfaction being part of the team, sharing that his interactions with other employees is the best part of his job.
"I enjoy going up on the patient floors and to our physician offices and other offsite locations," said Sauers. "The people here are just phenomenal. They spread positivity that I can then spread to others. They're the ones who make my job a lot easier."
When asked what he finds most rewarding about his work, Sauers said it's knowing that he makes a difference for other employees.
"When employees are having computer issues that need to be resolved, I want to be able to help them. Sometimes someone will tell me that I made their day, and they mean it. That's why I do what I do. We're all here for a reason, and that's to make the hospital function. If we can all make things easier for each other, that's what makes my day."
In early civilizations, fire starters were individuals who had the important job of keeping the flame alive. With over 1,400 employees, Morris Hospital & Healthcare Centers is the largest employer in Grundy County.
# # #