Morris Hospital Patient Transportation Achieves National Recognition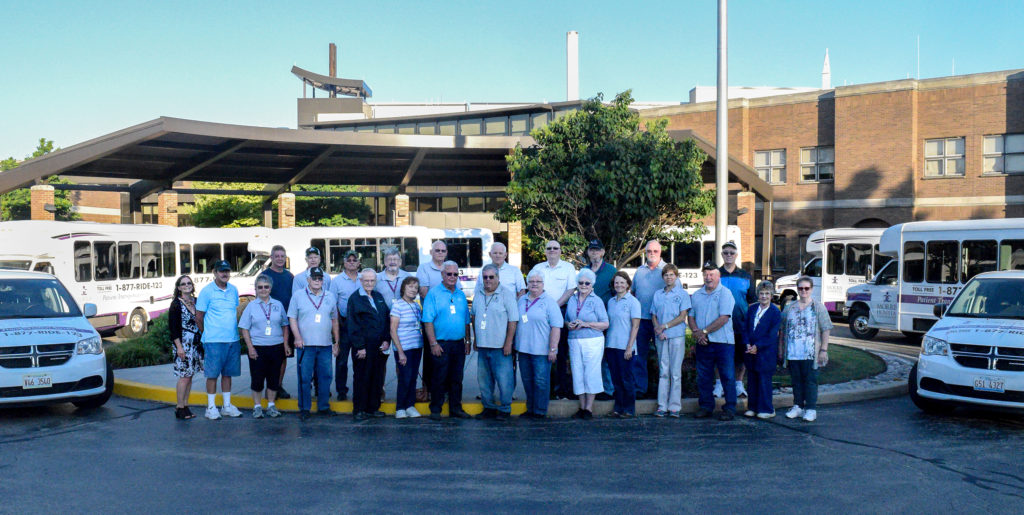 October 29, 2018, MORRIS, IL – The Morris Hospital Patient Transportation Service was recently recognized as an extraordinary volunteer program by the American Hospital Association (AHA).
The recognition occurred during AHA's annual Hospital Awards for Volunteer Excellence awards breakfast on September 30, during the 50th annual Association for Health Care Volunteer Resource Professionals conference in Chicago. The Morris Hospital Patient Transportation service was specifically recognized as one of four finalists in the Community Service category.
According to the AHA website, the HAVE program was established to showcase outstanding volunteer programs and acknowledge the value of volunteerism and positive impact volunteer contributions have on the patients, hospitals, health systems, staff and communities they serve.
"It's so nice to receive this national recognition, especially as we approach our Patient Transportation service's 20th anniversary," says Tina Carter, Manager of Patient Transportation & Lifeline at Morris Hospital & Healthcare Centers. "Our dedicated volunteers put so much into the program and are always going above and beyond for the hospital and the community. They have very big hearts and give so much. This award is for them."
Launched in November 1998, the Morris Hospital Patient Transportation service provides community members free rides to medical appointments. Directed by just a few paid staff, the team of nearly 100 volunteers provide 15,000 rides annually by operating a fleet of two shuttle vans and nine, eight-passenger buses equipped with wheelchair lifts.
In total, the Morris Hospital Patient Transportation buses have logged more than 2.5 million miles and provided over 244,000 trips to and from medical appointments over the past 20 years. Since the program's inception, the Morris Hospital Auxiliary and Morris Hospital Foundation have provided funding for the majority of the Patient Transportation vehicles.
"Many of our riders tell us that they would be lost without the Morris Hospital Patient Transportation service because they have no other way to get to their appointments. They are so grateful for the service," says Carter. "We are so grateful for the volunteers who help make it possible."
Serving patients at 26 locations, Morris Hospital & Healthcare Centers includes the 89-bed Morris Hospital, as well as physician offices in Braidwood, Channahon, Coal City, Dwight, Gardner, Marseilles, Mazon, Minooka, Morris, Newark, Ottawa and Yorkville. Through the services of over 1,700 healthcare professionals, physicians and volunteers, Morris Hospital provides lifesaving cardiac intervention with angioplasty and stents, a radiation therapy center for cancer patients, state-of-the-art intensive care unit, sleep center, and immediate care services at three locations. Morris Hospital is a Level II trauma center and a Level II perinatal care provider with an intermediate care nursery. For more information, visit www.morrishospital.org.