Morris Hospital OB-GYN Practice Welcomes New Physician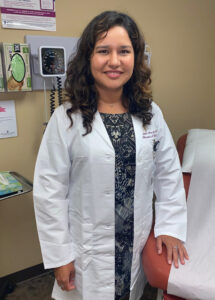 August 31, 2023, MORRIS, IL – Morris Hospital & Healthcare Centers is expanding its obstetrics and gynecology services with the addition of obstetrician-gynecologist Yahaira Aramburo, M.D.
Dr. Aramburo is seeing patients at the Morris Hospital Obstetrics & Gynecology Specialists offices in Diamond-Coal City, Morris, and Ottawa. The practice also includes Dr. Andrea Chen, Dr. Mary Fitzgibbon, Dr. Victoria Ochoa, Dr. Leticia Setrini-Best and Dr. Douglas Toussaint.
As an obstetrician and gynecologist, Dr. Aramburo specializes in the care of women at all stages of life, including women's preventive health, reproduction and pregnancy, menstrual and hormonal disorders, menopause, and gynecological conditions including fibroids, endometriosis, and birth control. She has a special interest in high risk obstetrics, abnormal uterine bleeding, and minimally invasive gynecology surgery. Dr. Aramburo is fluent in Spanish.
A graduate of Loyola University Chicago Stritch School of Medicine, Dr. Aramburo completed a one-year general surgery internship at Loyola University Medical Center and a four-year obstetrics and gynecology residency at Creighton University Medical Center in Omaha, Nebraska.
Dr. Aramburo follows current, evidence-based guidelines set by the American College of Obstetrics and Gynecology when counseling and treating patients and said she views the physician/patient relationship as a partnership.
"I am committed to partnering with patients to empower them to make the best healthcare choices throughout their life," she said.
Dr. Aramburo said she chose obstetrics and gynecology during her third year of medical school when she was doing clinical rotations.
"Being an ob-gyn allows me to serve as a doctor for women through all of their stages – in some cases from adolescence all the way through menopause," she said. "We get to see our patients in the office setting and when they're in the hospital for gynecologic surgery or childbirth. The relationship that we establish with our patients can be very long lasting."
A native of Los Angeles, Dr. Aramburo said her education and training at Loyola brought her back to the Chicago area following her residency. It took just one visit to Morris Hospital for Dr. Aramburo to know where she wanted to practice.
"I loved the community," said Dr. Aramburo. "From my very first visit, it felt so welcoming. It really felt like home."
To schedule an appointment with Dr. Aramburo, call 815-941-0441 for the Diamond or Morris office, or 815-324-9700 for the Ottawa office. For more information, visit www.morrishospital.org/obgyn.
# # #