Morris Hospital Breaks Ground for Medical Facility in Diamond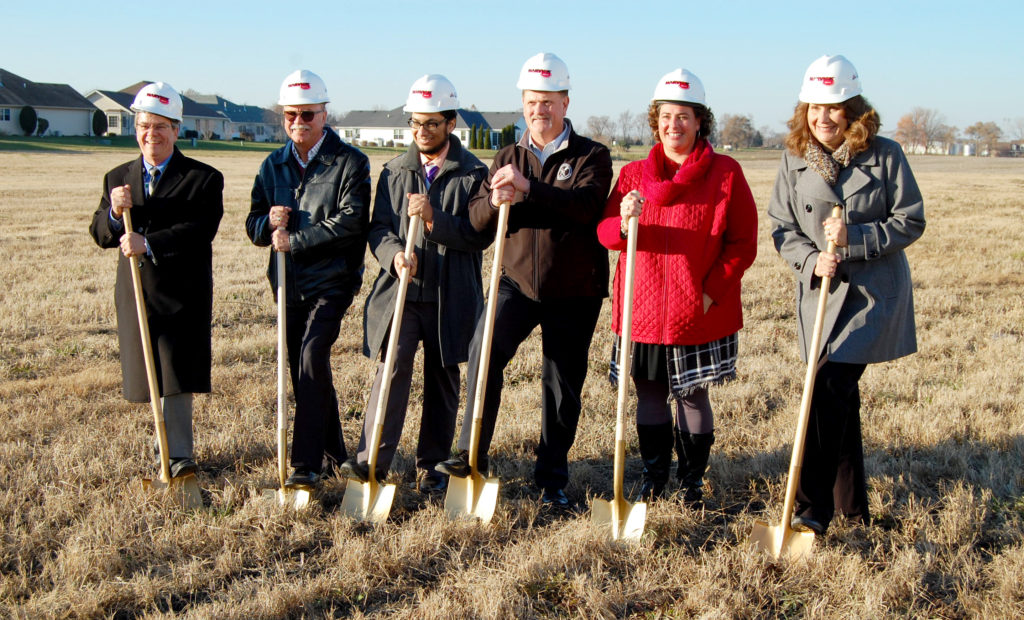 November 15, 2018, Morris, Illinois – Morris Hospital & Healthcare Centers held a ground breaking ceremony yesterday to commemorate the official start of construction of a new, $7.1 million medical facility at 1450 E. Division Street in Diamond. Located immediately west of McGinty Street on the north side of Route 113, just two miles east of Coal City H.S., the new facility will be called Morris Hospital Diamond-Coal City Campus.
The one story, 13,400 square foot facility will provide office space for primary care and specialty physicians, as well as walk-in immediate care, laboratory, diagnostic imaging, physical therapy and occupational medicine services for area employers.
"The Coal City, Diamond and Carbon Hill communities have been part of our master facility planning for several years as we remain committed to making healthcare convenient and accessible for the communities we serve," says Mark Steadham, President & CEO of Morris Hospital & Healthcare Centers. "We are very pleased to be moving ahead with our plans in these important communities that have been served by Morris Hospital for decades. Grand opening will truly be a day of celebration."
Dr. Aamair Tajuddin, pediatrician, and Stacey McGuan, family nurse practitioner, will relocate to the new medical facility from their current office at the Coal City Healthcare Center of Morris Hospital, 4 East North Street.  The facility will have the capacity to accommodate additional physician practices.
New in the community will be Morris Hospital immediate care services, open seven days a week for walk-in care of minor illness and injuries. Morris Hospital also operates immediate care centers in Morris, Channahon and Yorkville.
Construction of the Diamond-Coal City Campus is expected to take 10 months, with a grand opening anticipated in fall 2019, and is part of Morris Hospital's three year, $60 million master facility plan that also includes modernization of the main hospital campus, construction of a new medical facility in Ottawa, and conversion of Deerpath Orthopedic Surgical Center to a multi-specialty ambulatory surgery center.
"Between all of the projects associated with the master facility plan, we are taking an important step forward as we position Morris Hospital for the long term future," says Steadham.
Serving patients at 26 locations, Morris Hospital & Healthcare Centers includes the 89-bed Morris Hospital, as well as physician offices in Braidwood, Channahon, Coal City, Dwight, Gardner, Marseilles, Mazon, Minooka, Morris, Newark, Ottawa and Yorkville. Through the services of over 1,700 healthcare professionals, physicians and volunteers, Morris Hospital provides lifesaving cardiac intervention with angioplasty and stents, a radiation therapy center for cancer patients, state-of-the-art intensive care unit, sleep center, and immediate care services at three locations. Morris Hospital is a Level II trauma center and a Level II perinatal care provider with an intermediate care nursery. For more information, visit www.morrishospital.org.
# # #