Morris Hospital and Local Rheumatologist Earn Awards for Excellence in Healthcare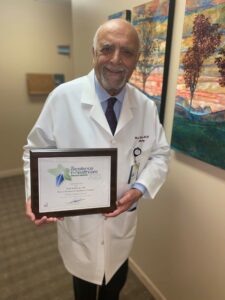 April 7, 2023 – Morris Hospital & Healthcare Centers has been recognized by Professional Research Consultants with 11, 5-Star Excellence in Healthcare Awards. The awards are based on the percentage of patients who rate their overall quality of care "excellent" on the patient surveys.
In addition, Dr. Hadi Hedayati, a rheumatologist with Morris Hospital & Healthcare Centers, received a Top Performer award in the Provider-Rheumatology Services "Doctor's Quality of Care" category based on the percentage of patients who rated Dr. Hedayati as "excellent" for overall quality of doctor care. The score that Dr. Hedayati received placed him at or above the 100th percentile when compared to other rheumatologists across the country who use the same patient survey tool.
Dr. Hedayati has served on the Morris Hospital Medical Staff since 1997 and sees patients at the Morris Healthcare Center on Edwards Street, located on the east side of the hospital campus.
The majority of Morris Hospital's 5-Star Excellence awards were in the Outpatient Clinic – Primary Care Services category, with recipients including the Gardner Healthcare Center, Marseilles Healthcare Center, Mazon Healthcare Center, Minooka Healthcare Center – Ridge Road, Morris Healthcare Center – Lakewood Drive, Morris Healthcare Center – Pediatrics, and Newark Healthcare Center. Morris Hospital Allergy Specialists received a 5-Star Excellence Award in the Outpatient Clinic-Specialty Care Services category.
In the Inpatient Medical/Surgical Services category, Morris Hospital received a 5-Star Excellence Award for 2 East Medical/Surgical. 5-Star awards also went to Morris Hospital's Orthopedics and Sports Medicine Therapy Services in the Outpatient Therapy Services category and to Endoscopy-Outpatient in the Outpatient Surgery category.
"It is an honor to recognize Morris Hospital & Healthcare Centers for their deserving work," said Joe M. Inguanzo, Ph.D., President and CEO of Professional Research Consultants. "It takes true dedication and determination to achieve this level of excellence in healthcare, and Morris Hospital has shown their commitment to making their hospital a better place for patients to be treated."
About Morris Hospital
Serving patients at 27 locations, Morris Hospital & Healthcare Centers includes the 89-bed Morris Hospital, as well as physician offices in Braidwood, Channahon, Diamond-Coal City, Dwight, Gardner, Marseilles, Mazon, Minooka, Morris, Newark, Ottawa, and Seneca. Through the services of over 1,700 healthcare professionals, physicians and volunteers, Morris Hospital provides lifesaving cardiac intervention with angioplasty and stents, a radiation therapy center for cancer patients, state-of-the-art intensive care unit, sleep center, and walk-in care at three urgent care locations. Morris Hospital is a Level II trauma center, Level II perinatal care provider, and primary stroke center. The hospital is known for its compassionate and personalized approach to healthcare.

About Professional Research Consultants
PRC, a leader in the healthcare intelligence space with the most comprehensive healthcare discovery platform, is taking surveys to a new level. PRC's surveys and intuitive reporting focus on changing the way organizations manage and improve five key areas of the healthcare experience—patient, physician, employee, community, and brand. Over 2,800 healthcare organizations across the United States have used PRC to listen, understand, and take action to create cultures of excellence. To ensure clients have access to leading practices, coaches, and learning resources, PRC is partnered with Healthcare Experience Foundation (HXF) to accelerate paths to excellence. The PRC healthcare discovery platform is a system designed to drive action, optimize engagement, and increase loyalty while building a positive culture across the healthcare ecosystem.
# # #