Patient Care Technician Brings Positive Vibe to Emergency Department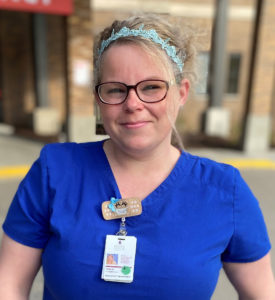 May 24, 2022, Morris, IL –If you are ever in the Emergency Department at Morris Hospital and hear someone singing, there is a good chance the voice belongs to Patient Care Technician Terri Warning. Breaking out in random songs is just one of the ways the bubbly, high-energy Mazon resident lifts the spirits of everyone around her. For all that she does to make a difference in the lives of her patients and co-workers, Warning was selected as Morris Hospital's May Fire Starter of the Month.
"I don't think there are words to describe Terri Warning – she's just fabulous," says Ana Banuelos, Charge RN in the Emergency Department at Morris Hospital. "She comes to work with a smile in her eyes and a spring in her step and always brings a positive vibe to our department. Everybody gravitates to her. She's a great person to have in the ED."
Warning joined Morris Hospital in 2017 as a CNA on the 2-East medical/surgical nursing unit and transferred to the Emergency Department last August. Her patient care experience also includes working at long-term care facilities in Rockford and Morris.
When asked why she chose a career in healthcare, Warning shared that she was working at a retail store in Rockford when she decided to pursue her CNA certification.
"Someone had mentioned that I would probably be pretty good at being a CNA, so I decided to try it out and really like it," shares Warning.
Warning has a continuous desire to learn and grow, which has brought her from long-term care, to the inpatient hospital setting, to the Emergency Department where she is recognized for creating an upbeat, positive work environment day in and day out.
"Patients come to the ER sometimes feeling their worst and always seem to improve as soon as Terri enters the room," said co-worker Stefanie Koehler. "She goes above and beyond for each and every one of her patients, radiating positivity even in the worst of situations. Patients always seem to enjoy the pizzazz that she adds, which keeps them coming back for their care. Watching her with patients makes others want to be better."
Warning's contributions go well beyond patient care. Referred to by Banuelos as a "breath of fresh air" who is "calm, cool, and collected," Warning is always stepping up and taking on additional roles, including serving as unit secretary in the ED when needed and serving as a preceptor to help train new employees.
When asked what she likes best about her job, Warning was quick to praise the people she works with.
"They are amazing," says Warning. "All of the nurses, the other techs, the management, the doctors…they're all so nice and helpful. I cannot stress what a great team we have. Everybody works as one whole unit."
In early civilizations, fire starters were individuals who had the important job of keeping the flame alive. With over 1,400 employees, Morris Hospital & Healthcare Centers is the largest employer in Grundy County.
# # #