Morris Hospital Reports Progress on Surgery Renovations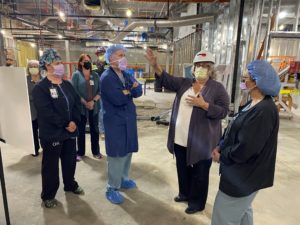 August 1, 2022, MORRIS, IL – Since completing a major modernization project on the hospital main campus last year, Morris Hospital is reporting significant progress on the next round of renovations that will result in a new, state-of-the-art Surgery Department.  The $13.2 million project was approved by the Illinois Department of Public Health earlier this year and will expand and modernize another key clinical area of the hospital.
"In some aspects, the renovations that have been taking place over the past three years are like putting together a puzzle: as one piece gets put in place, the next piece can follow," explains Tom Dohm, President & CEO of Morris Hospital & Healthcare Centers. "While modernization of our surgical facilities and related services has been on our agenda for some time, the expansions and renovations that were completed over the past few years have created the space needed to move forward with this exciting project that will result in the most modern surgical facilities you can expect to find in a hospital today."
Central to the renovations will be three, newly constructed operating rooms built to house today's modern surgical technology, with plans designed to accommodate additional operating rooms as needed in the future. A specially designed "sterile core" hallway will connect the operating rooms to a new sterile processing area where instruments used in surgery are cleaned, sterilized, and prepared for the next case.
This initial phase of renovations in the Surgery department will also result in five additional private prep/recovery rooms for the Ambulatory Surgery area of the hospital where outpatients start and end their surgical visit, along with a dedicated exit on the west side of the hospital campus that will offer greater privacy for surgical and procedural outpatients when they leave the hospital. The cost of the project also includes new equipment and a dedicated heating, ventilation and cooling system for the surgical area of the hospital.
After the areas currently under renovation open for patient services in the first quarter of 2023, the next phase will involve turning the current operating rooms into new procedure rooms for gastrointestinal (GI), bronchoscopy, and other procedures involving anesthesia. The second phase will also result in dedicated surgical consult rooms and a new surgical waiting room, giving support persons who accompany surgical patients a dedicated area to wait while their loved one is in surgery.
Renovations to the Post Anesthesia Care Unit and Ambulatory Surgery department are expected to take place in a later phase of construction.
"The transformation that we have made with our diagnostic and treatment services on the hospital main campus over the past three years really is incredible," says Dohm, referring to renovations that have resulted in a new emergency department, infusion therapy center, women's imaging center, outpatient laboratory, cardio-diagnostics and imaging departments, and interventional prep/recovery area adjacent to the cath lab. "We are so proud to be bringing the most modern surgical facilities to our community."
Serving patients at 28 locations, Morris Hospital & Healthcare Centers includes the 89-bed Morris Hospital, as well as physician offices in Braidwood, Channahon, Coal City, Dwight, Gardner, Marseilles, Mazon, Minooka, Morris, Newark, Ottawa, Seneca, and Yorkville. Through the services of over 1,700 healthcare professionals, physicians and volunteers, Morris Hospital provides lifesaving cardiac intervention with angioplasty and stents, a radiation therapy center for cancer patients, state-of-the-art intensive care unit, sleep center, and walk-in care at four urgent care locations. Morris Hospital is a Level II trauma center, Level II perinatal care provider, and primary stroke center. The hospital is known for its compassionate and personalized approach to healthcare.
# # #