Pharmacy Technician Honored as September Fire Starter of the Month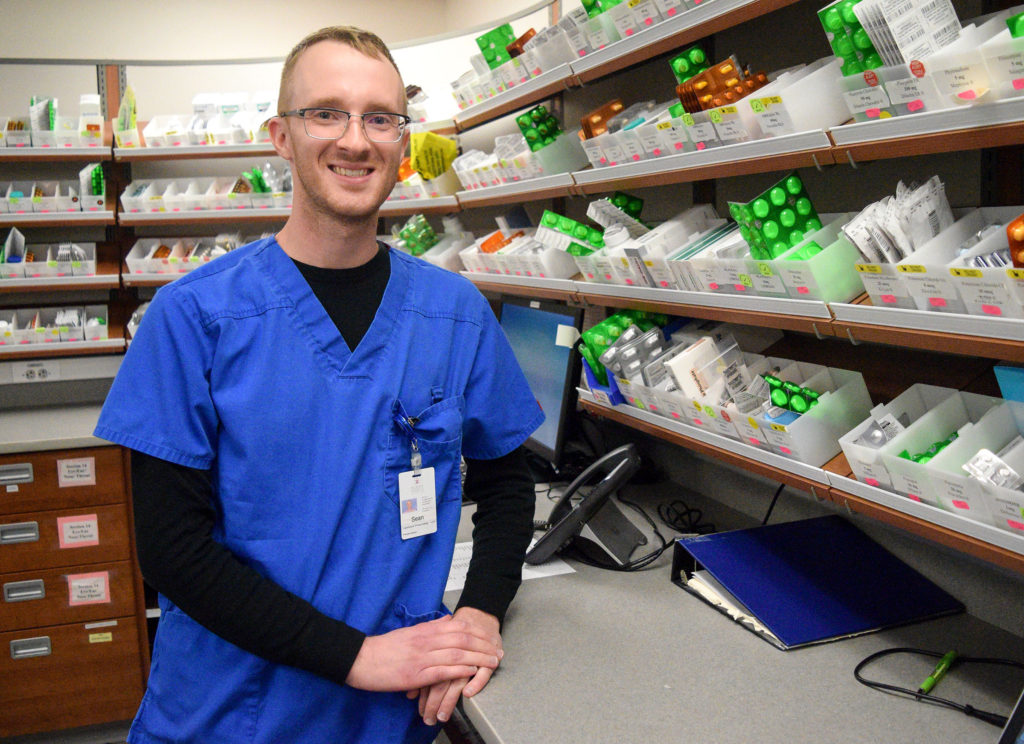 September 26, 2018 – Morris Hospital & Healthcare Centers honored Pharmacy Technician Sean Cleveland, of Dwight, as its September Fire Starter of the Month. Cleveland has a reputation for bringing a spark of energy and determination to everything he is involved with, including orchestrating a recent employee softball tournament that raised funds for the Morris Hospital Foundation.
"Sean is the employee who will help out in any area needed," said Morris Hospital Pharmacist Keely Galloway in nominating Cleveland as Fire Starter of the Month. "His coordination of the softball tournament shows how much he loves working at Morris Hospital and giving back to our community."
In addition to his regular duties as a pharmacy technician, Morris Hospital Pharmacy Manager Alyssa Knoderer says Cleveland helps the department with special projects and has learned the role of pharmacy buyer so he can cover during an absence. Teamwork and camaraderie are important to Cleveland, and he makes sure no work is undone.
"Sean is the one who spurred the movement to involve the pharmacy technicians in the patient admission process," says Knoderer. "Today, technician-led medication reconciliation has greatly improved patient safety by allowing time to ensure patients' home medications are reported accurately and completely at the time of admission."
Knoderer also says Cleveland contributes to the training process for new pharmacy technicians because he wants to make sure new hires are trained efficiently and thoroughly, and that he strives for fairness among his co-workers, going to bat for them and making sure everyone has the tools they need to do excellent work.
With his seven year anniversary with Morris Hospital approaching, Cleveland says he enjoys the face-to-face interactions that occur with patients as part of the medication reconciliation process.
"It feels good when patients are grateful for your help," says Cleveland. "Knowing that I helped somebody always makes me feel better. I want to help out in any way I can to the best of my abilities, whether it's helping a patient, a pharmacist, or a fellow technician who is working on an admission or falling behind."
In early civilizations, fire starters were the individuals who had the important job of keeping the flame alive. With over 1,300 employees, Morris Hospital & Healthcare Centers is the largest employer in Grundy County and winner of the Advisory Board Company's 2017 Workplace of the Year award.