CNA Recognized as Fire Starter of the Month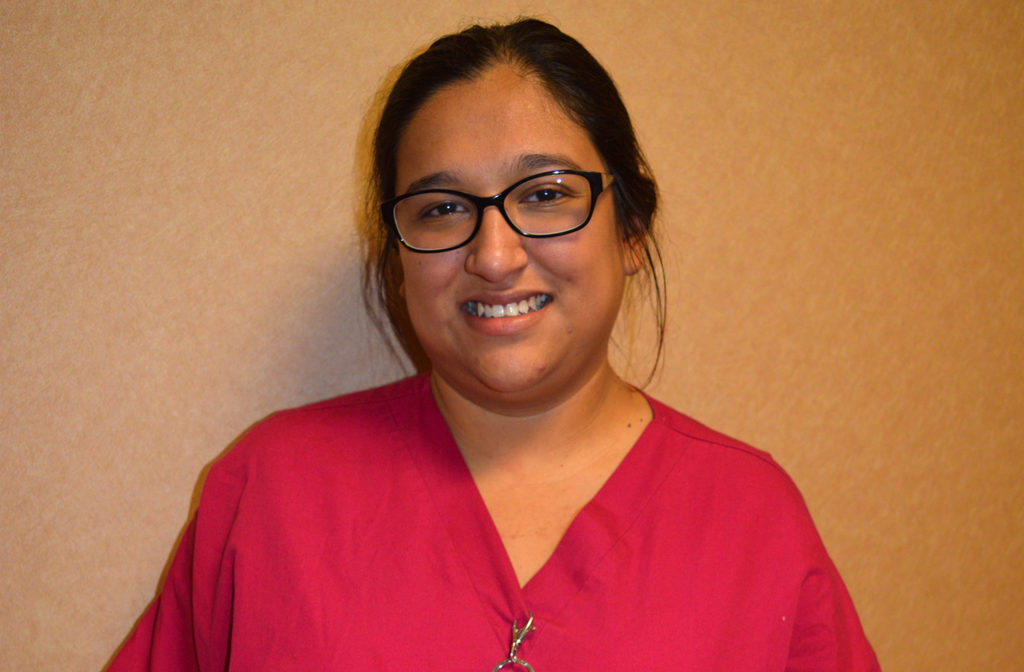 February 14, 2017 – Morris Hospital & Healthcare Centers recognized Certified Nursing Assistant Chely Becerra as Fire Starter of the Month for January.
A life-long resident of Morris currently living in Montgomery, Becerra was recognized for her positive demeanor, radiant smile, thoughtfulness, helpful attitude, and ability to make a difference. She was originally attracted to the healthcare field by her aunt, Susie Gonzalez, a nurse on Morris Hospital's 2 South nursing unit.
Becerra completed her CNA certification while she was in high school and worked in the nursing home setting for three years before coming to Morris Hospital in 2011. She is currently taking classes at Joliet Junior College with plans to complete a nursing degree.
"I always wanted to work at a hospital," says Becerra. "I like the hospital atmosphere, and I like the medical surgical unit. I'm involved with different cases and different diagnoses every day. Every day is different."
Joann Bradley, charge nurse at Morris Hospital, says Becerra makes a tremendous contribution on 2 South, serving as both an aide and unit clerk at times.
"Whether Chely is on the schedule as an aide or clerk, she doesn't limit herself to just one role," says Bradley. "If she's the clerk and has down time at the desk, she will take a moment to answer a light or help a patient. If she's scheduled as an aide and the clerk is busy, she'll pull out a chart and help out. She looks to see where there is a need and fills it."
In addition to helping co-workers, Becerra clearly makes a difference for her patients, which is easy for someone who likes helping people and making patients' hospital stays as comfortable as possible.
"It feels good to be able to help people, especially when they need it most," says Becerra, who says she focuses on treating patients as if they were her own family. "Patients are nervous when they come to the hospital. I want to make things less tense for them, so I go into the room smiling and try to be positive."
Bradley has witnessed Becerra's interactions with patients and says that she does indeed go the extra mile.
"Chely brings a lot of laughter to the patients and asks about their families," says Bradley. "She is an all around good employee."
In early civilizations, fire starters were the individuals who had the important job of keeping the flame alive. As Fire Starter of the Month, Becerra received a Grundy County Chamber of Commerce gift certificate, a Morris Hospital logoed clothing item of her choice, a special "Fire Starter" lapel pin, and a designated parking spot for the month. Morris Hospital & Healthcare Centers is the largest employers in Grundy County with over 1,200 employees.
# # #