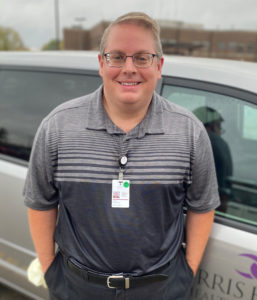 November 24, 2021 – For the past 18 years, Morris Hospital staff who work at locations outside the hospital know they can count on hospital courier Chris Finch to deliver the supplies they need to take care of patients and keep the operations flowing smoothly. They know just what to expect when Finch walks in with his daily delivery: He will greet them with a friendly hello, demonstrate kindness and respect, and make sure everything that was ordered or sent out gets to the correct location.
A reliable employee who has delivered consistent service for nearly two decades, Finch, of Morris, was named Morris Hospital's November Fire Starter of the Month.
When Finch was hired in 2003, Morris Hospital had just opened its Diagnostic & Rehabilitative Center on Gore Road in Morris and was looking for a part-time courier to drive the Morris route. While Finch still has the Diagnostic & Rehabilitative Center on his route today, he also serves multiple physician offices in Morris, Deerpath Surgery Center, and makes late day trips to Diamond and Channahon, transporting supplies, medications, and linens. At each stop, he picks up lab specimens and brings them back to the Laboratory at the hospital for processing. While his daily route is scheduled, he is always ready to respond to any special requests for courier services.
As he goes about his daily route, Finch understands the importance of the work he does, especially when it comes to transporting lab specimens. He knows each specimen belongs to a patient who is eagerly awaiting test results. Still, Finch says his favorite part of his job is seeing the people at each stop he makes.
"They're co-workers, but I think of them as customers, too," says Finch. "When you're a courier, everyone knows your first name as soon as you walk in the door, and some are looking forward to seeing you. That makes it fun and easy to look forward to coming to work every day."
One of Finch's daily stops is the Radiation Therapy Center on Route 6 in Morris where he has made such a positive impression that Radiation Therapist Ashley Mammosser nominated him as Fire Starter of the month.
In her nomination, Mammosser wrote: "If labs need to be quickly sent over to the hospital, Chris is on top of it. If we need linens right away for our patients, Chris brings them over quickly. He never complains and always goes above and beyond his duties, inspiring others around him with his positive attitude and amazing work ethic. Because Chris is such a hard worker and always goes above and beyond his job duties, he is the perfect example of someone who wants to improve the health of area residents."
Brandon Senesac, Supply Chain Manager at Morris Hospital, expressed his appreciation for Finch's contributions to the organization.
"Chris has been a stable and pleasant contributor to the team throughout his years, and I appreciate his efforts to provide value to the organization," said Senesac. "I can count on Chris to work the extra shift, stay late to pick up the random STAT lab, and offer up his opinions and options on how to improve his environment and those of his fellow Morris Hospital employees."
In early civilizations, fire starters were individuals who had the important job of keeping the flame alive. With over 1,400 employees, Morris Hospital & Healthcare Centers is the largest employer in Grundy County.
# # #