A Century of Caring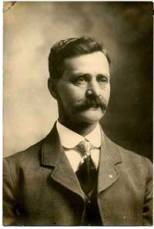 Around the turn of the 20th century, David A. Mathews was a prominent local farmer and businessman in the Morris community.  When his wife became critically ill, Mr. Mathews had no choice but to rush her to a hospital in Chicago. The experience convinced him that Morris should have a hospital of its own in order to allow patients to remain close to their families during times of illness and avoid delays that could mean the difference between life and death.
Mr. Mathews rallied the support of a number of local doctors who also agreed that the Morris community needed a hospital, and through their combined efforts, interest and knowledge, they achieved their vision. On September 7, 1906, the first patient, who was dangerously ill with typhoid fever, was admitted to the new Morris Hospital, located on the third floor of the Collins Building at the corner of Liberty and Jackson Streets in downtown Morris. Converted from an apartment, the first Morris Hospital had eight to 10 beds and an operating room created from the living room of another apartment.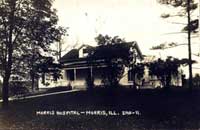 The official papers of incorporation of Morris Hospital, dated December 5, 1906, were received from Springfield, signed and sealed by the then Secretary of State James A. Rose. Without delay, the incorporation papers were filed in the circuit clerk's office, legally creating Morris Hospital.
So much has changed over the past 100 years – including modern, expanded hospital facilities along with incredible technology that helps diagnose and cure disease. Despite modern advances, one thing that has remained the same over all these years is Morris Hospital's commitment to healing and saving lives, just like Mr. Mathews envisioned 100 years ago.
Thousands of physicians, nurses and support staff have dedicated their lives to serving patients at Morris Hospital over the past 100 years.  It's because of these individuals, along with a supportive, caring community, that Morris Hospital continues to prosper.
Historical Facts:
September 5, 1906 – The first officers of the new hospital are elected. They are: David A. Mathews, President; M.N. Hull, Secretary; and James Hanson, Treasurer.
September 6, 1906 – The Ladies Auxiliary of Morris Hospital is formed, including wives of physicians, dentists, druggists and trustees.
September 6, 1906 – The first room is furnished in the hospital by Mrs. David A. Mathews.
September 7, 1906 – The first patient is admitted to the new hospital and is dangerously ill with typhoid fever.
December 6, 1906 – The incorporation papers of the Morris Hospital are returned from Springfield, with the Certificate for Organization of the Morris Hospital dated December 5, 1906.
December 15, 1908 – The Morris Hospital trustees issue a public announcement stating the "necessity of immediate action toward the building of a new hospital."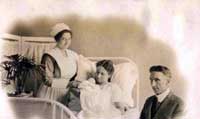 January 6, 1909 – Dr. R. Whitman of Chicago arrives in Morris to take up the practice of medicine.
February 27, 1909 – The Hospital Trustees purchase the Thomas Larson property at the north end of Wauponsee Street, which will be the site of the new hospital with accommodations for 17-25 patients.
September 28, 1910 – The new Morris Hospital opens to the public at the site of Wauponsee and High Streets where it continues to this day.
June 19, 1911 – The Ladies Aid Society of the Congregational Church of Morris donated $25 to start an endowment fund for a "free bed" at the hospital for those unable to pay.
January 20, 1917 – The Ladies of the Hospital Aid decide to purchase the nitrous oxide gas oxygen-ether anesthesia apparatus that is so much desired and is used in place of ether and chloroform in certain operations.

October 12, 1927 – Plans are announced for a $75,000 fundraising campaign to enlarge and improve the hospital.
March 14, 1929 – Several hundred visitors attend an open house to view the newly expanded Morris Hospital, which was accomplished through the largest fundraising effort in the hospital's history.
September 9, 1936 – Dr. John Roth, son of Mrs. Bernard Roth, will practice his profession in Morris at the corner of Liberty and Jefferson Streets.
April 16, 1947 – The first set of triplets are born at Morris Hospital –  two girls and a boy each weighing over 4 pounds.
October 18, 1961 – Dr. Roscoe Whitman dies at the age of 80.
January 23, 1965 – Plans for a $1.6 million addition are revealed, which call for construction of a two-story building west of the present hospital.
July 27, 1968 – The first annual benefit hospital ball is hosted by the Women's Auxiliary of Morris Hospital at Morris Country Club with Gerry Belt's Orchestra.
September 1983 – 24-hour emergency physician and nurse coverage is instituted.
February 28, 1988 – Morris Hospital completes a $7 million building project to replace the oldest wings of the hospital. The project adds 29 patient beds.
March 1993 – Minooka Medical Services of Morris Hospital opens.
April 6, 1994 – The Morris Hospital Foundation is established to raise funds to ensure that quality health care will be available for future generations.
August 1, 1995 – Morris Hospital opens a physician satellite office in Marseilles.
May 15, 1996 – First annual golf outing sponsored by the Morris Hospital Foundation is held at Nettle Creek Country Club.
August 1996 – Morris Hospital opens a physician satellite office in Newark.
February 27, 1998 – Morris Hospital is on the internet at www.morrishospital.org.
February 4, 2002 – Ground breaks for a $13 million expansion which will house the family birthing suites.
September 2003 – The first diagnostic cardiac catheterization is performed in the new state-of-the-art cardiovascular lab.
September 8, 2003 – The Diagnostic & Rehabilitative Center of Morris Hospital opens at Heritage Plaza on Gore Road in Morris. Cardiac and physical rehabilitation, occupational medicine and fitness classes are offered at this facility.
2003 – The Radiation Therapy Center of Morris Hospital opens on US Route 6.
September 2004 – A renovated and expanded intensive care unit opens.
2004 – In order to reflect its expanded reach and services, the hospital changes its name to Morris Hospital & Healthcare Centers and adopts a new logo.
2006 – Morris Hospital celebrates its centennial year by producing a historical calendar, hosting a business after hours, displaying memorabilia, and presenting a silver-plated baby cup to every baby born at the hospital during 2006.
January 2, 2007 – Morris Hospital opens immediate care services at the Diagnostic & Rehabilitative Center on Gore Road.
March 2007 – Morris Hospital is named one of the Nation's Top 100 Hospitals by Solicient. This was the second time Morris Hospital received this designation.
October 1, 2007 – Channahon Healthcare Center opens at 25259 Reed Street.
January 2, 2008 – Carol Harrington retires as Vice President of Patient Care after 43 years of service. Carol Havel is selected as her successor.
April 2009 – Cliff Corbett retires as President & CEO after 24 years of service.
October 2009 – The Morris Hospital Ridge Road Campus opens at 27240 W. Saxony Drive in Channahon, providing primary care, immediate care, occupational medicine, laboratory and imaging services.
May 2010 – The Illinois Department of Public Health approves Morris Hospital to serve as a Resource Hospital within Region VII Emergency Medical Services.
September 1, 2010 – Mark Steadham takes the helm as President & CEO of Morris Hospital & Healthcare Centers.
October 2011 – Laboratory Services open in Coal City.
December 2012 – CT scanner added to Ridge Road Campus.
April 18, 2013 – Historic flooding results in patient evacuation and cease of inpatient care for 13 days. Hospital resumes full operations on May 1, 2013.
April 7, 2014 – The Morris Hospital Yorkville Campus opens at 105 Saravanos Drive in Yorkville, providing immediate care, laboratory, x-ray, CT scan, ultrasound and occupational medicine services.
July 2014 – Morris Hospital & Healthcare Centers and Internal Medicine Physician Charles Comfort, M.D., complete an affiliation agreement resulting in a new Morris Hospital Healthcare Center in Mazon.
October 2014 – An Ebola virus outbreak in West Africa prompts Morris Hospital to establish an Ebola response policy, educate staff, and practice use of personal protective equipment.
November 2014 – Morris Hospital welcomes its first Care Coordinator as preparations are made to form an Accountable Care Organization.
December 2014 – Morris Hospital and the Morris Community YMCA announce the formation of a new partnership that will enhance the health and wellness of Grundy County residents.
October 2015 – Dr. Peter Roumeliotis, Internal Medicine, merges his practice with Morris Hospital & Healthcare Centers.
December 2015 – Affiliation agreement completed with Joliet Headache and Neuro Center.
February 2016 – Morris Hospital expands primary care physician services to Ottawa.
March 2016 – Morris Hospital named one of Nation's Top 100 Hospitals by Truven Health Analytics.
March 2017 – Morris Hospital and Liberty Medical Center announce affiliation agreement.
March 2017 – Radiation Therapy Center unveils $2.6 million TrueBeam linear accelerator.