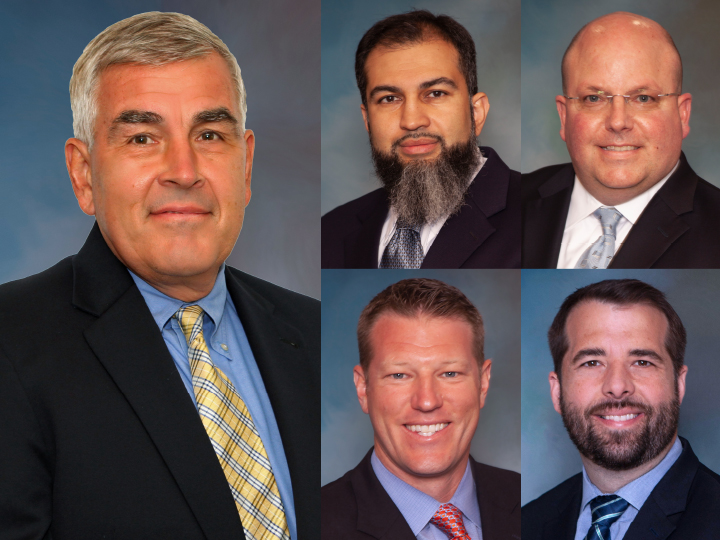 June 2, 2021, Morris, Illinois – Rezin Orthopedics & Sports Medicine (ROSM), an independent orthopedic practice with locations in Morris, Joliet and Ottawa, has completed an affiliation agreement with Morris Hospital & Healthcare Centers. Effective June 1, 2021, the practice is being managed by Morris Hospital & Healthcare Centers, and the practice name has changed to Morris Hospital Orthopedics & Sports Medicine.
Founded in 1991, the practice includes five physicians – Orthopedic Surgeons Keith Rezin, M.D., Raymond Meyer, M.D., and Robert Williams, M.D.; Orthopedic Spine Surgeon Mir Ali, M.D., Ph.D.; and Foot & Ankle Surgeon Kyle Pearson, D.P.M., along with 60 clinicians and support staff, and three office locations. The office locations and phone numbers will all remain the same.
In addition to the orthopedic practice, the affiliation also includes Rezin Therapy & Athletic Training, Deerpath MRI, and Deerpath Durable Medical Equipment, all which are now Morris Hospital services.
Dr. Rezin, founder of ROSM, has served on the Morris Hospital Medical Staff since starting the practice in 1991.
"We have been considering merging with a medical group or health system for a few years now," said Dr. Rezin. "Morris Hospital is clearly the right choice for our practice based on our long term relationship with the hospital and our mutual commitment to the communities we serve."
For Morris Hospital & Healthcare Centers, the affiliation expands its range of services already being offered at 26 locations throughout Grundy, LaSalle, Will, Livingston and Kendall counties, including a network of more than 60 employed physicians and advanced practice professionals representing multiple medical specialties.
"We are very happy that Dr. Ali, Dr. Meyer, Dr. Pearson, Dr. Rezin, and Dr. Williams selected Morris Hospital & Healthcare Centers for their practice affiliation," said Mark Steadham, President & CEO of Morris Hospital & Healthcare Centers. "While we have always enjoyed a relationship with them as members of the Morris Hospital Medical Staff, the practice affiliation creates a tighter alignment and ability to merge our common operations, contract with the same health plans, and share the same IT infrastructure, electronic health record, and patient portal, all of which lead to enhanced quality of service for our patients."
The affiliation also expands Morris Hospital's footprint for rehabilitation services, with the hospital now offering physical and occupational therapy at locations in Channahon, Diamond-Coal City, Joliet, Ottawa, and two sites in Morris.
A board certified general orthopedic surgeon, Dr. Rezin performs a wide range of orthopedic procedures ranging from sports medicine procedures to joint replacements of the knee, hip and shoulder. He is a graduate of Rush Medical College and completed his residency at Rush Presbyterian-St. Luke's Medical Center.
Dr. Meyer began practicing with Dr. Rezin in 1997 after graduating from Loyola University – Stritch School of Medicine. He completed a residency at Northwestern University Medical School and a Sports Medicine fellowship at Minneapolis Sports Medicine.  A board certified general orthopedic surgeon, Dr. Meyer focuses on arthroscopic surgery and sports medicine related injuries with an emphasis on shoulder and knee reconstruction.
Dr. Ali is a board certified orthopedic spine surgeon who specializes in conservative, non-surgical and surgical treatment of neck and back disorders. He is a graduate of University of Chicago Pritzker School of Medicine, completed his residency at Mayo Clinic College of Medicine in Rochester, MN, and a spine surgery fellowship at Rush University Medical Center, Midwest Orthopedics. Dr. Ali has been with the practice since 2013 and developed the Deerpath Spine Institute at Rezin Orthopedics.
A board certified reconstructive foot and ankle surgeon, Dr. Pearson joined the practice in 2014 after completing his residency in foot and ankle surgery at the University of Pittsburgh Medical Center. Dr. Pearson developed the Deerpath Foot and Ankle Institute at Rezin Orthopedics to provide patients with a local center of excellence for foot and ankle care.
Dr. Williams is a fellowship trained orthopedic surgeon with sub-specialization in shoulder and elbow surgery. A graduate of University of Arkansas for Medical Science, College of Medicine, he completed his residency at University of Texas Medical Branch in Galveston, Texas, and his fellowship at University of Pennsylvania. He joined the practice in 2020.
The Morris office is located at 1051 W. U.S. Route 6. The Ottawa office is located at 1306 Gemini Circle, Suite 2, and the Joliet office is located at 1310 Houbolt Road. Dr. Meyer, Dr. Ali, Dr. Pearson and Dr. Williams see patients at all three locations. Dr. Rezin sees patients in the Morris and Ottawa offices. For more information, go to morrishospital.org/orthopedics.
Serving patients at 29 locations, Morris Hospital & Healthcare Centers includes the 89-bed Morris Hospital, as well as physician offices in Braidwood, Channahon, Diamond-Coal City, Dwight, Gardner, Joliet, Marseilles, Mazon, Minooka, Morris, Newark, Ottawa, Seneca and Yorkville. The growing number of physician practices in the Morris Hospital & Healthcare Centers network includes specialists in allergy-immunology, cardiology, endocrinology, family medicine, infectious disease, general surgery, internal medicine, neurology, obstetrics & gynecology, orthopedics, pediatrics and rheumatology.
# # #