Morris Hospital Welcomes New Cardiologist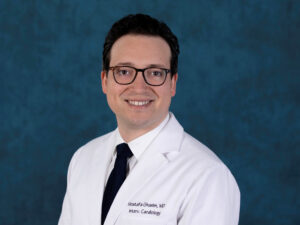 July 10, 2023, MORRIS, IL – Morris Hospital has expanded its cardiology services with the addition of Mostafa Ghanim, M.D., a fellowship trained interventional cardiologist.
Dr. Ghanim has full time office hours at the Morris Hospital Cardiovascular Specialists new office located at 1703 Polaris Circle in Ottawa where he joins cardiologists Syed Ahmed, M.D., Mary Menz, D.O., and Athar Saeed, M.D.
Patients can see Dr. Ghanim for prevention, diagnosis, and treatment of heart disease, high blood pressure, cholesterol disorders, peripheral vascular disease, heart failure, arrhythmia, irregular heartbeat, and other coronary and vascular issues.
As a fellowship trained interventional cardiologist, he performs procedures in the cath lab at Morris Hospital including coronary and peripheral angiography, angioplasty, and stent placement.
Dr. Ghanim earned his medical degree from Cairo University School of Medicine in Egypt. He completed residency training in internal medicine at St. Elizabeth Medical Center/Tufts University School of Medicine in Boston, followed by a fellowship in cardiovascular disease at MercyOne Medical Center in North Iowa where he was honored as Chief Cardiology Fellow.
He pursued further specialization in interventional cardiology at MercyOne Medical Center with an additional year of fellowship training focusing on percutaneous coronary and peripheral vascular interventions.
"The field of cardiology is always evolving, with new research, technologies, and treatments emerging regularly," says Dr. Ghanim. "That's why I am committed to lifelong learning and staying up-to-date with the latest advancements in the cardiovascular field. By continuously expanding my knowledge and skills, I strive to provide the highest quality of care to my patients, ensuring that they benefit from the most effective and evidence-based treatments available."
In his interactions with patients, Dr. Ghanim is dedicated to providing patient-centered care and says that he prioritizes the unique needs, values, and preferences of each patient.
"I believe in open and honest communication, actively listening to my patients, and involving them in the decision-making process regarding their treatment options," he says. "By building a collaborative relationships with my patients, it is my goal to empower them to take active roles in managing their cardiovascular health."
In addition to the Ottawa office, Morris Hospital Cardiovascular Specialists has office locations in Morris, Dwight, and in Channahon at the Morris Hospital Ridge Road Campus.
For more information, call 815-705-1000 or visit www.morrishospital.org/cvspecialists
###