Morris Hospital Fire Starter Finds Special Calling in the Operating Room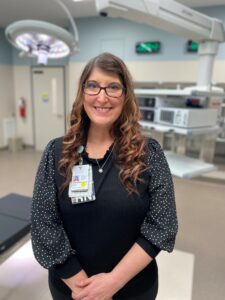 March 24, 2023, Morris, IL – Sarah Daschner is proof that when someone loves what they do, joy is sure to follow. An RN in the Surgery Department at Morris Hospital who serves as a scrub nurse and Charge RN, Daschner's knowledge, skills, energy and leadership make her an invaluable resource for her teammates, surgeons, and patients. For all that she does to make a positive impact on the lives of others, Daschner, of Seneca, was selected as Morris Hospital's March Fire Starter of the Month.
Daschner's passion for surgical nursing began years ago when she became fascinated by the many surgeries her grandfather went through for cancer treatment. She says she was fortunate to have had an internship in the Surgery department Christ Medical Center in Oak Lawn during her last year of nursing school. Her first nursing job was in the operating room setting where she spent 7 years before joining the Surgery team at Morris Hospital in June 2017.
As a scrub nurse, Daschner is positioned right beside the surgeon within the sterile field in the operating room, passing instruments and helping to assure surgery runs smoothly. She is so good at what she does that she is often requested by surgeons.
"Sarah is a very knowledgeable scrub nurse who goes above and beyond for her department and the lives of others," wrote Jessica Lescheweski, a fellow surgery nurse at Morris Hospital who nominated Daschner for Fire Starter of the Month. "She is a great resource, always willing to help trouble shoot, and is so energetic, always ready to work with a positive attitude. She is extremely passionate about her role at Morris Hospital and what we provide to the community."
Daschner is even more than an incredible scrub nurse. Her natural leadership skills make her a perfect fit for Charge RN. Last year, she stepped up even further by taking on an interim leadership role in sterile processing. She is also currently leading a project focused on preventing surgical site infections.
"Sarah is a proven leader," said Sherah DuPree, Director of Surgical Services at Morris Hospital. "She's a hard worker, always makes herself available, helps her teammates, picks up extra call when needed, and is very well respected by her teammates and the medical staff. She really, really is awesome."
Daschner says her drive for excellence comes from her lifelong desire to make a difference, along with her love for surgery.
"I think surgery is fascinating because you're always learning and growing," she says. "It's a completely different area of nursing. We have to gain the patient's trust within five minutes of meeting them, and then they're essentially trusting us with their life. We're their voice when they're under anesthesia."
"I can't imagine being anywhere else," she adds. "I love what I do. I think the doctors know that I love what I do, which makes their job easier."
In early civilizations, fire starters were individuals who had the important job of keeping the flame alive. With over 1,400 employees, Morris Hospital & Healthcare Centers is the largest employer in Grundy County.
# # #