Morris Hospital May Fire Starter Serves as Inspiration to Others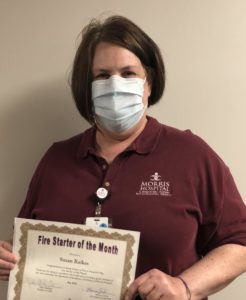 June 26, 2020 – Every once in a while, there's an employee at Morris Hospital who makes such an extraordinary difference in the lives of others that the employee gets honored not once, but twice as the hospital's Fire Starter of the Month. Such was the case for Sue Raikes of Marseilles, Morris Hospital's Fire Starter of the Month for May 2020. Raikes, a supervisor in Environmental Services, was also honored in March 2014 when she was an Environmental Services associate.
"Sue brings a special kind of feeling to our department," wrote two Environmental Services staff members in nominating Raikes. "She's always willing to help, has a smile on her face, and brings the absolute best to her work as a supervisor and a housekeeper."
Cindy Stubler, Manager of Environmental Services at Morris Hospital, concurs that Raikes holds a special passion for the department.
"Sue is an employee who leads by example," says Stubler. "She never hesitates to step in and help, whether on the front lines or assisting with the development of a new process. Her focus is on the Environmental Services department as a team, and employees from all shifts know that she is available both to listen and to finish a job."
Raikes had 12 years' experience with the department when the supervisor position became available in 2018. With some encouragement from her manager, she realized she had the knowledge and experience that was needed to make her a successful supervisor. She also wanted to demonstrate to her co-workers that advancement is possible.
"I was on the staff side for 12 years. I know where they're coming from," says Raikes. "I also understand how important Environmental Services is to patient care. I'm pretty hands on with the staff. It's easy for me to help solve a problem or offer solutions to make things a little easier."
Yet it takes more than knowledge and experience to be successful in her role. Raikes also seems to have just the right personality for leading the team.
"My heart is on my sleeve, and the door is always open," says Raikes. "The staff and I feel comfortable around each other, and they know they can talk to me.  I love working with them. All of them. They make me want to do better. I think I found my calling."
In early civilizations, fire starters were individuals who had the important job of keeping the flame alive. With over 1,400 employees, Morris Hospital & Healthcare Centers is the largest employer in Grundy County.
# # #