Morris Hospital Fire Starter Makes a Difference for Cardiac Patients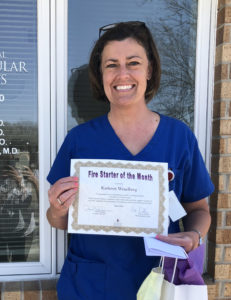 June 12, 2020 – As charge nurse with Morris Hospital Cardiovascular Specialists, Kathy Wexelberg of Coal City is best described as the practice's "go-to" person. In her integral role, she schedules intricate procedures, serves as the cardiologists' right hand, supports and inspires her fellow teammates, and proudly serves as a patient advocate. Wexelberg was recently honored as Morris Hospital's Fire Starter of the Month for April.
"Kathy is an excellent leader and asset to Morris Hospital & Healthcare Centers," says Brittany Duda, Practice Supervisor for Morris Hospital Cardiovascular Specialists. "Each procedure and test that is scheduled for patients through the practice requires effective communication between all departments. Kathy excels in this role due to her comprehensive knowledge."
Wexelberg started her medical career in 1988 as a paramedic with a private ambulance service and a volunteer fire department. After completing her nursing degree, she worked as an emergency room nurse and EMS coordinator. In 2011, she joined Morris Hospital and worked in the Vascular Lab until transferring to the Morris Hospital Cardiovascular Specialists' practice when it was established in 2013.
As the practice grew, so did Wexelberg's responsibilities, leading to her advancement as charge nurse. Along with all of the typical job duties that come with the position, she embraces her role as a mentor, friend, patient advocate, and liaison to her entire team.
Described by Duda as a "positive influence" and "support system" to the team, Wexelberg says it's the patients who keep her motivated and focused on doing her very best. She strives to develop meaningful relationships with patients while working with the cardiologists to develop patient care plans.
"The most rewarding part of my job is being able to spend time caring for our patients," Wexelberg says. "I get to teach the patients and reduce their fears about upcoming procedures. To be there for them and see the relief on their face when I am able to answer their questions brings me great satisfaction. Being able to make a difference in patients' lives keeps me going."
In early civilizations, fire starters were individuals who had the important job of keeping the flame alive. With over 1,400 employees, Morris Hospital & Healthcare Centers is the largest employer in Grundy County.
# # #