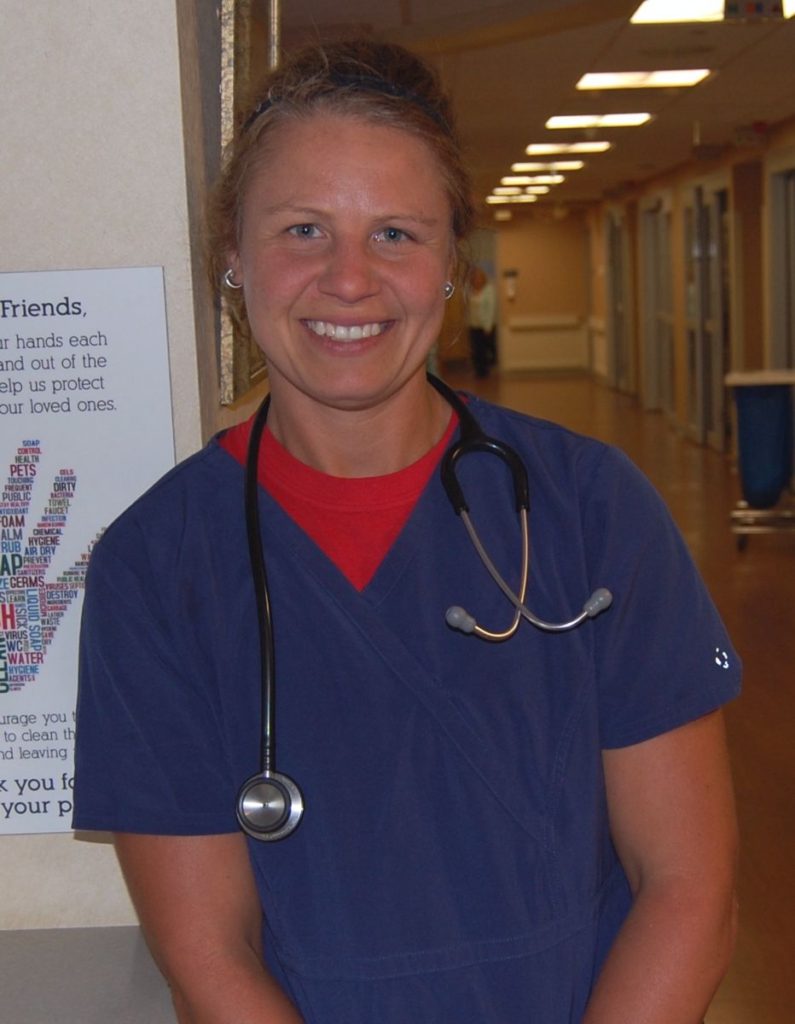 April 26, 2017 – When it comes to role model employees, Morris Hospital ICU nurse Karen Claypool is described as one on a million. Her nursing skills are exceptional. She goes above and beyond for her patients. She's the first one to lend a hand when a co-worker needs help, and she inspires those around her. Claypool, of Morris, was selected as Morris Hospital's Fire Starter of the Month for April. She was also recognized with the same honor in February 2013.
"If I ever have any sick family members, Karen would be the first one I want taking care of them," co-worker Jennifer Flick wrote in nominating Claypool as Fire Starter of the Month. "She is always willing to go the extra mile for her patients and co-workers. She is super smart and excels in any critical situation."
Dawn Clayburn, manager of the Intensive Care Unit at Morris Hospital, also has great things to say about Claypool's commitment to patients.
"Karen provides great personal care for her patients," says Clayburn. "She's an advocate for their care, and she's also a great co-worker and teammate by picking up extra shifts and helping out anyone who needs it."
Claypool already had a passion for intensive care nursing when she started at Morris Hospital in 2007.
"I get to know the patients' histories, spend more time with them and learn about them personally," says Claypool. "This is the part of my job that I really enjoy. We often get to be buddies with patients and find out their whole life story," she says, recalling a critical patient she took care of about 10 years ago who maintains contact through Facebook and text messages.
In addition to the amazing difference Karen makes in the lives of her patients, she also has an incredible influence on everyone around her.
"I personally feel inspired by Karen," adds Flick. "When I work with her, she makes me want to not only be a better person, but a better employee. Seeing Karen go the extra mile pushes all of us to go a little further too. Even other coworkers feel a little more at ease when they see her name on the schedule because they know as long as Karen is here, things will be okay."
In early civilizations, fire starters were the individuals who had the important job of keeping the flame alive. As Fire Starter of the Month, Claypool received a Grundy County Chamber of Commerce gift certificate, a Morris Hospital logoed clothing item of her choice, a special "Fire Starter" lapel pin, and a designated parking spot for the month. With over 1,200 employees, Morris Hospital & Healthcare Centers is the largest employers in Grundy County and winner of the Advisory Board Company's 2017 Workplace of the Year award.