Morris Hospital Announces $60 Million Master Facility Plan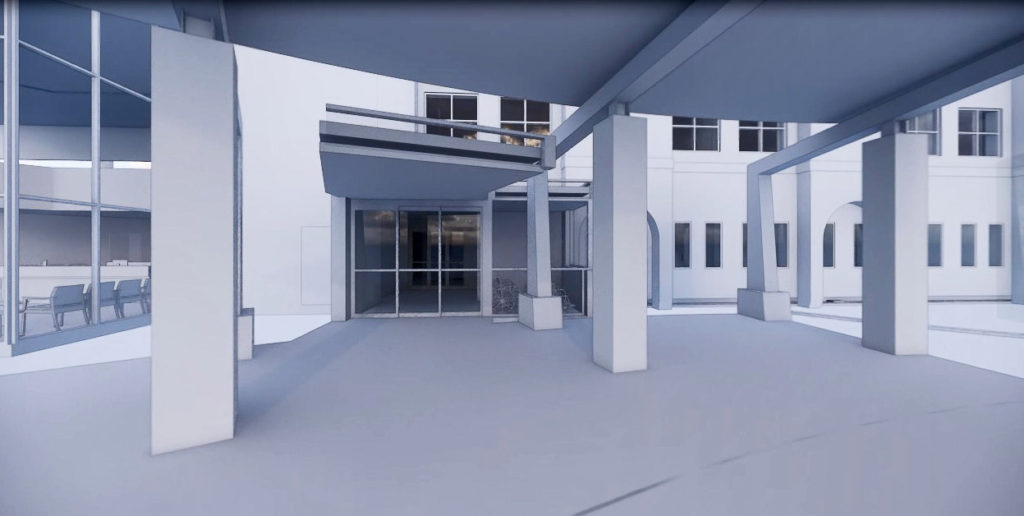 October 24, 2018, MORRIS, IL – Morris Hospital & Healthcare Centers has announced a $60 million master facility plan that includes modernization of the main hospital campus and the addition of two new medical facilities over the next three years.
The hospital modernization project will involve renovation and re-design of over 56,000 square feet of existing space that will result in a new emergency department, a new cardiac diagnostic department, new lab draw and infusion therapy areas, a renovated imaging services department that includes a women's imaging center, a new surgical waiting room, and a new patient registration area. The target completion date for the hospital modernization project is March 2021.
According to Mark Steadham, President & CEO of Morris Hospital & Healthcare Centers, modernization of Morris Hospital's main campus will help address increased volumes in the emergency department and aging facilities while enhancing patient privacy and the overall patient experience.
"The areas of the hospital slated for modernization were constructed decades ago. Technology and patient expectations have changed significantly since then," says Steadham, adding that the last major renovation on the hospital campus occurred in 2006 with a $5 million renovation of the intensive care unit.
As required for projects of this level, Morris Hospital has submitted the $33.5 million main campus modernization plans to the Illinois Health Facilities and Services Review Board for approval at its December 4 meeting. Phase 1 of the main campus modernization project, which involves construction of the new emergency department and relocation of infusion therapy, could begin as early as second quarter 2019.
Other significant components of Morris Hospital's master facility plan include construction of a Diamond-Coal City Campus that will include immediate care, diagnostic lab and imaging, occupational medicine and physical therapy services, along with physician office space. Construction is scheduled to begin in November on property located at 1450 E. Division Street immediately west of McGinty Road on the north side of Route 113, with an estimated completion by fall 2019.
In Ottawa, Morris Hospital currently provides physician services in three different office locations. The master facility plan calls for constructing a new facility in Ottawa that will consolidate the three offices and bring expanded offerings, with a tentative 2020 completion. The future Ottawa location has not yet been finalized.
"More than 20 years ago, Morris Hospital began expanding access to healthcare by bringing services to the communities we serve," says Steadham. "Building new medical facilities for Ottawa and the Diamond-Coal City communities is a continuation of that strategic initiative so that we can continue to fulfill our mission of improving the health of area residents."
The $60 million master facility plan also includes a $3 million investment in renovations at Deerpath Surgery Center, which was converted from an orthopedic surgery center to a multi-specialty ambulatory surgery center earlier this year. Deerpath is a joint venture between Morris Hospital and independent physicians. As a result of the expansion to a multi-specialty surgery center, many outpatient ophthalmology surgeries and gastrointestinal procedures that were previously performed at Morris Hospital are now being done at Deerpath.
"Converting Deerpath to a multi-specialty ambulatory surgery center was one of the keys to our hospital campus modernization planning in that it helped determine the amount of space needed for the future hospital surgical department," says Steadham.
Steadham says the master facility plan is the culmination of more than three years of planning that has included reviewing data, trends in healthcare, and a number of options with the hospital Board of Directors.
"Our Board members are very conscientious and reasonable, and they are excellent stewards of the hospital finances," explains Steadham. "Over the past three years, they have been evaluating data to determine what's right for the community and what Morris Hospital can reasonably afford without compromising our status as an independent community hospital."
"Between all of the projects associated with the master facility plan, we are taking an important step forward as we position Morris Hospital for the long term future."
Serving patients at 26 locations, Morris Hospital & Healthcare Centers includes the 89-bed Morris Hospital, as well as physician offices in Braidwood, Channahon, Coal City, Dwight, Gardner, Marseilles, Mazon, Minooka, Morris, Newark, Ottawa and Yorkville. Through the services of over 1,700 healthcare professionals, physicians and volunteers, Morris Hospital provides lifesaving cardiac intervention with angioplasty and stents, a radiation therapy center for cancer patients, state-of-the-art intensive care unit, sleep center, and immediate care services at three locations. Morris Hospital is a Level II trauma center and a Level II perinatal care provider with an intermediate care nursery. For more information, visit www.morrishospital.org.