Morris Hospital Physical Therapist Recognized for Inspiring Others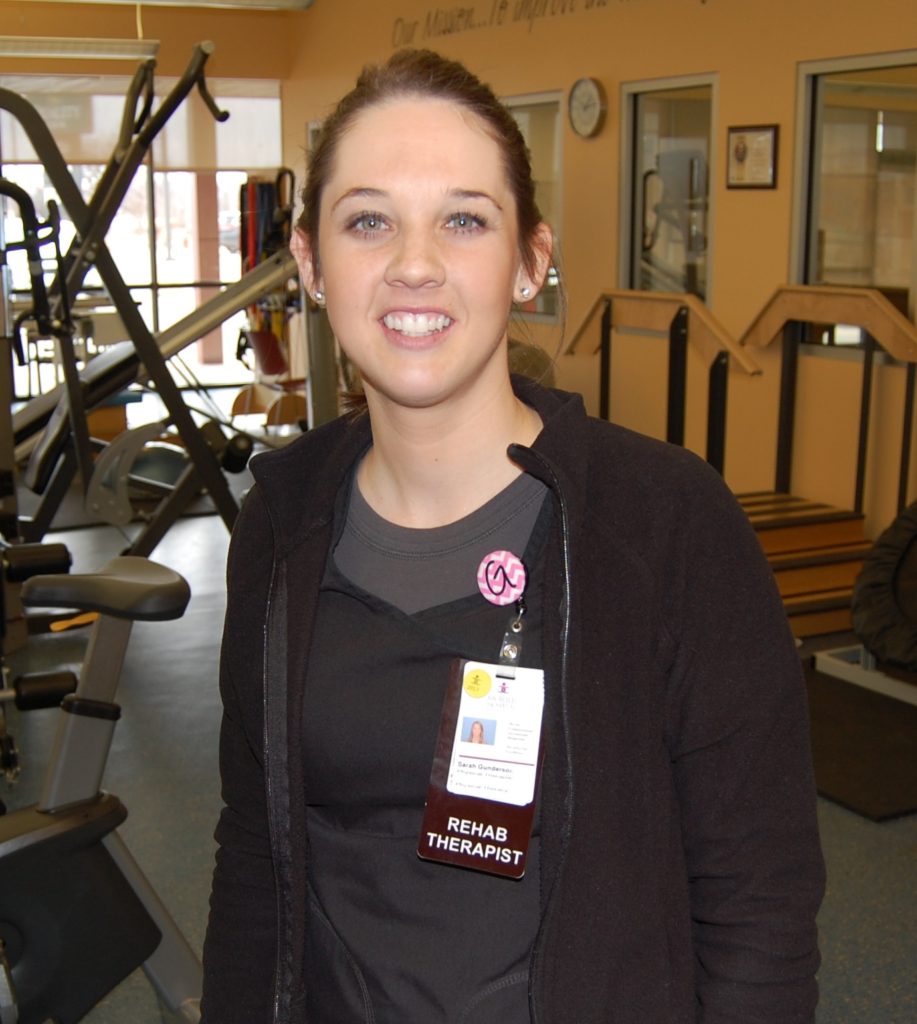 February 15, 2018 – Patients love working with Morris Hospital Physical Therapist Sarah Gunderson. She's knowledgeable, compassionate, and inspires them to do all they can to improve their conditions. For all that she does to make a difference in the lives of others, Gunderson was named Morris Hospital's Fire Starter of the Month for February.
"Sarah is a wonderful, compassionate and fun therapist who is able to quickly connect with patients from all walks of life," says Sarah Wrightson, Manager of Rehabilitation Services at Morris Hospital & Healthcare Centers. "She collaborates extremely well with her patients with a strong education focus in order for the patients to get the best outcomes from their therapy."
Gunderson, of Ottawa, initially began her educational track pursuing a degree in nursing, until the cross country and track star suffered a knee injury. That was the first time she had an opportunity to undergo therapy services herself. The next semester, she changed her major.
""I saw physical therapy as a way to help people be the best they can be," said Gunderson. "I was impressed with the positive environment and the focus on the recovery aspect of a patient's condition."
After completing her physical therapy degree at St. Ambrose University in Davenport, Iowa, Gunderson joined the outpatient team at the Diagnostic & Rehabilitative Center of Morris Hospital in 2012. Since then, she has obtained special certifications in lymphedema and LSVT BIG, a special treatment protocol for individuals with Parkinson's disease.
"Sarah is very dedicated to her profession and has pursued these special certifications in order to further specialize in providing services to our patients," said Wrightson. "She is always positive, warm and friendly and provides excellent service and quality of care in every session. This is why patients request her as their therapist."
Fellow physical therapist Elaine Gengenbacher said the staff at Morris Hospital loves working with Gunderson as much as the patients.
"Sarah is always willing to help her peers with treatment ideas, and she maintains a positive work environment," said Gengenbacher. "Through her example of providing excellent care with respect and professionalism, she inspires all of us to strive to provide excellent care to all of our patients."
As for Gunderson, working with patients is what she enjoys most about her role as a Morris Hospital physical therapist.
"I love meeting new people, and I love the interactions," said Gunderson. "As physical therapists, we have the ability to impact and change people's lives. It's very fulfilling."
In early civilizations, fire starters were the individuals who had the important job of keeping the flame alive. With over 1,300 employees, Morris Hospital & Healthcare Centers is the largest employer in Grundy County and winner of the Advisory Board Company's 2017 Workplace of the Year award.
# # #