Morris Hospital Earns Echocardiography Reaccreditation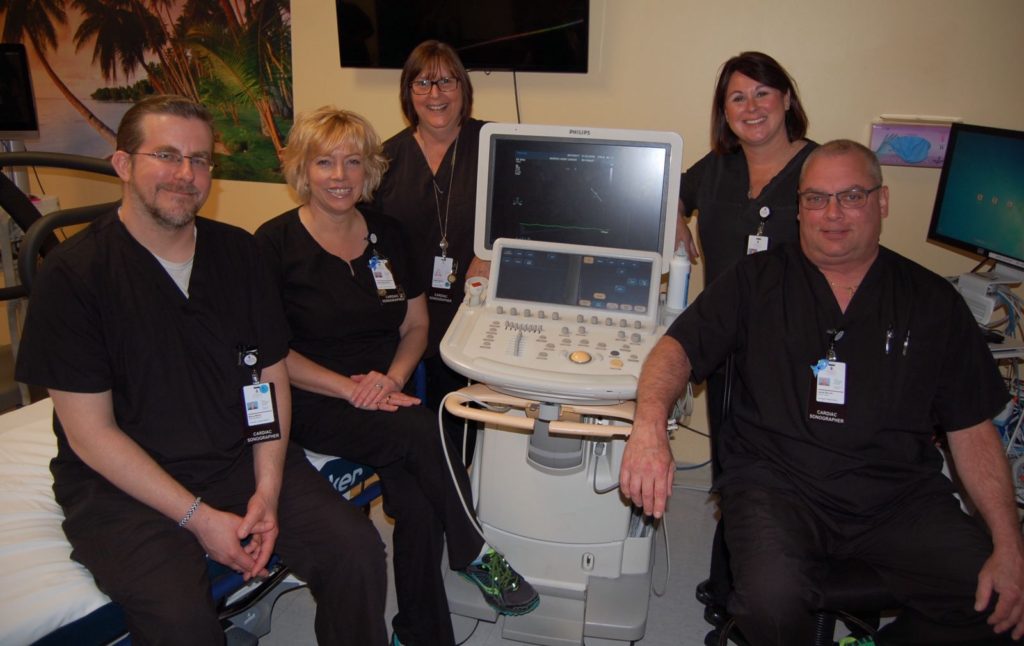 June 5, 2017, Morris, Illinois – Morris Hospital & Healthcare Centers has achieved a voluntary, three-year re-accreditation in Echocardiography from the Intersocietal Accreditation Commission (IAC) in the areas of adult transthoracic and adult stress echocardiography. The accreditation demonstrates Morris Hospital's ongoing commitment to providing quality patient care in echocardiography and is the fourth re-accreditation since the original accreditation in 2005.
Often referred to as an ultrasound of the heart, echocardiography is a safe, non-invasive test that uses high-frequency sound waves to assess different areas of the heart and detect heart disease or signs of serious heart conditions.
Accreditation by the IAC means Morris Hospital's Cardio Diagnostics department has undergone an intensive application and review process and is found to be in compliance with the published standards, thus demonstrating a commitment to quality patient care in echocardiography. The IAC accreditation process assessed both the critical operational and technical components of Morris Hospital's echo services, including representative case studies and their corresponding final reports.
Dr. Syed Ahmed, Cardiologist, services as Echocardiography Medical Director at Morris Hospital.
"Echocardiography is a complex imaging technique that has evolved over the years to the present day 3 and 4D moving, color, digital images of the heart," says Lanett Eddy, technical director of the Echo Lab at Morris Hospital. "The accuracy of the exam relies on the experience and training of both the echo technician who conducts the exam and the physician who interprets the exam. We are very proud of the quality of our echo services at Morris Hospital."
All six of Morris Hospital's cardiac sonographers are registered by either the American Registry for Diagnostic Medical Sonography or Cardiovascular Credentialing International.
Along with echocardiography, the Cardiology department at Morris Hospital offers a wide range of diagnostic tests that help physicians diagnose heart and circulation problems, including electrocardiograms, holter monitoring, stress testing, stress echocardiography, transesophageal echocardiogram, cardiolite nuclear stress testing, pharmacological stress testing, tilt table testing, and angiograms. Treatment options available at Morris Hospital for cardiovascular problems include angioplasty, stenting, coronary atherectomy, pacemakers, implantable cardioverter defibrillators, and cardioversion. Morris Hospital also offers a three phase cardiac rehabilitation program that is certified by the American Association of Cardiovascular and Pulmonary Rehabilitation.
Serving patients at 25 locations in 11 communities, Morris Hospital & Healthcare Centers includes the 89-bed Morris Hospital, as well as physician offices in Braidwood, Channahon, Dwight, Gardner, Marseilles, Mazon, Minooka, Morris, Newark, Ottawa and Yorkville. Through the services of over 1,700 healthcare professionals, physicians and volunteers, Morris Hospital provides lifesaving cardiac intervention with angioplasty and stents, a radiation therapy center for cancer patients, a state-of-the-art intensive care unit, and immediate care services at three locations. Morris Hospital is a Level II trauma center, a Level II perinatal care provider with an intermediate care nursery, and a Primary Stroke Center. Morris Hospital & Healthcare Centers is a recipient of The Advisory Board Company's 2017 Workplace of the Year Award for having outstanding employee engagement and was named on Becker's Hospital Review's 100 Great Community Hospitals list in 2016 and 2017.