Morris Hospital Cancer Program Earns Renewal of Prestigious National Accreditation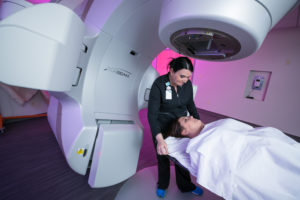 April 4, 2022, MORRIS, IL –  The cancer program at Morris Hospital has been granted a three-year accreditation from the Commission on Cancer (CoC), a quality program of the American College of Surgeons (ACS). The accreditation indicates that Morris Hospital has voluntarily committed to providing the highest level of quality cancer care and has undergone a rigorous evaluation process and review of performance.
To earn voluntary CoC accreditation, a cancer program must meet 34 quality care standards, be evaluated every three years through a survey process, and maintain levels of excellence in the delivery of comprehensive patient-centered care. Morris Hospital is one of 63 cancer programs in Illinois and has been accredited by the CoC since 1986.
"Being a CoC-accredited cancer center is important because it indicates that Morris Hospital is committed to following the highest standards of care for cancer patients by taking a multidisciplinary approach to coordinate the best treatment options available, including consultation among surgeons, medical and radiation oncologists, diagnostic radiologists, pathologists, and other cancer specialists," says Liz Bates, Director of Imaging Services and Cancer Program Administrator at Morris Hospital & Healthcare Centers. "The accreditation also demonstrates that Morris Hospital provides access to patient-centered services, uses evidence-based national treatment guidelines and state-of-the-art cancer treatment and equipment, and participates in a cancer registry that collects data on cancer types, stages, and treatment results to explore trends in cancer care."
The cancer program at Morris Hospital includes diagnostic and treatment services, inpatient care, pathology, cancer registry, support services, and community outreach for prevention and early detection, along with the Radiation Therapy Center of Morris Hospital where patients have access to cancer treatments using the very latest radiation therapy technology.
When patients receive care at a CoC facility, they also have access to information on clinical trials and new treatments, genetic counseling, and patient centered services including psycho-social support, a patient navigation process, and a survivorship care plan that documents the care each patient receives and seeks to improve cancer survivors' quality of life.
Serving patients at 28 locations, Morris Hospital & Healthcare Centers includes the 89-bed Morris Hospital, as well as physician offices in Braidwood, Channahon, Coal City, Dwight, Gardner, Marseilles, Mazon, Minooka, Morris, Newark, Ottawa, Seneca, and Yorkville. Through the services of over 1,700 healthcare professionals, physicians and volunteers, Morris Hospital provides lifesaving cardiac intervention with angioplasty and stents, a radiation therapy center for cancer patients, state-of-the-art intensive care unit, sleep center, and walk-in care at four urgent care locations. Morris Hospital is a Level II trauma center, Level II perinatal care provider, and primary stroke center. The hospital is known for its compassionate and personalized approach to healthcare and has a Five-Star overall hospital quality rating from the Centers for Medicare & Medicaid Services, the highest rating a hospital can receive.
# # #