Morris Hospital Earns Another "A" Grade for Patient Safety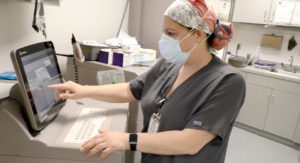 December 14, 2020, MORRIS, IL –  Morris Hospital & Healthcare Centers was awarded its fifth consecutive 'A' on the most recent Leapfrog Hospital Safety Grade that was released on December 14. This national distinction recognizes Morris Hospital's achievements in protecting patients from harm and providing safer health care.
The Leapfrog Group is an independent national watchdog organization committed to health care quality and safety. The Safety Grade assigns an A, B, C, D or F grade to all general hospitals across the country and is updated every six months. The grade is based on a hospital's performance in preventing medical errors, injuries, accidents, infections, and other harm to patients in their care.
Developed under the guidance of a national expert panel, the Leapfrog Hospital Safety Grade uses up to 27 measures of publicly available hospital safety data to assign grades to more than 2,600 U.S. acute-care hospitals twice per year. The Hospital Safety Grade's methodology is peer-reviewed and fully transparent, and the results are free to the public.
The data used to calculate the Fall 2020 Hospital Safety Grade covers a time period ranging from 2017-2020, depending on the measure.
"Morris Hospital's A grade is a direct result of our staff's commitment to adhering to best practices in the healthcare industry in order to assure the highest quality patient care," says Cara Marco, Quality Manager at Morris Hospital & Healthcare Centers. "Receiving another A from Leapfrog validates that our team is following all of the practices that we have in place to keep our patients safe during their hospitalization."
Of the 103 Illinois hospitals that were assessed on the fall report, 35 received A's,
27 received B's, 38 received C's, and 1received a Ds, and 2 received F's.
"We are extremely grateful to hospital leadership and health care workers who have remained steadfast in prioritizing patient safety as our nation battles COVID-19," said Leah Binder, president and CEO of The Leapfrog Group. "This 'A' is a testament to the care and commitment of those who work for Morris Hospital."
About Morris Hospital
Serving patients at 26 locations, Morris Hospital & Healthcare Centers includes the 89-bed Morris Hospital, as well as physician offices in Braidwood, Channahon, Coal City, Dwight, Gardner, Marseilles, Mazon, Minooka, Morris, Newark, Ottawa, Seneca, and Yorkville. Through the services of over 1,700 healthcare professionals, physicians and volunteers, Morris Hospital provides lifesaving cardiac intervention with angioplasty and stents, a radiation therapy center for cancer patients, state-of-the-art intensive care unit, sleep center, and walk-in care at four locations. Morris Hospital is a Level II trauma center, Level II perinatal care provider, and primary stroke center. The hospital is known for its compassionate and personalized approach to healthcare and receives national recognition for quality and safety.
 About The Leapfrog Group
Founded in 2000 by large employers and other purchasers, The Leapfrog Group is a national nonprofit organization driving a movement for giant leaps forward in the quality and safety of American health care. The flagship Leapfrog Hospital Survey and new Leapfrog Ambulatory Surgery Center (ASC) Survey collect and transparently report hospital and ASC performance, empowering purchasers to find the highest-value care and giving consumers the lifesaving information, they need to make informed decisions. The Leapfrog Hospital Safety Grade, Leapfrog's other main initiative, assigns letter grades to hospitals based on their record of patient safety, helping consumers protect themselves and their families from errors, injuries, accidents and infections.