Morris Hospital Nursing Unit Secretary Committed to Making a Difference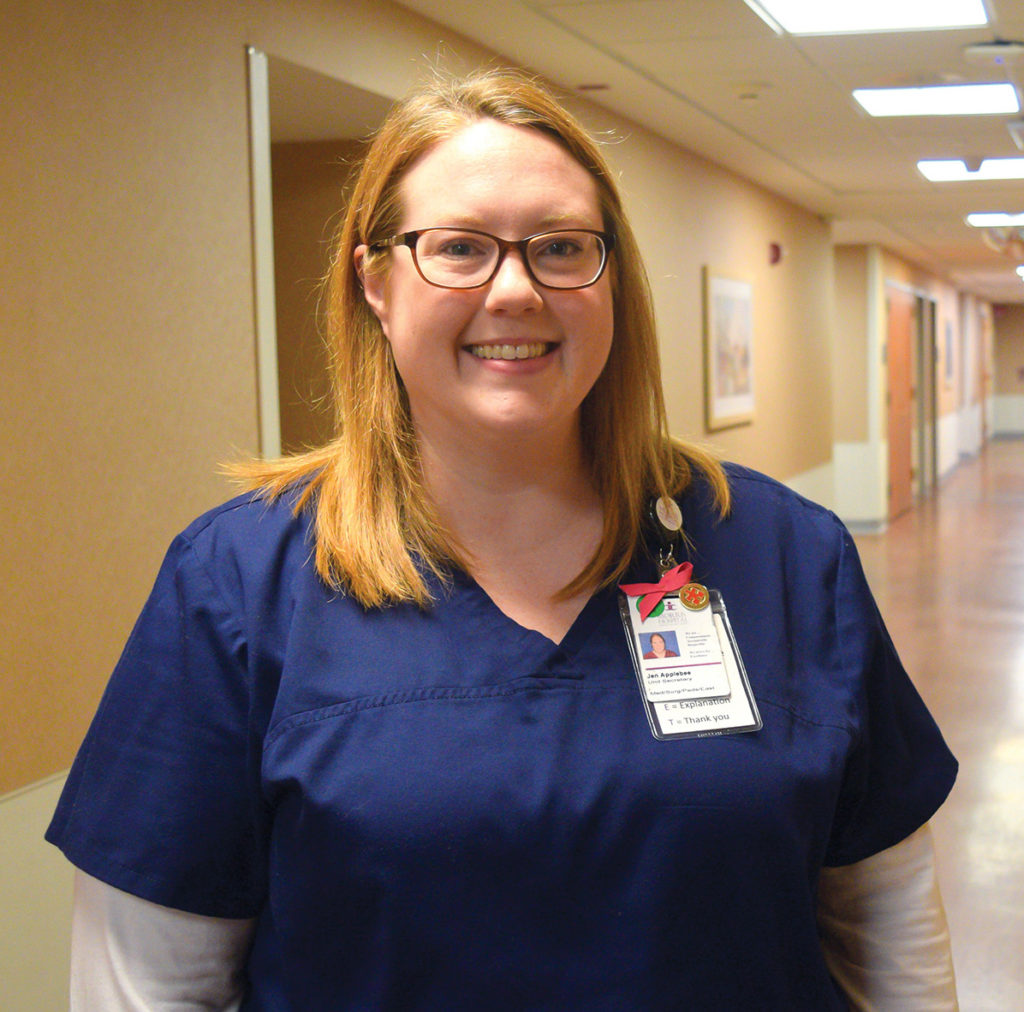 February 25, 2019 – As a unit secretary on Morris Hospital's 2 East nursing unit, Jen Applebee, of Morris, goes the extra mile for one simple reason. She wants to make a difference. Applebee was recently honored for doing just that when she was recognized as Morris Hospital & Healthcare Centers' Fire Starter of the Month for January.
"Jen is the epitome of what an employee should be," said Meagan Rothrock-Magana, Manager of 2 East at Morris Hospital. "She takes pride in her work, wants to do a good job and wants the unit to succeed. She welcomes visitors with a pleasant smile and is always willing to answer their questions. She has truly developed into one of the keys that keeps our unit running smoothly."
Prior to becoming 2 East unit secretary, Applebee spent more than 10 years making a difference through her various roles in the Nutrition Services department at Morris Hospital, including dish, café, hostess, and clerk.
"I loved being with the nurses when I was a Nutrition Services hostess, and I loved seeing the patients," says Applebee of her previous role. "When somebody needs help, I always do my best to help them."
In nominating Applebee for Fire Starter of the Month, a coworker said Applebee constantly displays professionalism and maintains an orderly and efficient atmosphere.
"Jen's determination to help create a seamless patient experience, while helping to maintain order and flow on the unit, is obvious in the connections she has made with the staff," wrote co-worker Shannon Borgstro. "The staff trusts and respects her. Jen is recognized and appreciated by patients and visitors and is truly a friend to all she meets."
Applebee says she enjoys coming to work and is eager to dive in at the start of each shift.
"I love being here," says Applebee. "I hope I'm making a difference by doing my job and going the extra mile to make sure things are done correctly."
In early civilizations, fire starters were the individuals who had the important job of keeping the flame alive. With over 1,300 employees, Morris Hospital & Healthcare Centers is the largest employer in Grundy County and winner of the Advisory Board Company's 2017 Workplace of the Year award.
# # #