Morris Hospital Begins Construction of New Emergency Department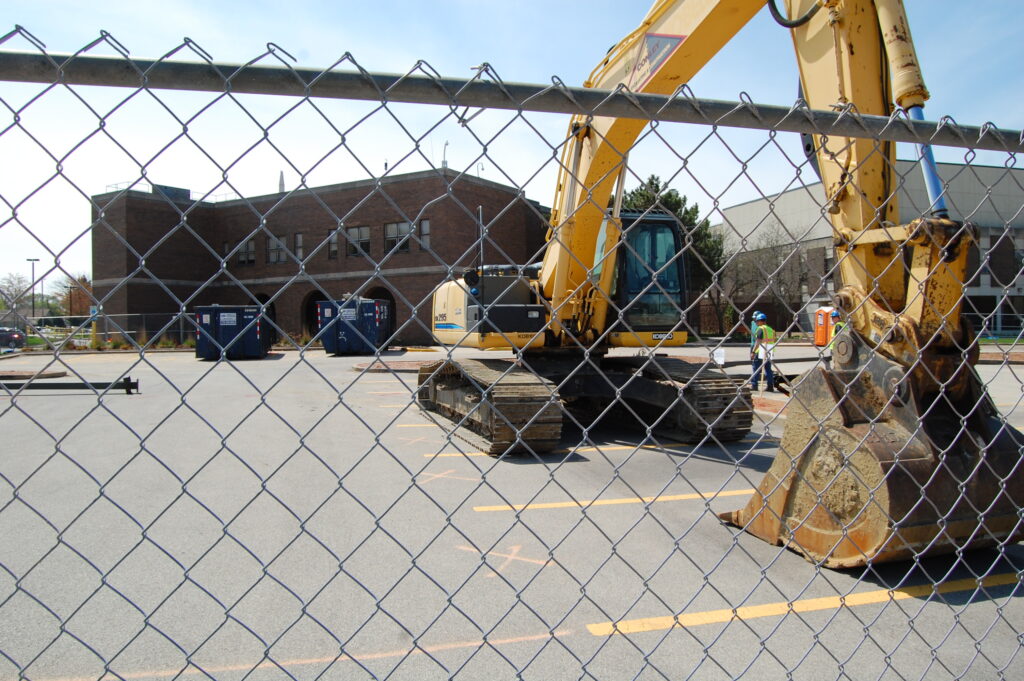 May 6, 2019, MORRIS, IL – Morris Hospital has begun construction of its new emergency department, marking the official launch of the first phase of a $33.5 million modernization project on the hospital main campus.
Targeted for completion in early 2020, the new emergency department will increase the number of emergency exam/trauma rooms from 11 to 17 and create a separate fast track area within the emergency department for low acuity visits, all designed to minimize wait times and increase patient privacy. The new emergency department will be located on the east side of the hospital and will have a dedicated emergency entrance immediately north of the present hospital main entrance.
Phase 1 will also result in a new infusion therapy center on the first floor, just past the Family Birthing Suites. The new infusion therapy center will feature all private rooms with outside windows to enhance the patient and family experience, as patients having infusion therapy can spend as much as 8 hours at the hospital for each treatment.
Last December, the hospital announced that it had received approval from the Illinois Health Facilities and Services Review Board to proceed with renovations that will modernize the hospital main campus at 150 W. High Street in Morris. The two year project will involve renovation and re-design of over 56,000 square feet of existing space and construction of 4,300 square feet of new space that together will increase clinical space for patient services on the first floor. In addition to the new emergency department and infusion therapy center, additional services slated for renovation include cardiac diagnostics, imaging services including a new women's imaging center, and a new patient services area that will include registration, release of information, surgical waiting, and many other patient services. The target completion date for all phases of the project is March 2021.
In order to accommodate the renovation plans, the following changes have occurred on the hospital main campus:
The handicap parking spaces adjacent to the main entrance circle drive have been relocated to the first row of the main entrance parking lot in order to accommodate construction equipment.
Whitman 1 and 2 conference rooms and the Family Birthing Suites classroom have moved from first floor to the lower level.
The cashier and release of information windows have moved to a newly renovated area on first floor.
The Auxiliary Gift Shop has closed for remodeling and will re-open in mid-June. An interim gift shop is available on the lower level.
Additionally, pedestrian traffic crossing Lisbon Street has increased between High and Waverly streets due to changes in employee parking. Motorists are urged to use extra caution when traveling past the hospital on Lisbon Street.
"Over the next two years, there will be visible signs of construction on the main campus as we modernize the hospital and enhance the services we provide for the community," says Mark Steadham, President & CEO. "We are grateful for the community's ongoing support and patience as we position Morris Hospital for the long term future."
For more information on the main campus renovations and Morris Hospital's master facility plan, go to morrishospital.org/future.
Serving patients at 26 locations, Morris Hospital & Healthcare Centers includes the 89-bed Morris Hospital, as well as physician offices in Braidwood, Channahon, Coal City, Dwight, Gardner, Marseilles, Mazon, Minooka, Morris, Newark, Ottawa and Yorkville. Through the services of over 1,700 healthcare professionals, physicians and volunteers, Morris Hospital provides lifesaving cardiac intervention with angioplasty and stents, a radiation therapy center for cancer patients, state-of-the-art intensive care unit, sleep center, and immediate care services at three locations. Morris Hospital is a Level II trauma center and a Level II perinatal care provider with an intermediate care nursery.
# # #