Fire Starter of the Month Committed to Helping Others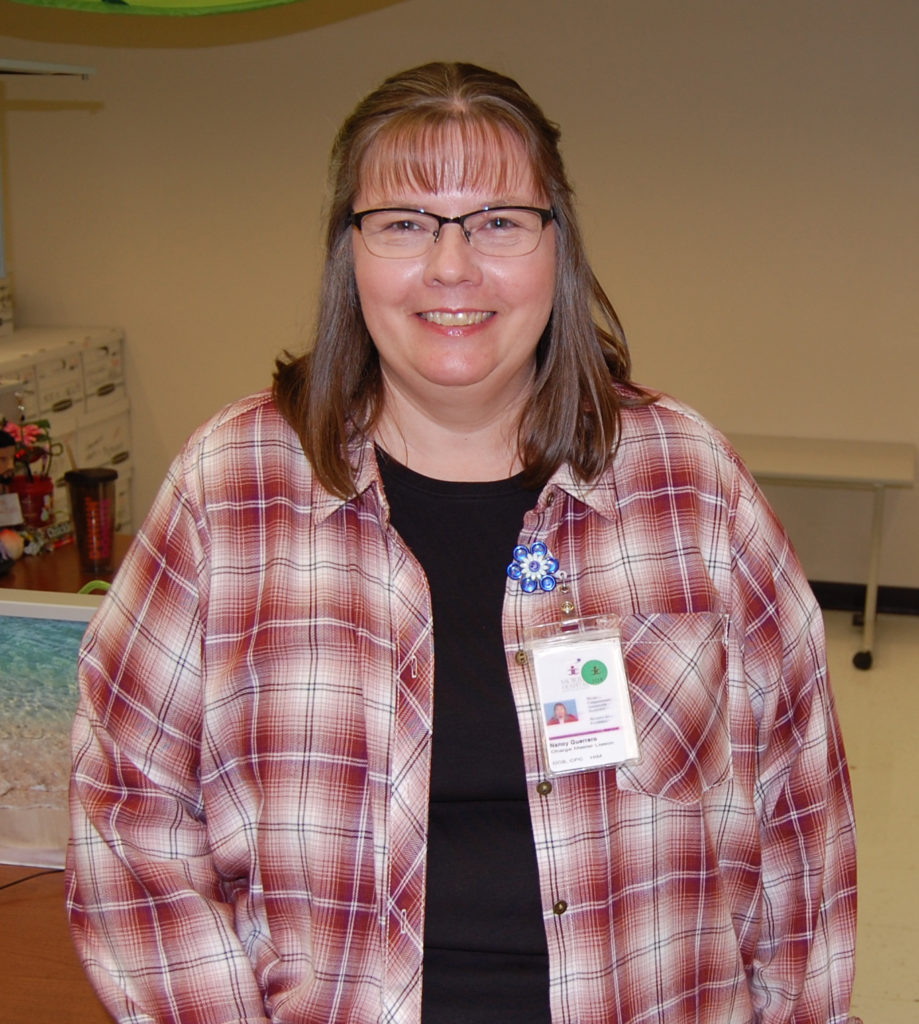 October 18, 2019 –  Nancy Guerrero, of Morris, was honored as Morris Hospital & Healthcare Centers' Fire Starter of the Month for August.
In her role as Charge Master Liaison in the Health Information Management (HIM) department, Guerrero has made it her personal goal to help everyone she encounters whenever and wherever she can. With her vast background, unique skill set, and commitment to excellence, she has been able to accomplish just that.
Guerrero first came to Morris Hospital in July 2013 as a volunteer in the HIM department while she was preparing for the Certified Professional Coder exam. Inspired by a cousin who is a medical coder, she had recently gone back to school to obtain a medical coding specialist degree following completion of a bachelor's degree in business management and careers in information systems with a major accounting firm in Chicago and then payroll and accounting for area school systems. Within three months of starting as a volunteer at Morris Hospital, she was hired for a scanning position in HIM and soon after moved into a clinic coding position after achieving her certification.
Guerrero's knowledge base didn't stop there. With physician office coding certification under her belt, she decided to pursue certification in hospital medical coding and went back to school again. In the fall of 2018 when the Charge Master Liaison position at Morris Hospital became vacant, Guerrero's unique skill set made her an ideal candidate.
"There aren't many coders who have dual certification in the hospital and physician office setting like Nancy," says Kahla Boe, Director of Health Information Management at Morris Hospital. "The Charge Master role is very integral to our business and requires someone who has critical thinking skills, great knowledge in coding on both the professional and facilities side, and the ability to conduct research, understand the findings, and put it into practice. Nancy is skilled at all of these things and isn't afraid of big challenges. She has really done a great job with the position in a short period of time."
Clinic Coding Auditor Lesli Lair echoed Boe's appreciation by nominating Guerrero as Fire Starter of the Month.
"Nancy is a wonderful role model of excellence," wrote Lair. "Her dedication is what impresses me the most. She is always determined to find an answer for every question, and not just an answer but a thoroughly investigated answer. We can always count on the same level of professionalism and respect from Nancy."
Guerrero says the most rewarding part of her job is knowing that she is helping patients and the hospital.
"I enjoy the research and problem solving involved with investigating claims denials so the hospital can get appropriately paid for the services provided," says Guerrero. "This helps the hospital financially, and it helps the patients when we can get denials overturned."
In early civilizations, fire starters were individuals who had the important job of keeping the flame alive. With over 1,400 employees, Morris Hospital & Healthcare Centers is the largest employer in Grundy County.
# # #