Morris Hospital Nurse Recognized for Inspiring Others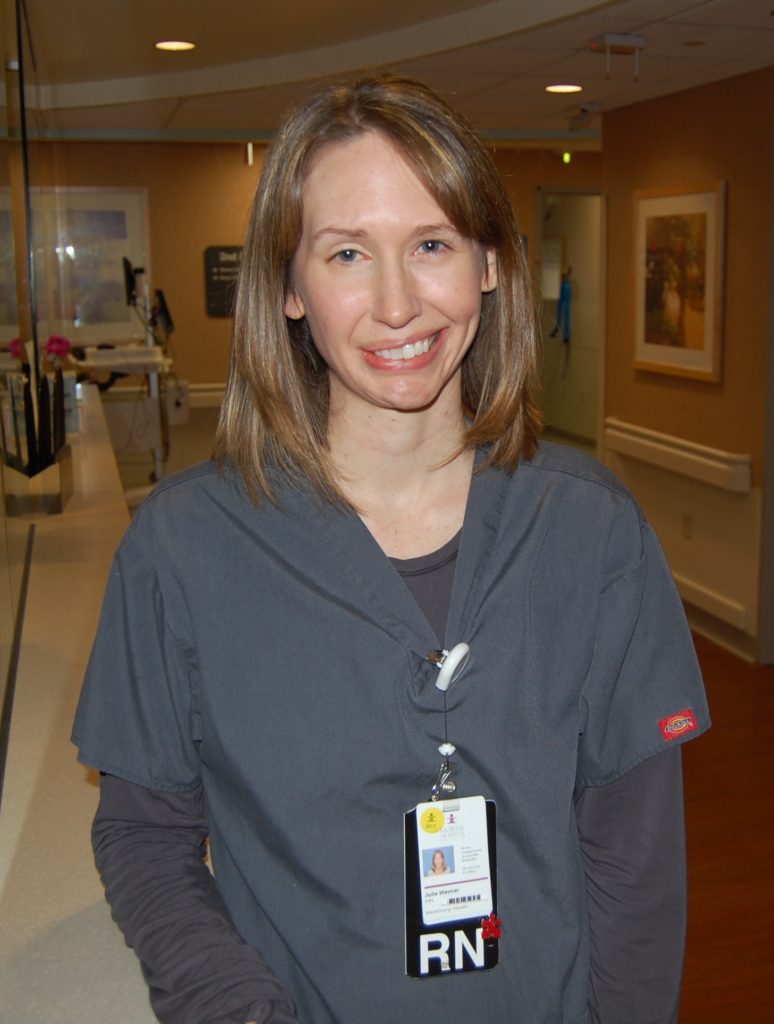 May 7, 2018 – Julie Weimer, of Morris, has all the traits it takes to make a great nurse. She's caring, compassionate, respectful and calm. As a charge nurse on the 2 South nursing unit at Morris Hospital, she puts the needs of others before her own, inspires others to be positive, and is helpful to her peers. For all she does to make a difference in the lives of patients and her co-workers, Weimer was selected Morris Hospital's Fire Starter of the Month for April.
"Julie is a great example of a Firestarter because she makes our unit a better place for our patients and team members," says Cara Marco, Manager of 2 South at Morris Hospital. "She is a knowledgeable and patient charge nurse for our team. She provides an exceptional example to others by exhibiting our standards of conduct. We are blessed to have her as a leader on 2 South."
A graduate of Lincoln Trail Community College in Robinson, IL, Weimer started working at Morris Hospital in 2007 when she and her husband, Ryan, relocated to Morris.
"I wanted to start out on a medical/surgical unit because you learn a lot. I ended up falling in love with it," says Weimer. "I love being with the patients, helping them get better, and seeing them go home."
Weimer enjoys her new role as a charge nurse because it gives her an opportunity to be involved in everything that's happening on the unit. Her co-workers equally enjoy having her in the lead role on the afternoon shift.
"Julie has gone out of her way to make accommodations, not only for patients but for their families and her co-workers as well," said co-worker Sandra Valdes in nominating Weimer as Fire Starter of the Month. "She always has a smile and is respectful to everyone."
Other co-workers say Weimer is the type of nurse they strive to be and that she inspires them to follow in her footsteps. They also say she always takes the time to help everyone and puts others needs first, before her own.'
In early civilizations, fire starters were the individuals who had the important job of keeping the flame alive. With over 1,300 employees, Morris Hospital & Healthcare Centers is the largest employer in Grundy County and winner of the Advisory Board Company's 2017 Workplace of the Year award.
# # #