Morris Hospital Honors CNA for Bringing Joy to Patients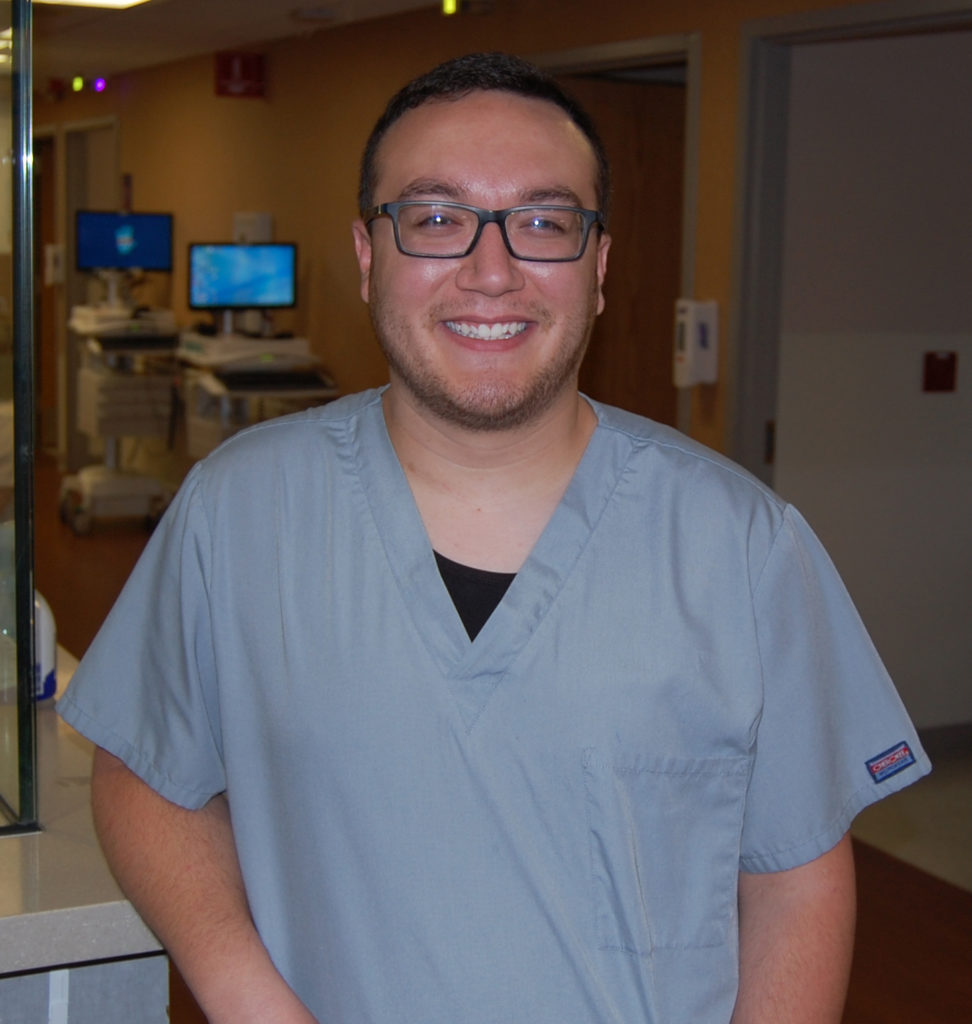 August 26, 2019 –  Joy, laughter and teamwork are just some of the gifts Bulmaro "Bo" Ochoa brings with him every day he's on duty as a CNA on Morris Hospital's 2 South medical/surgical inpatient care unit. As evident by the many, many "excellence" cards he receives, Ochoa's contributions clearly make a difference for his patients, who know him by name, as well as his co-workers, who know they can always count on him to lend a hand. Ochoa was honored as Morris Hospital's June Fire Starter of the Month because of his role model behavior and outstanding work values.
A Morris resident, Ochoa completed his CNA certification while he was a student at Morris High School. His first job was in a nursing home, but he always knew he wanted to work in a hospital, thanks to his sister Dina who works in Morris Hospital's intensive care unit.
"Bo exceedingly brings joy to our unit," says Cara Marco, 2 South Manager at Morris Hospital who hired Ochoa in January 2017. "He has a laid-back and joyful personality by nature and continually builds great rapport with his patients."
Marco says Ochoa is known to trade work assignment so he can help take care of patients who feel comfortable with him.
"When we work a couple days in a row and have the same patients, they get to know us," explains Ochoa.  "When patients open up to me, I'll open up to them too. It's nice to hear about their lives. Talking is a distraction that helps them forget they're in a hospital."
Ochoa says he makes a point of keeping a positive attitude when he's at work.
"Patients like it when we're in a good mood and always smiling. It lifts their spirits too," he says.
He is also committed to creating a positive environment for his co-workers by rearranging his schedule for his peers, trading shifts, or picking up extra hours when needed. He'll offer to transport patients to tests or procedures, walk patients who are not assigned to him, move rooms for patients, and help peers with admissions questions.
"I try to keep everyone in a good mood," says Ochoa. "If I can help my teammates, I will. It makes the shift go smoother."
In early civilizations, fire starters were individuals who had the important job of keeping the flame alive. With over 1,300 employees, Morris Hospital & Healthcare Centers is the largest employer in Grundy County.
# # #