Launched in February 2019, the Morris Hospital Integrated Behavioral Health program has been working to address a growing need for behavioral health resources within the primary care setting.
Morris Hospital has adopted the Collaborative Care Model (CoCM), which is team-based behavioral health delivered in the primary care setting. CoCM involves three team members: a primary care provider, a behavioral health care manager and a consulting psychiatrist. This team-based care program embraces a philosophy of addressing whole-person needs rather than treating medical and mental health needs separately.
This means patients can receive care through their primary care provider for behavioral and mental health conditions such as:
Depression
Anxiety
Bipolar Disorder
Obsessive-Compulsive Disorder
Post-Traumatic Stress Disorder
WHAT IS INTEGRATED BEHAVIORAL HEALTH?
Integrated behavioral health is the connection between a person's health and well-being of the body and the mind. Behavioral health issues can include mental or psychiatric conditions, marriage and family issues, and substance use disorders.
According to the American Hospital Association, behavioral health disorders affect nearly one in five Americans and have community-wide impacts. Despite the prevalence of these disorders, a study showed that only 43 percent of the 44.7 million adults with mental health disorders received treatment, and less than 11 percent of adults with a substance use disorder received treatment.
HOW DO I GET TREATMENT?
If you are experiencing any behavioral health concerns, bring these concerns to your primary care provider. Morris Hospital is actively working to expand access to the Collaborative Care at more of our locations. Currently, the primary care providers at the locations below work with a Collaborative Care team. Patients can begin the process by making an appointment with the primary care provider.
The Primary Care Provider (PCP) oversees all aspects of your care at the clinic. He or she will work closely with the other members of the care team to make sure you get the best care possible. The PCP will make and/or confirm your diagnosis and may write or recall prescriptions for medications. The PCP works closely with your care manager to stay informed about your treatment progress. The PCP may also consult with the team psychiatrist if there are questions about the best treatments for you.
Morris Healthcare Center of Morris Hospital
1300 W. Dresden Drive
Morris, IL 60450
Phone: 815.942.5200
Providers: Dr. Brad Lawton, Dr. Peter Roumeliotis, Dr. Olga Peplos, Cari Pierard, D.N.P., Diane Zuelke, F.N.P.
Morris Hospital Obstetrics & Gynecology Specialists
237 W. Waverly St.
Morris, IL 60450
Phone: 815.941.0441
Providers: Dr. Andrea Chen, Dr. Mary Fitzgibbon, Dr. Erik Muraskas, Dr. Victoria Ochoa, Dr. Douglas Toussaint, Dr. Leticia Setrini-Best
DIRECTOR OF INTEGRATED BEHAVIORAL HEALTH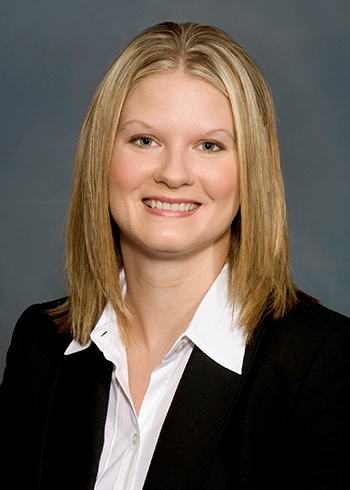 Dr. Jennifer Thomas is a board-certified family physician with Morris Hospital & Healthcare Centers. She serves as the Medical Director of the Morris Hospital Integrated Behavioral Health program.
Dr. Thomas completed her medical degree at Southern Illinois University School of Medicine in Springfield  in 2007 and finished her family medicine residency at Hinsdale Hospital in 2010. Dr. Thomas completed the 2018 University of California Irvine Train New Trainers Primary Care Psychiatry Fellowship.
Dr. Thomas led implementation efforts in building a Collaborative Care program at Morris Hospital. Through Morris Hospital's partnership with the University of Washington AIMS Center, Morris Hospital has participated in two of the AIMS Center's research projects, the Maternal Infant Dyad–Implementation (MInD-I) Initiative and the CHAMP study, "Collaborating to Heal Addiction and Mental Health in Primary Care."
Dr. Thomas sees patients at the Braidwood Healthcare Center of Morris Hospital and the Gardner Healthcare Center of Morris Hospital.
BEHAVIORAL HEALTH CARE MANAGERS
The Behavioral Health Care Manager works closely with you and the primary care provider (PCP) to implement a treatment plan. The Behavioral Health Care Manager answers questions about your treatment. He or she will check in with you to keep track of your treatment progress and can help identify side effects if you are taking medications. The PCP and the Behavioral Health Care Manager work together with you if a change in your treatment is needed. The Behavioral Health Care Manager may also provide counseling and may provide counseling techniques proven to work in the primary care setting, such as Behavioral Activation and Problem Solving Therapy.
The Psychiatric Consultant is an expert consultant to the PCP and the CM. The team psychiatrist is available to advise your care team about diagnostic questions or treatment options, especially if you don't improve with your initial treatment. The CM meets and consults regularly with the Psychiatric Consultant to talk about the progress of patients in the program and to think about treatment options.
Dr. Nelly Norrell is a board-certified psychiatric medicine physician with Morris Hospital & Healthcare Centers. Dr. Norrell serves as a psychiatric consultant to the behavioral health care managers and primary care providers in the hospital's Integrated Behavioral Health Program. She completed her residency training at the University of Virginia, and previously received her Doctor of Medicine at the University of Arkansas for Medical Sciences in 2007. She specializes in geriatric psychiatry and completed her fellowship in 2021.
Medication Assisted Treatment (MAT) is the use of medications in combination with counseling and behavioral therapies in the treatment of opioid use disorders. Currently Morris Hospital has six providers certified to prescribe medication-assisted treatment.
Morris Hospital & Healthcare Centers is participating in a three-year clinical trial funded by the National Institute of Mental Health to study the effectiveness of using integrated care – the combination of primary and mental health care in one setting – to treat opioid use disorder. Opioids include both prescription painkillers as well as certain street drugs, such as heroin. The University of Washington's AIMS Center is facilitating the study called Collaborating to Heal Opioid Addiction and Mental Health in Primary Care (CHAMP) as part of a $19 million effort to study opioid addiction. Morris Hospital will provide four of the 24 primary care clinics that are partnering with the AIMS Center.