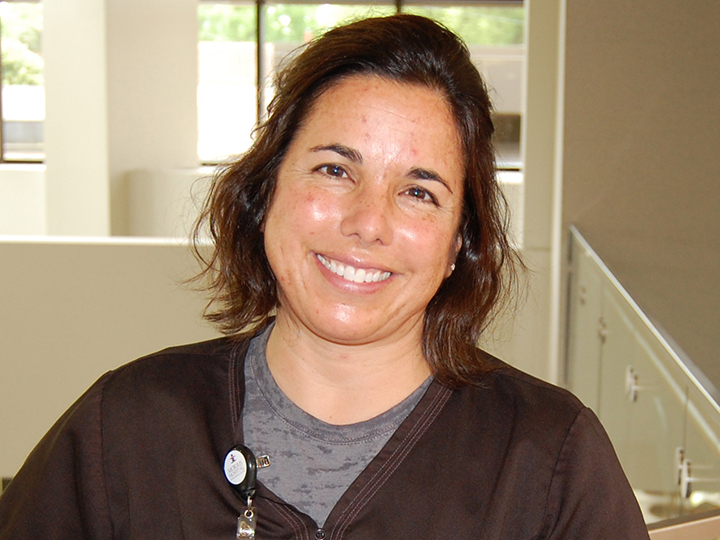 Stand-Out Physical Therapist Honored as Fire Starter of the Month
August 20, 2021 – Morris Hospital's Renee Joder has a reputation for being an incredible physical therapist. She goes above and beyond on a daily basis to connect with every patient under her care and then uses that connection to find unique ways to motivate patients and get them excited about their therapeutic journey. Along with her impressive years of experience, Joder is thorough, funny, and inspirational. It's no wonder patients who have a session with Joder today want her as their therapist again tomorrow. Joder, of Minooka, was honored as Morris Hospital's July Fire Starter of the Month.
"Renee is an excellent, experienced therapist who brings the 'A' game every day," says Sarah Wrightson, Manager of Rehabilitation Services at Morris Hospital & Healthcare Centers. "She places high emphasis on educating patients so they can be successful at their next level of care, and she has a sense of humor that draws people in. She's consistent with her approach; it never waivers."
Along with her impeccable therapy skills, Joder makes a special effort to get to know her patients, figure out "what makes them tick," and then use that to motivate them during their therapy sessions. For example, when she learned that one of her patients had an affection for 50s, 60s & 80s music, Joder asked the patient's daughter what her mother's favorite songs were and then used that information to create a list that she played from her phone during the therapy sessions.
"We'd spend a good hour in therapy, and hearing her favorite songs made the sessions easier for the patient by totally distracting her from what she was doing," says Joder. "I use music a lot."
For other patients, Joder has brought in reading glasses, puzzles, and photos after learning something small could help make their day easier, especially when family members were unable to visit. One time she brought in a cell phone stand for a patient who was having a hard time holding his phone. Along with the rest of the Rehab Services team, Joder likes to celebrate patients who have birthdays while they are in the hospital.
"We all try to make things a little lighter, especially for patients who are in here for a lengthier time," says Joder. "It's fun to bring something in to lift their spirits and bring a smile to their face."
As much as Joder jokes and has fun with patients, Occupational Therapist Jennifer Kumrow calls her a "professional who gets the best therapy results."
"Renee is a true patient advocate who goes the extra 10 miles for each patient," says Kumrow. "Her excellent customer service resonates with the doctors and patients' family members as well."
Joder says the most rewarding part of her job is helping patients meet their goals and watching them fun while doing it.
"We are trying as hard as we can to help the patients get home or discharged to wherever they are going and to help both the patient and the family be prepared," she says. "The collaboration with our multi-disciplinary team is rewarding. It's nice to be part of a team that's looking out for best interest of patient."
In early civilizations, fire starters were individuals who had the important job of keeping the flame alive. With over 1,400 employees, Morris Hospital & Healthcare Centers is the largest employer in Grundy County.
# # #