Morris Hospital Welcomes New Orthopedic Surgeon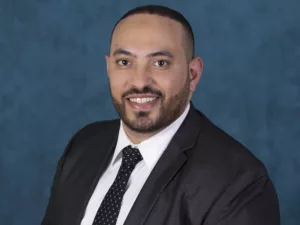 September 13, 2023, MORRIS, IL – Morris Hospital is expanding its Orthopedics & Sports Medicine practice with the addition of Ahmed Eldib, M.D., a fellowship trained orthopedic surgeon. Patients experiencing hip or knee pain can see Dr. Eldib at the Morris Hospital Orthopedics & Sports Medicine offices in Morris, Joliet and Diamond-Coal City.
Dr. Eldib performs surgery in the new surgical suite at Morris Hospital and at Deerpath Ambulatory Surgery Center in Morris, including total knee replacement, total hip replacement, partial knee replacement, total hip and knee revisions, and patient specific total knee replacement. He also specializes in lower extremity related orthopedic trauma.
Fellowship trained in adult orthopedic reconstruction, Dr. Eldib comes to Morris Hospital with experience using multiple robotic technologies in arthroplasty, including Mako Robotic-Arm Assisted Surgery for total hip and knee and partial knee replacements, which is now available at Morris Hospital.
A native of New York, Dr. Eldib completed his medical degree at SUNY Downstate Medical School in Brooklyn. He continued his medical training at SUNY with an orthopedic surgery residency, followed by a move to the midwest for an adult reconstruction fellowship at NorthShore University HealthSystem in Skokie, IL.
When asked why he chose orthopedics as a specialty, Dr. Eldib said, "Orthopedics is incredibly rewarding in that it allows us to restore patients to their previous levels of activity. Being able to help patients go from daily debilitating pain to once again returning to the activities they previously enjoyed is one of the main reasons I chose orthopedics."
In his interactions with patients, Dr. Eldib says he focus on patient-specific care. "I want to have open line of communication with every patient that I see to better understand their needs," he says "This aids in diagnosis and helps make patients active partners in their treatment."
In addition to the Morris, Joliet and the Diamond-Coal City office locations, Morris Hospital Orthopedics & Sports Medicine also has an office in Ottawa. The practice also includes orthopedic spine surgeon Mir Ali, M.D.; orthopedic surgeons Raymond Meyer, M.D., Paul Perona, M.D., Keith Rezin, M.D., Stephen Treacy, M.D. and Robert Williams, M.D.; and foot and ankle surgeon Kyle Pearson, D.P.M.
For more information visit website www.morrishospital.org/orthopedics.
# # #